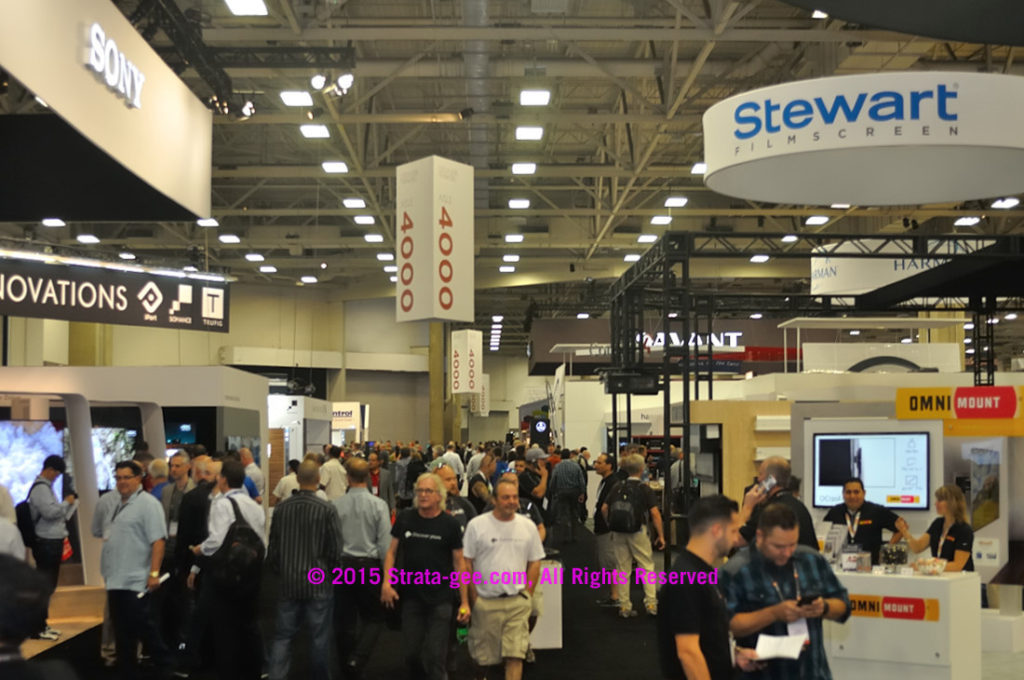 Reuters is reporting that Emerald Expositions LLC, the major trade show exposition company that bought the CEDIA show last week, is considering putting itself up for sale. This report became public on Wednesday, January 25th…the day before CEDIA announced it has sold its trademark show to Emerald. All of which leads to the distinct possibility of the show changing hands again, in just a matter of weeks.
See more on this report and how CEDIA members are reacting to the sale…
Although Reuters did not name any one, or group, of potential buyers, the report says that Emerald is in the process of exploring the sale of the company. With shows such as KBIS (Kitchen & Bath Industry Show), Sports Licensing & Tailgate Show, HD Summit (Hospitality Design), National Stationary Show, the Surf Show, and – now…CEDIA – Emerald participates in several different industries. In January 2017 alone, the company held ten separate major shows around the country. Emerald Exposition is, in fact, "the largest operator of business-to-business trade shows in the United States," according to Reuters.
See the full schedule of Emerald shows scheduled in 2017 at the link here: 2017-EE-Show-Calendar-WEB_31Jan
According to the report, the sale that Emerald is contemplating, places a $2 billion valuation on the company. As Reuters themselves noted, "A deal for Emerald at such a price would underscore the value that business executives place on face-to-face meetings and networking." It also would send the signal that the trade show industry, which was hard hit in the financial downturn after 2007, is on the way back.
Emerald is Owned by Private Equity Group
Em

erald's owner is a private equity company called Onex Corp., who purchased the company in 2013 for $950 million. According to Reuters, Emerald generates approximately $160 million in 12-month EBITDA (earnings before interest, tax, depreciation, and amortization). Onex has retained Bank of America to run an auction on the company. If no satisfactory deal is obtained, then Onex may choose to pursue an initial public offering.
Interestingly, this announcement surfaced the day before CEDIA announced it had sold its show to Emerald. And in fact, with a little more digging, we have discovered that Emerald has been on a bit of a buying binge recently.
Recent Rapid Pace of Acquisitions
In all of 2015, the company acquired two shows. But in October 2016 they acquired the National Pavement Expo AND the Digital Dealer Conference & Expo. In November, Emerald acquired the RFID Journal LIVE! Event. In December 2016, they acquired the American Craft Retailers Expo. And in January 2017, they acquired the CEDIA show.
Then, word emerges that they are putting themselves up for sale.
CEDIA CEO Tells Us What He Knew


We asked CEDIA CEO Vin Bruno whether he was aware that Emerald was about to put itself up for sale at about the same time it acquired the CEDIA show.
"Yes, we were aware of that and we factored that into our negotiation strategy," Bruno told us. "While a little surprised at how fast that announcement came out, I'm confident that we were successful in getting the best possible value for our members. Not only that, but I'm proud of the fact that Emerald Expositions purchase of the CEDIA show helped drive their enterprise value such that they were in a position to sell their company."
CEDIA joins a stable of approximately 50 other trade shows owned by Emerald. Incidentally, CEDIA is #94 on the TSNN (Trade Show News Network) list of Top 250 U.S. Trade Shows. With the purchase of CEDIA, Emerald now owns 30 of the top 250 B-to-B trade shows.
How do CEDIA members feel about the organization selling off their signature show? We have spoken to a number of CEDIA members and past group executives and directors and the response has been mixed.
How Do CEDIA Members View the Sale of the Show?
In most cases, when asking CEDIA members how they feel about the sale, there is confusion. Several told us they really don't understand the mechanics of the group well enough to determine if this is a good move or not. Some told us that this move raises some real concerns because, in their mind, the cornerstone of the organization is the show. If the CEDIA show is owned by someone else, then it's not CEDIA anymore…no matter what they call it.
We also spoke to a former participant in the group management who told us, "This seems like a 'hail Mary.'" A hail Mary is a football reference which alludes to the quarterback just heaving the ball down the field to the end zone in the hopes that one of his team will catch it. The hail Mary has a pretty dismal percentage of success, but as my source said, "Sometimes, it works."
If we were to summarize the range of reactions we got (from people who did not want to be quoted on the record), the responses were primarily: confusion, concern, and ambivalence. A couple of members were hopeful it would turn out for the best. But far and away, the most common response we got was ambivalence.
Learn more about CEDIA at: www.cedia.net.
Find out all about Emerald Expositions as: www.emeraldexpositions.com.
RELATED STORY