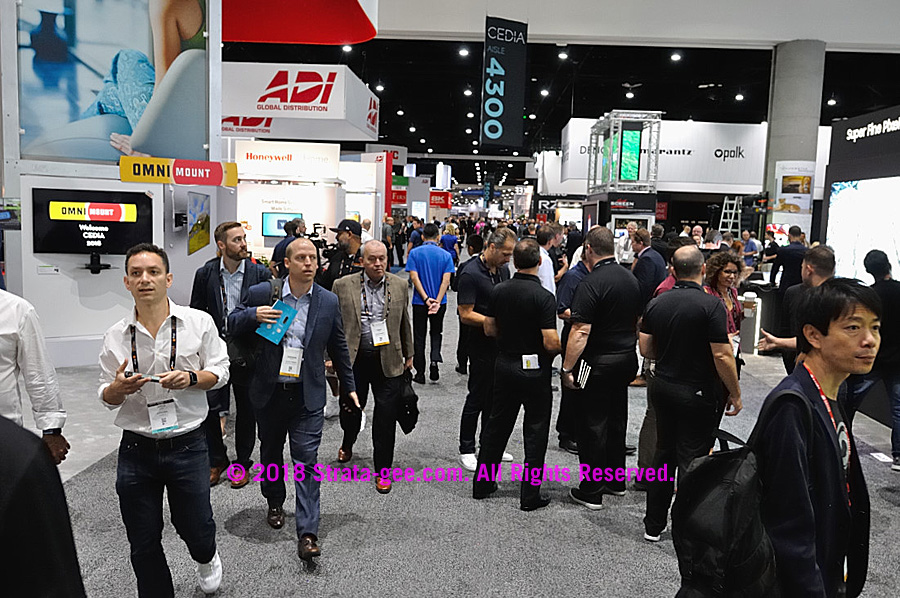 CEDIA Expo 2021, scheduled to run in less than two weeks from September 1-3, 2021 in Indianapolis, IN, has been steadily shrinking over the last ten days or so, as exhibitors began pulling out in the face of the rapid expansion of COVID infections due to the Delta variant. Emerald, the exposition company that owns the CEDIA Expo, has said they are going forward no matter what – even though their data shows that more than 100 exhibitors have pulled out of the event in the last two weeks.
See the latest numbers from Emerald and the smaller floorplan
Strata-gee began compiling a list of exhibitors exiting the show as more and more of them made the same decision over a series of weeks. As of now, there are a total of 63 exhibitors that have pulled out of Expo, including major brands like Savant, Snap One, Sound United, Samsung, Sonos, Crestron, Lutron and many more. However, Strata-gee's list doesn't capture all of the exhibitors that have left, only those I've been able to confirm directly with the company or through some other means, such as confirming emails from executives or representatives.
Still, Strata-gee's list has, with only a couple of exceptions, captured almost an entire Who's Who list of top integration brands, including all three of the major control brands – Crestron, Savant, and Control4 – along with a couple of the secondary control solutions – Elan, RTI – as well. Also on the list are top video and home theater brands, such as Sony, Samsung, and LG – they are all out as well.
Expo Evacuation Changes Everything
Emerald, which had in the past posted a list of exhibitors and a floorplan map of the booth locations, was forced to revise their materials as the dramatic cutback in participating companies and floor space used had changed too much to ignore. Late last week, Emerald published an updated list of participants and pulled down the floorplan map in order to redraw it.
>>See our list of exhibitors who have pulled out of the CEDIA Expo 2021 by clicking here…
In the original list I downloaded weeks ago, Emerald had a total of 242 Expo exhibitors listed. It wasn't a perfect list, some were listed twice (say once for a soundroom and once for a booth), and there was other "noise" on there, such as media companies listed with booths that most integrators don't really take the time to visit. Now, in a revised list, that number has dropped down to 141 exhibitors. That means that by Emerald's count, at least 101 exhibitors have pulled out of the Expo.
Actually, It's Even Worse Than That

But actually, I can verify that it is even worse than that, because Emerald's list remains noisy, with at least 8 companies listed as participating exhibitors that I have confirmed have pulled out of the event. I would additionally pull out the remaining 3 media companies to get to a number more reflective of booths that integrators would actually want to visit. This means a more accurate total would be a grand total of 130 exhibitors for more than a 46% drop in exhibitors over the last two weeks or so.
How many exhibitors are there typically in a "normal" CEDIA Expo? The best year for CEDIA Expo was 2006 when there were a total of 600 exhibitors. Of that total, fully 100 of them were exhibiting for the first time that year.
According to data I've compiled over the years, the worst year ever for CEDIA Expo was 2009, during the depth of the economic collapse led by a crash in the housing market. That year, the CEDIA Expo had only 400 exhibitors. That "worst" Expo had more than three times the number of exhibitors scheduled for this year's event.
From the Beginning, This Would Have Been the Smallest Expo Ever
So as you can see, with the exception of 2020's virtual event, Emerald's most optimistic initial exhibitor count of 242 would have already made CEDIA Expo 2021 the smallest show ever in terms of the size of the show. But with the exhibitor count cut now down to only 130 exhibitors, this is more like a small regional show, than a national event.
Emerald's own data shows the Expo now to be about only half the size of their original expectations, based on the number of booths. But even that is misleading, as all of the major big-booth exhibitors have pulled out. For example, Crestron's booth alone was 5,600 sq. ft. And Savant, Snap One, Sony, Samsung, LG, and several others were nearly as large as that.
CEDIA Expo 2021 Down More Like 75% in Terms of Square Footage
Now, there is but a handful of booths left that are larger than 20×20. If I did this breakdown based on the amount of square footage of display that is no longer part of this event, it would be more like…this is just a guess…but like 75% or 80% smaller. And it may be worse than that…there may be others listed as participating that are not intending to exhibit and that I have not yet discovered.
Also, keep in mind that more exhibitors are choosing to withdraw from the event every day. For example, just last Friday, at least 12 exhibitors confirmed their departure. And as I write this in the late afternoon on Monday, yet another 10 exhibitors have dropped out. More are likely to make the same choice.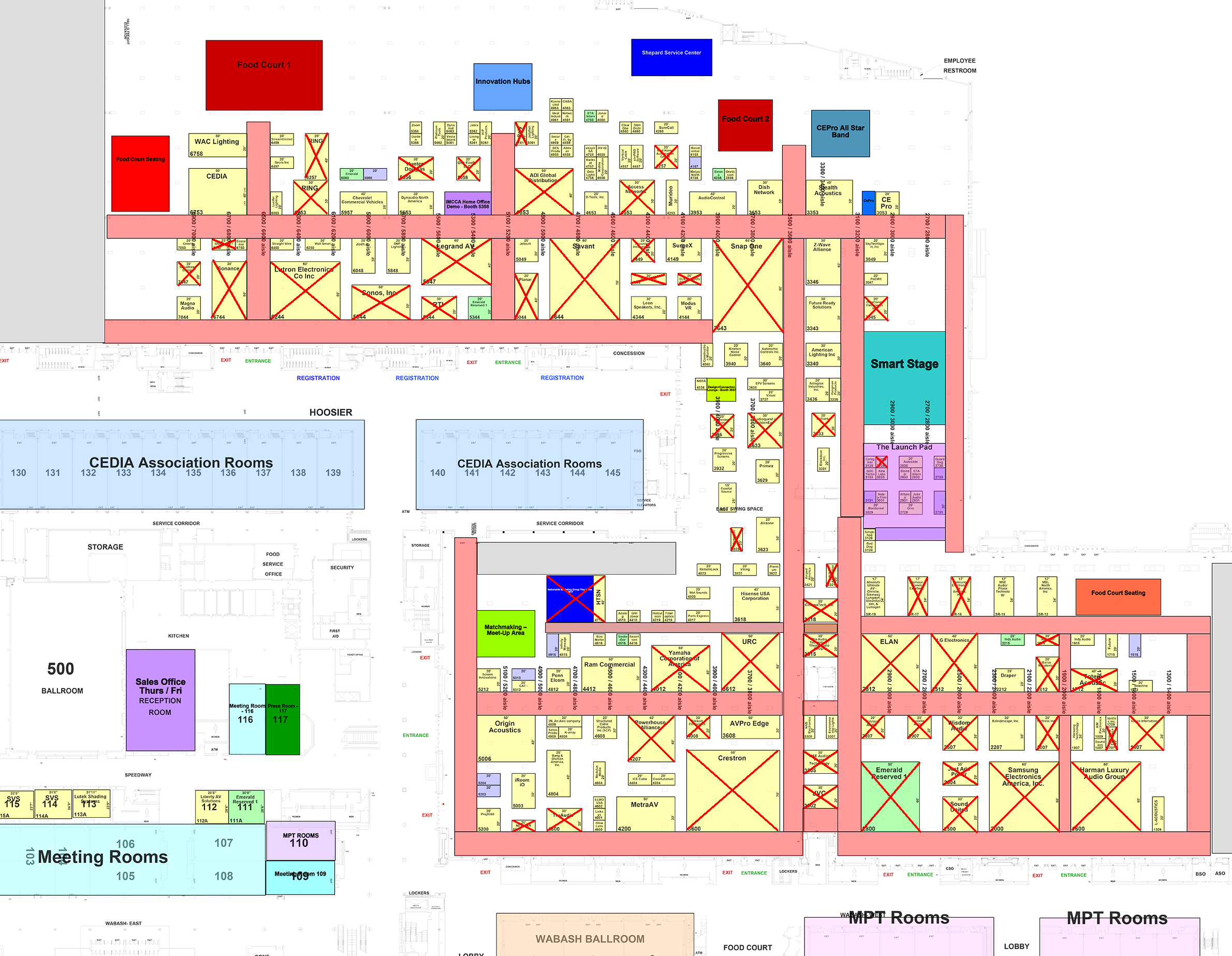 Fewer Exhibitors = Smaller Show
Fewer exhibitors mean a smaller show – and that means the floorplan map needs to be redrawn. Over the weekend, Emerald published a new floorplan, and – no surprise – it is dramatically smaller. In essence, about 1½ halls were closed down as the floorplan was condensed to accommodate the much smaller event.
The result? A shockingly small show that may force attendees to reassess whether there is enough there to justify the time, expense, and potential health risk to attend.
See more on the CEDIA Expo by visiting: cediaexpo.com.
>>See our list of exhibitors who have pulled out of the CEDIA Expo 2021 by clicking here…