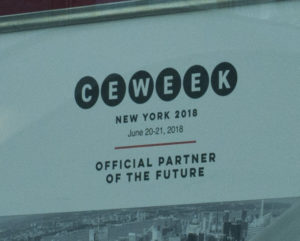 One of the more interesting conference panels that took place at CE Week last week in the Jacob Javitz Center in Manhattan was a panel called, "Listening in the Living Room: How Smart Speakers are Striving to Be the Next Great Planform." This panel featured Gary Schultz, Director, Business & Product Development, SDI Technologies Inc, the parent company of iHome and Andrew Vloyanetes, Sonos's sales manager. The panel was moderated by John Quain, a contributor to The New York Times.
Some of what this panel had to say was in line with what you might expect – they are both pretty high on smart speakers and the category's conjunction with voice control.
But there were some other interesting tidbits that emerged…
I have to admit, I was a little disappointed that this was a panel with only two companies participating. For a topic as important as this one, I would have expected greater participation with more diverging viewpoints. Still, if you only had two to work with, these two were a good choice. With iHome representing a more mainstream perspective, while Sonos stakes out a bit of the higher ground with high-performance multiroom streaming music systems – there were areas of interesting contrast as well as agreement.
Hardware is Easy, Software is Hard
I found a few of the comments worth repeating here for the benefit of Strata-gee readers. First, Vloyanetes of Sonos made what I think is an important observation – when it comes to creating a smart speaker that incorporates a voice interface, "The hardware is the easy part. The software is the hard part." By software, he was referring to that part of the system which provides features for the system, governs the overall system performance, as well as dictates the quality of the user interface…here is where the rubber meets the road in this significant category.
The panel also agreed that changes are coming fast and furious to this category, as Vloyanetes said – "A year from now it going to be different than it is today." Somehow this sounded far more profound at the conference than it did as I read it back in my notes. But no matter, his point is well taken, the category is growing like a bad weed and changes in hardware, software, and user experience are an almost constant phenomenon.
Aging in Place Opportunity
Schultz of iHome mentioned that, of all of the areas of growth potential in the smart speaker market that iHome is looking at – one in particular stands out…the rapidly growing aging-in-place market. To really drive the AiP market, smart speakers will have to gain two way communication capability, which it already has. But few companies are utilizing or taking advantage of the capability for this purpose, by making it easier for the elderly and their families to use and operate.
Sonos's Vloyanetes noted that they believe it will become the norm to have multiple voice assistants in every home. They see this already, with an Alexa in one room and an OK Google device in another room. Ultimately, this suggests that manufacturers may include compatibility with all of the major voice systems in each device they offer.
Voice is Leading the Revolution
"Voice is leading the revolution in listening to music in the home again, Vloyanetes said. I've seen the statistics, once we introduce voice into the home, listening [to music] goes up into the high 80's [percent of users]. Voice control enables music listening. I think this is a super exciting part of the times we're living in."
To learn more about Sonos and their line of products, visit: www.sonos.com.
Find out more about iHome, be sure to see: www.ihomeaudio.com.