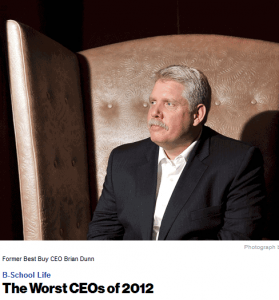 Businessweek Magazine has published online their latest annual list of the five worst CEOs of the year. The short list, not one that CEOs hope to see their names featured on, is topped this year by a CEO from the consumer electronics retailing industry – none other than Brian Dunn of Best Buy. Dunn, who left Best Buy in April in the wake of a scandal involving an inappropriate relationship with a female subordinate, earned the title of the absolute worst chief executive on 2012 – and it wasn't even because of the affair!
See why Businessweek feels Dunn is the "absolute worst chief executive of 2012″…
Dunn's relationship with his employee – who was said to be "much younger" – caused an uproar…much of it from other employees who noted the female employee's ability to take extreme liberties on the job not available to them. Reports indicate that the employee made no effort to hide the affair and was often engaged in long phone calls or texting with the apparently not-too-busy CEO.
The situation resulted in an investigation by Best Buy's board of directors and ultimately Dunn left the company. Ironically, the matter had significant collateral damage as the board's investigation uncovered the fact that company founder Dick Schulze was aware of the affair and failed to take appropriate actions to resolve the matter (such as informing the board.)
But none of the matters surrounding the affair were the reason that Businessweek chose Dunn as the worst CEO of the year. No, Businessweek cited Best Buy's plummeting stock price, declining market share, cliff-diving comparable-store sales, and "an addiction to share buybacks that cost the company $6.4 billion with little to show for it," as the primary reasons for the ignoble rating.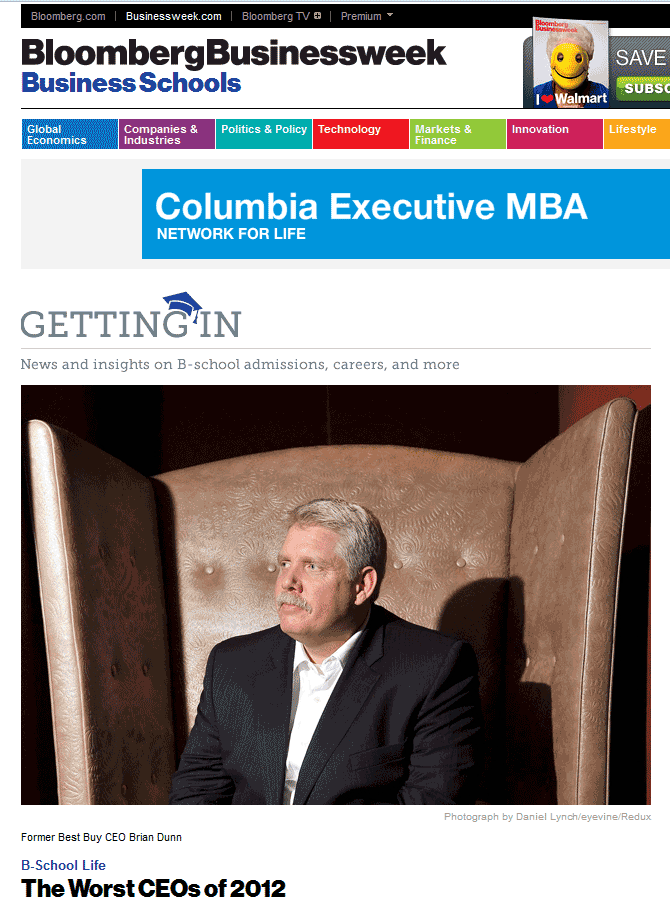 Dunn was followed on Businessweek's list by:
Aubrey McClendon – CEO of Chesapeake Energy. McClendon intermingled company finances and personal finances…borrowed $1.1 billion in undisclosed loans…ran a $200 million oil-and-gas hedge fund (an obvious conflict of interest)…misuse of company jet and employees…and more.
Andrea Jung – CEO of Avon. Failed to solve company's operational problems…failed to groom a successor…rejected a $10.7 billion offer from Coty (the company is now valued at $6 billion…and spent 300 million in legal fees defending allegations that the company bribed foreign officials.
Mark Pincus – CEO of Zynga. Zynga's stock has declined 75% this year…top talent is abandoning the company…makes rookie mistakes even though he has a Wharton/Harvard background…dumped 16 million shares of partner Facebook.
Rodrigo Rato – CEO of Bankia. Spain's former finance minister and former managing director of the IMF, Rato is one colorful guy. Currently, he's under investigation for fraud, price-fixing, and embezzlement in connection with what Businessweek calls the "spectacular collapse" of Bankia which was ultimately bailed out by the Spanish government. In 2011, Bankia reported a profit of €309 million. Then Rato resigned and the results were restated as a €3 billion LOSS.
Businessweek added two dishonorable mentions that almost made the list. First, Facebook's Mark Zuckerberg who is criticized for his "massive ego" and overall immaturity. The second is Andrew Mason of Groupon. Mason is also considered immature and like Zuckerberg, is said to be responsible for stock share prices that only move in one direction – down.
Says Businessweek on the honorable mentions: "There's no reason to believe they have the management skills to run a major public company."
But maybe there's a silver lining in all of this. After all, last year technology was represented with multiple companies including Netflix, Research in Motion, and Hewlett-Packard. This year…only Dunn and Best Buy…That's progress!