The Associated Builders and Contractors, Inc., (ABC) a builders trade association, held their third annual Mid-Year Construction Forecast presentation this week…inviting economists from three industry-related associations to present their outlook on the construction industry. This year, the invited economists included Kermit Baker (American Institute of Architects, AIA), David Crowe (National Association of Home Builders, NAHB), and their own Anirban Basu (ABC).
The economists this year were, overall, cautiously optimistic – with a heavy emphasis on caution.
See more on the presentations from the construction industry economists…
First up at the event was Kermit Baker, Chief Economist for the AIA. Baker noted that for the last few years total housing demand has been well below the trend of the past several decades. And while this might seem to be a blinding flash of the obvious, he went on to note that his data suggests that demand will increase to a very respectable average of 1.6-1.9 million units a year for the next several decades.
Given the fact that in recent years, the actual number of housing completions have been more in the .5-.8 million unit range…this is a really optimistic forecast. Baker said the forecast takes into account several factors – such as normal demand, second home purchases, housing stock losses – to create this new trend forecast.
Disturbing drop in household formation…
But as was true with each of the economists, Baker did offer up a point of concern – a disturbing drop in the household formation by young adults. This rate "is running well below what we've seen over the last few decades," he told seminar attendees.
Baker said that there were several variables that have come into play to create this trend. Younger adults, the economist said, are waiting longer to get married. Another factor, "we keep hearing about high student debt levels."
Unemployment is a factor…
Also impacting household formation by young adults is that the segment has a high unemployment rate, according to the AIA economist. Finally, it appears that "banks are very hesitant to lend to younger households."
Along with these factors – and perhaps trumping them all – Baker showed a slide with a graph of income growth by age range. "Looking at the incomes of the 20-29 year old population…they've fallen rather dramatically over the last decade."
A more positive note…
On a more positive note for existing homeowners, Baker told attendees that thanks to increasing home values and consumers paying down mortgage debt, debt-to-equity levels for homeowners are improving. For several years after the housing market collapse in 2007, many homeowners found themselves upside-down – owing more on their mortgage than their homes were worth. Now, this trend seems to be normalizing.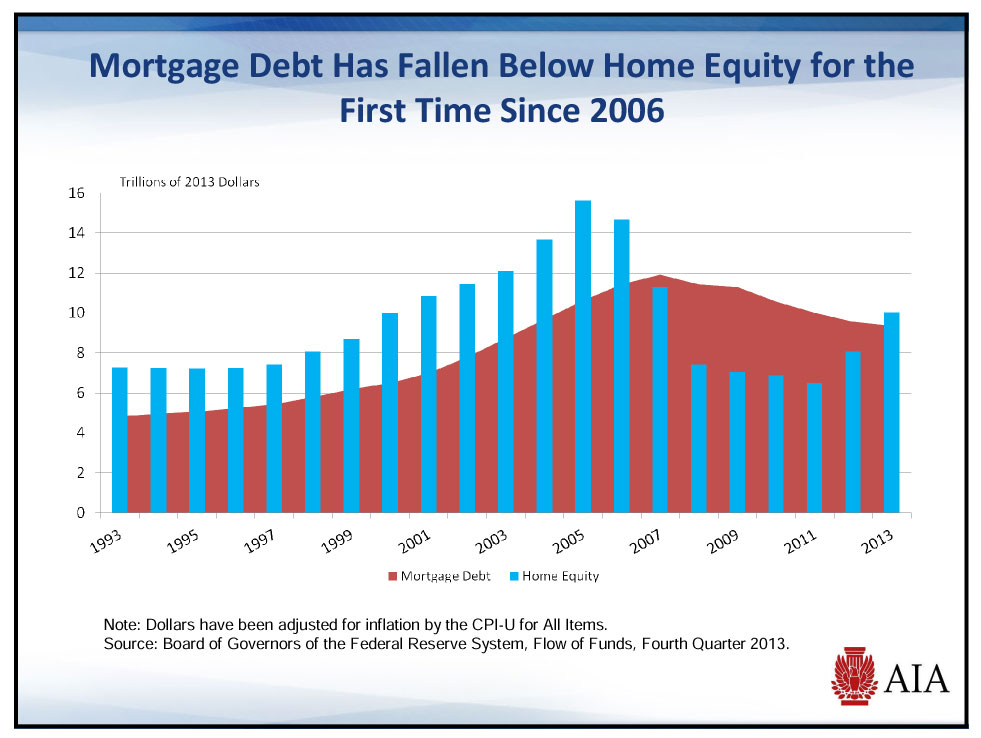 Baker then discussed the breakdown of the non-residential construction market from an analysis he had done of Commerce Dept. data, averaged over the last decade. Based on his research, the non-residential market breakdown is roughly Commercial/Industrial (45%)…and Institutional (55%).
Nonresidential construction categories…
The biggest Commercial/Industrial construction categories are Retail (16.2%) and Office (12.4%). On the Institutional side, the biggest categories are Education (22.9%) and Healthcare (10.4%).
"Construction is one of the most cyclical sectors in our economy," Baker told attendees. "Obviously, to get a sense of where we're going, we need to know where we are in this cycle."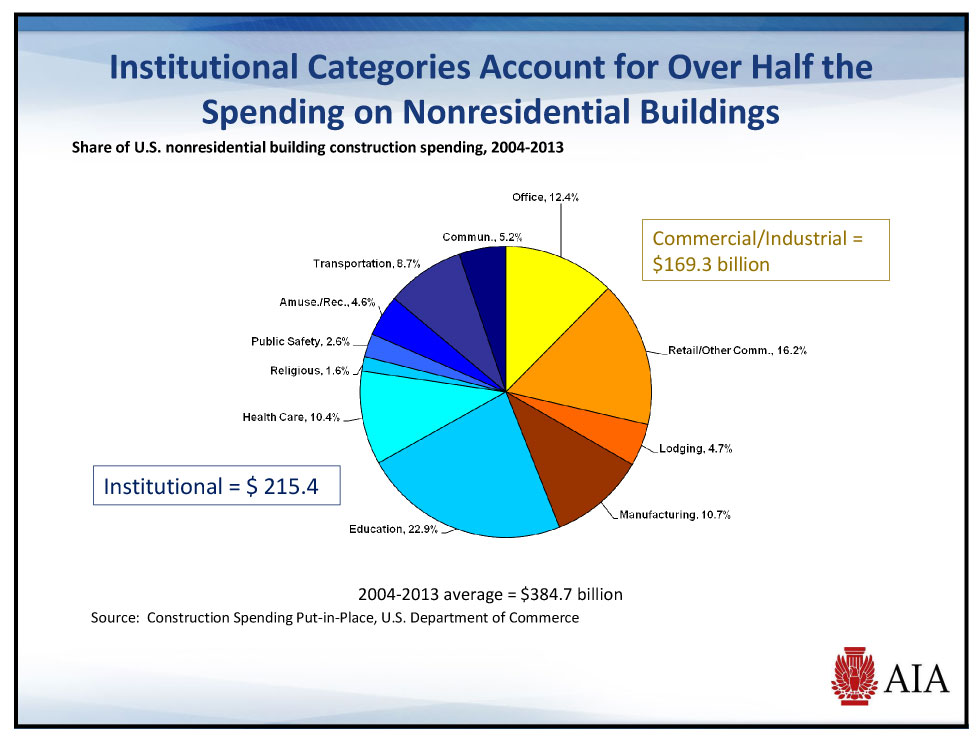 Showing a graph of construction spending with the rate of change superimposed on it, Baker said spending is pulling out of the steep decline in spending in 2008-2011, but "we've had a fairly disappointing recovery coming out of that downturn – spending levels are only up 5% from that trough."
More growth is coming…
The Architectural Index Billing Index – which Baker says is a leading indicator for construction activity (highly correlated, leads construction by about a year) has been "generally positive" over the last 18-months. This suggests we're in the early phase of a non-residential construction recovery.
Finally, Baker showed attendees the results of a consensus forecast panel survey which projected construction growth by segment. Based on this forecast, the panel is projecting mid-single digit growth in non-residential construction activity.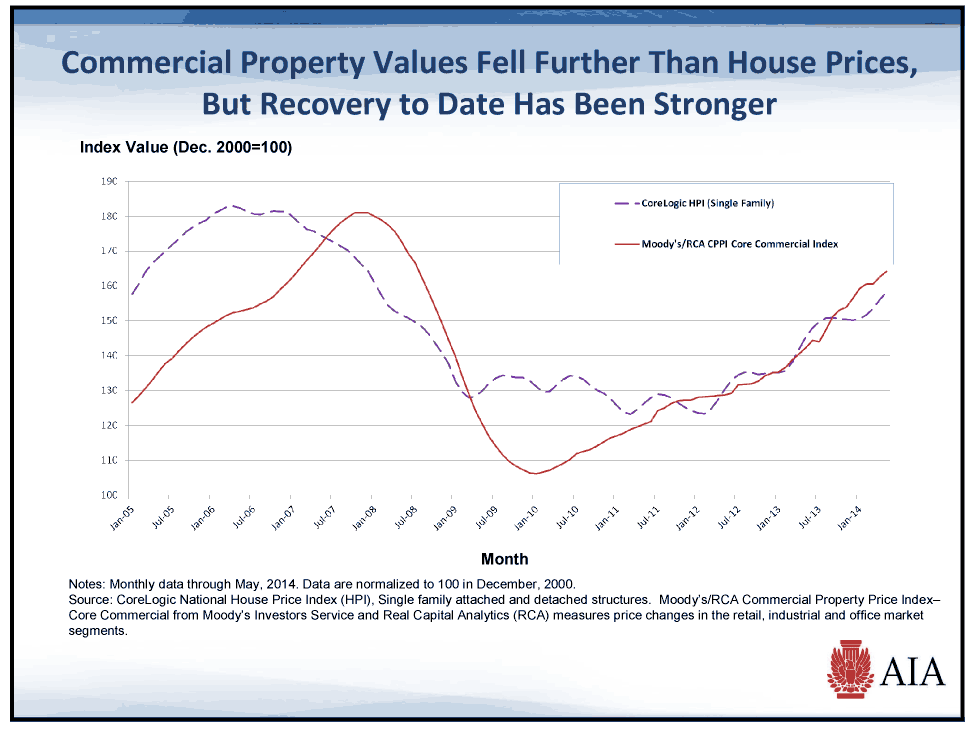 David Crowe, NAHB: Why has housing been so slow?…
David Crowe, Chief Economist with the NAHB started his segment by saying, "My theme on the housing side is, 'Why has this sector been so slow?'" To help attendees understand this, Crowe says he'll analyze the economy, existing home owners, and first-time buyers.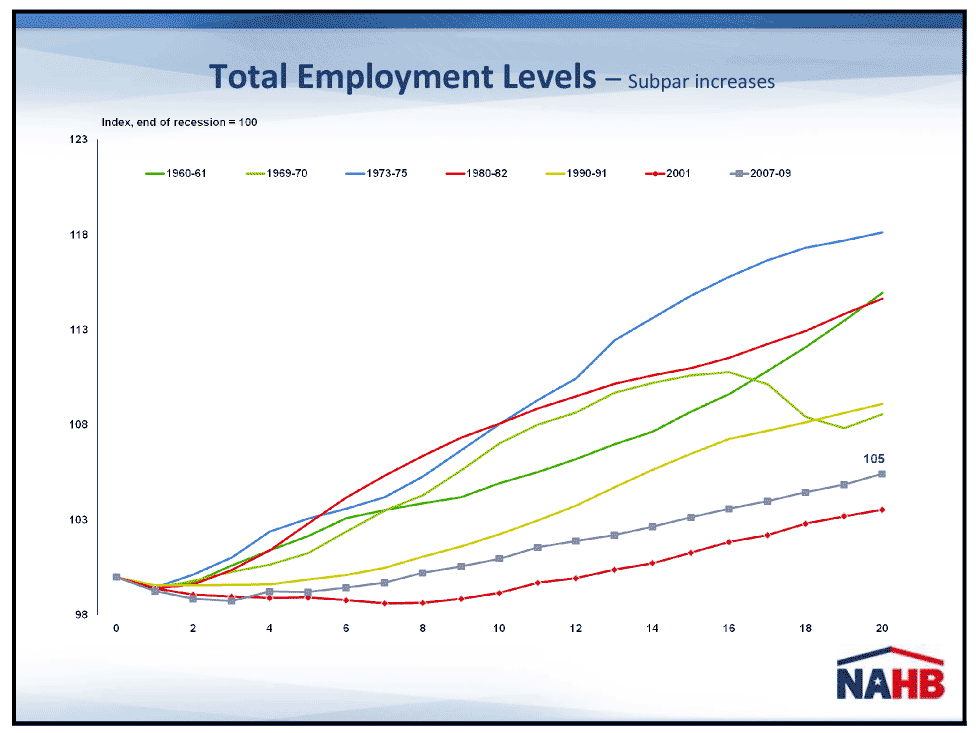 The first clue for the slow-growth conundrum is to examine the growth in employment levels coming out of the most recent recession. Crowe pointed to a graph which showed that the current recovery is the second slowest in terms of employment growth – second only to the period following the 2001 recession.
Income stats are 'more worrisome'…
"More worrisome," Crowe told attendees, "is much of the recovery is in the service sector." And in the service sector, he went on to add, "most of these jobs are relatively low paid" which is stunting residential fixed investment. Oh, and by the way, residential fixed investment is one of the components that the government uses to calculate gross domestic product, or GDP.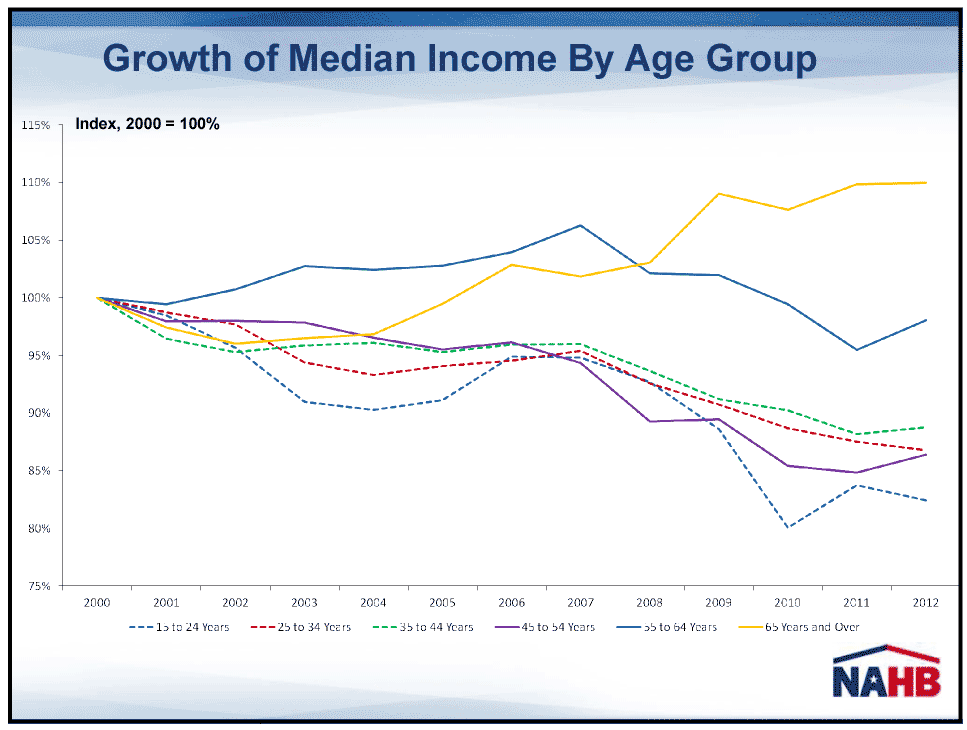 Crowe then turned to the demand side of the equation, starting with the existing home owners. Just like the previous presenter, Crowe pointed to pressure on the younger earners, who are seeing a declining median income – a point clearly made with a slide that graphically showed growth in median income. For older earners, there's been some growth. But the plots for younger earners showed a pretty serious decline in median income.
First-time home buyers are struggling…
From here, Crowe turned to first-time buyers who are struggling with the same issue with declining median income. However, the economist noted that in an analysis using only recent data – the trend seems to be beginning to correct itself.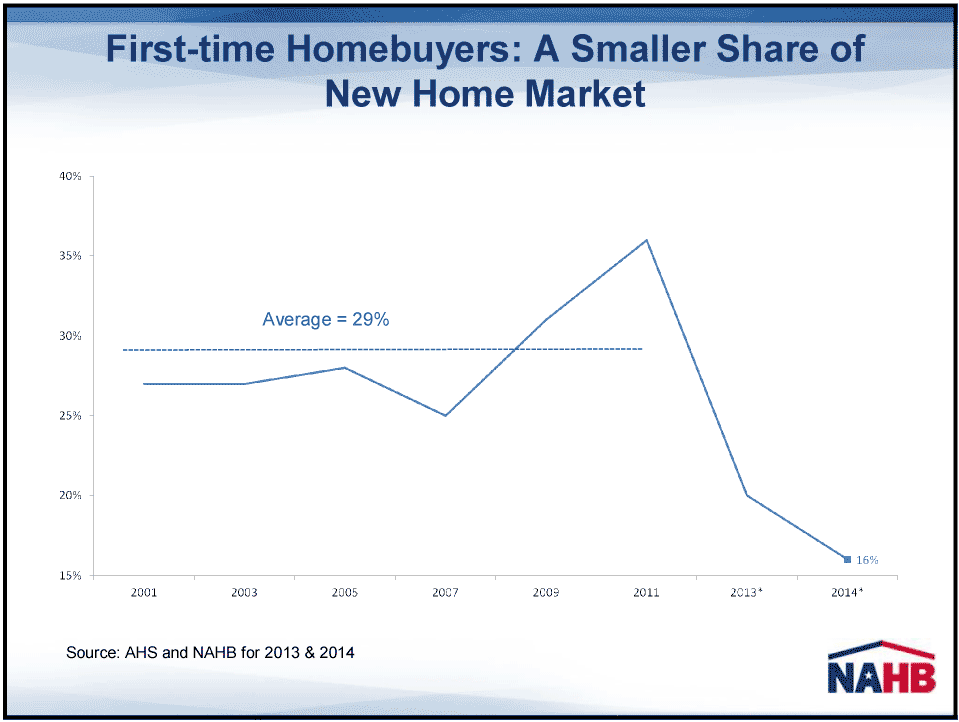 As a result of these trends, Crowe says the first-time buyer is a declining share of the existing home market. Typically, first-time buyers are around 42% of the existing home market – now, they are only about 28% of the existing home market.
The same holds for the new home market as well. In the past, about 29% of new home sales were to first-time buyers. Now, this share is down to only 16%.
Supply-side issues as well…
Crowe also said that the residential housing market has supply-side issues. The NAHB economist showed attendees a slide that pointed out to a shortage of lots for builders to build upon.
The housing market is also struggling with a shortage of workers – many of whom have left the industry and haven't returned. As production is beginning to pick up – labor shortages are slowing construction down
Finally, Crowe pointed to credit tightness as another supply-side issue working to hold back the housing market. While there are some signs of credit beginning to loosen up, the economist says it is still a drag on the market.
Forecasts say better days ahead…
At this point in his program, Crowe turned to his forecasts. Since the program was running long, the economist went through them rapid fire:
Residential remodeling – "I'm expecting to see some modest continued increases in remodeling. Basically remodeling didn't have the crash that new construction did – so it's moving forward at a decent pace…not a fast pace, but a decent pace."
Multifamily – "Multifamily has been the star of the show and in fact we're well above our sort of normal production levels of about 330,000-340,000 a year. We'll begin to taper off at about 370,000 a year as we finally catch up with rental demand."
Single-family – "And then the single-family side – we're really only halfway there now. But we are gaining some speed and I expect to see – because of this improvement in the overall economy – begin to see some much more rapid increases in overall single-family production. So by the end of '16, we'll be back up to 92% of the normal – normal meaning the annual production in the early 2000's.

This chart showing single-family housing starts. To the left of the tall red bar on the right is actual housing starts. To the right of the red bar is forecast. As you can see, the NAHB has what we think is a pretty aggressive forecast for growth in single-family housing starts. And yet, even this optimistic forecast only achieves 92% of normal by the end of 2016.
Crowe finished his presentation with a slide showing the United States color coded for how far off from normal the individual states are in housing production. The title of the slide summed up the situation that Crowe feels the U.S. is in now – "The Long Road Back to Normal."
ABC's Anirban Basu focuses on nonresidential…
The final presentation of the event came from Anirban Basu, the sponsoring organizations own Chief Economist. Basu's mission was to present meaningful data on the nonresidential construction in the Commercial and Industry markets.
Basu started his presentation saying that ABC is expecting non-residential construction spending to increase 5%-6% – "maybe more" this year, "Though I must say, a lot of that has to happen during the last five months of the year, because the first half – for reasons that we'll get into, but which are known – were not that fabulous."
Up one quarter, down the next…
Like Baker, Basu showed the Architecture Billings Index which is a leading indicator of future construction. This index has recovered recently…suggesting non-residential construction will improve later this year.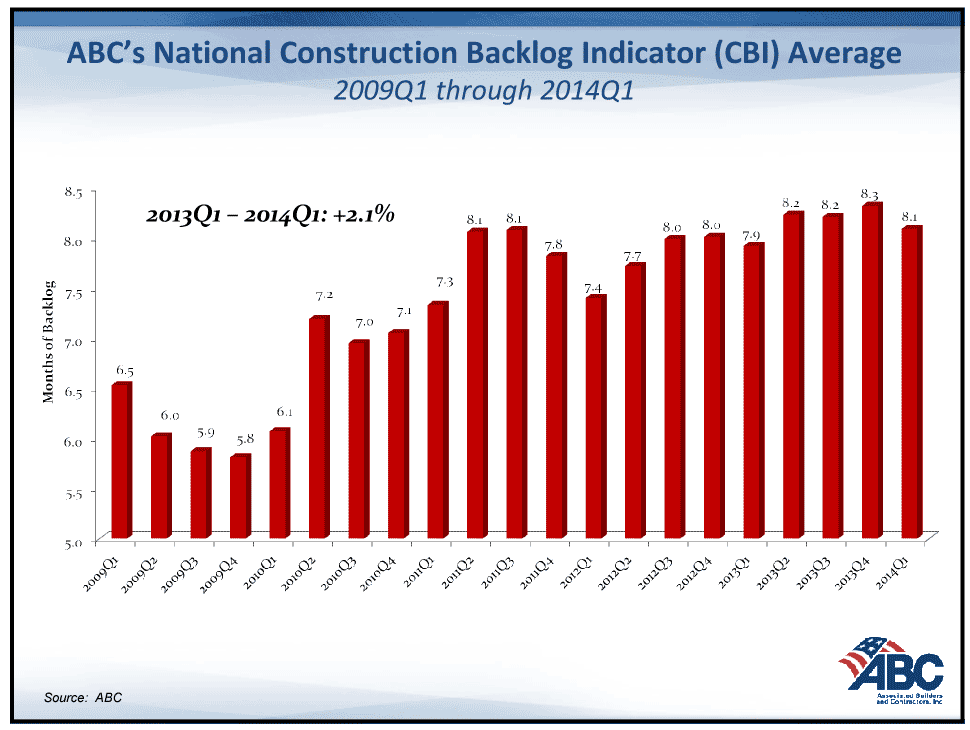 However, when construction companies were surveyed about their existing order backlogs – which the ABC tracks with its National Construction Backlog Indicator – Basu noted that the overall effect is that backorders have been flat for several quarters now. In fact, he noted that the quarters tend to bump up and down: good quarter/bad quarter. This frustrating situation is likely to continue for some time now.
There is good news, but better for some than for others…
There is good news, Basu told attendees. "This economy is starting to move," he said. Pointing to a chart of nonresidential construction put-in-place, Basu noted that there are signs of growth here with even some growing momentum in the last three periods or so.
But clearly, some segments are doing better than others. Showing a slide of construction spending by segment, Basu noted that spending in the Power category is tops at 25.9% and that is just the start he told attendees. Apparently, power or energy plants, such as liquified natural gas is a strongly growing area.
Hot and cold segments in nonresidential construction…
After Power, Basu's chart shows Office (18.9%), Conservation and Development (16.0%), Lodging (11.4%) and Amusement and Recreation (8.5%) rounding out the top five growth segments in nonresidential construction spending.
At the bottom of Basu's chart, those areas seeing the biggest declines in construction spending are: Communication (-1.1%), Sewage and Waste Disposal (-1.3%), Religious (-3.9%), Healthcare (-10.1%), and Public Safety (-10.9%).
In summing up his position, Basu rather optimistically forecast 7% nominal growth in nonresidential construction. The only concern he sees is the potential growth in inflation as the economy continues to grow.
NAHB economist answers Strata-gee's questions…
After the presentations ended, the floor was opened up for a question-and-answer session. We asked David Crowe – as he spoke to the residential part of the construction business that is a driver of the home electronics industry – what he considers the "normal" rate of single-family housing starts.
Without hesitation, Crowe responded, "We think that the normal rate of single-family construction is somewhere between 1.4-1.5 million single-family homes."
We also asked Crowe about whether he had concerns about the impact of the declining buying power of the middle class:
"Yes, I do think that the buying power – particularly for first-time home buyers – is going to slow down or keep the rate of growth in single-family from being what it should be. Even by the end of '16 we're still not up to what I would consider to be a normal rate of single-family construction. What we will get in the interim is purchases from those people who already own a home…from people who are moving to a new home from an existing home. They have seen a return in equity, they've seen a return in their wealth and they're getting more and more comfortable with this situation. So that's where the demand for single-family homes will come first. We will have to wait for at least another year or two, before we see the first-time home buyer have a significant effect on the housing market, and, therefore, on growing all the way into normal production."
Interestingly, in response to a question from the moderator as to why there's a difference in forecasts between the nonresidential and residential construction markets, Crowe talked about the pain of the last recession.
"They called this the 'great recession' for a reason – it really was worse than anything we've seen before," the NAHB economist said with a touch of vigor. But consensus is coming together that we're finally coming out of the woods.
The ABC Mid-Year Construction Forecast was a great, data-filled event with a lot of meaty information handed out. But we were struck at how all three economists were cautiously optimistic – with a heavy emphasis on caution!
To learn more about the Associated Builders and Contractors, see: www.abc.org.