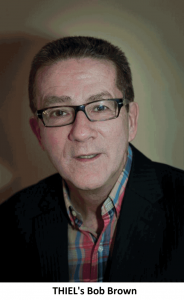 Industry veteran Bob Brown, known to many from his long tenure as President at Lenbrook America, has joined Thiel Audio as a member of their board of directors. Brown will also, effective immediately, begin serving as the company's interim Chief Operating Officer (COO).
Thiel, as we recently reported, is in the middle of an exciting revival as the result of its recent purchase by a consortium of Tennessee investors led by current CEO Bill Thomas.
See more on this interesting new development for Thiel…
Brown not only led Lenbrook (distributor of NAD electronics and PSB loudspeakers) for many years, but also served as President of Tivoli Audio and is currently international sales manager for ZVOX Audio. Brown has also headed a consulting business for the last few years that aided a variety of other companies as well.
Bob Brown is well-known for his business analysis acumen and this expertise will be utilized by Thiel in his role as a director. Thanks to his varied experience, Brown is expected to offer substantial contributions to the organizational and operational excellence of Thiel.
"Thiel is a brand with a very rich history and my goal will be to provide the guidance and market awareness necessary to maximize opportunities going forward," Brown said in a prepared statement. "It's important that as we adapt Thiel's domestic and international sales processes as well as its product development direction to contemporary business ideals, but that we do so very mindful of the brand's legacy. This ownership group seems acutely aware of this necessity and appreciative of the pitfalls that have characterized other investor-led high-end audio acquisitions."
The power of brand image…
In an interview with strata-GEE.com in early December 2012, new CEO Bill Thomas seemed eager to make the point to us that the new ownership really understands the value of the tremendous brand image of Thiel. Clearly, he told us, there are opportunities to build upon this excellent foundation the company has built over the years.
Of some concern to dealers was the fact that long time leader Kathy Gornik had exited the company shortly after the deal was announced. While Thomas would not confirm nor deny information we had received from various sources, he expressed gratitude for the job Gornik had done – particularly with maintaining the brand through difficult times.
"It [Thiel] is a wonderful company – wonderful reputation – and we've got to do our damnedest not to screw anything up with that," Thomas told us.
For more information on Thiel, visit: www.thielaudio.com.