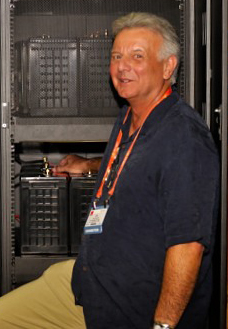 At this month's CEDIA Expo, no sooner had I finished an interview on the show floor when I saw what looked like two huge caskets standing on end and side-by-side. That's a little dramatic, they didn't really look like caskets, just two huge rectangular racks standing about eight-feet up in the air. Curiosity drew me to Rosewater Energy Group's booth where I discovered an old friend: Joe Piccirilli (formerly of AVAD and Sound Advice).
Those monstrous boxes (actually a little over 7-feet tall, the display base they were shown on made them look taller) really contain a lot of technology and take power conditioning to a whole new level.
See why Rosewater's "Storage Hub" was even more impressive than it looked…
When Piccirilli swung open the doors to the rack units that make up their Residential Energy Storage Hub (RESH), it was hard not to be impressed…even if the non-engineers amongst us weren't sure just exactly what we were looking at. But what we were looking at, Piccirilli assured us, represents a sea change in how homes are powered – giving the homeowner more control and, for the first time, real independence in powering their homes.
Basically the RESH is like your very own energy control and supply sub-station that you monitor and control to provide your home – and only your home – with the purest, most consistent, rock-stable power possible. That is not as easy to do as you might think, and Rosewater implements not only best-in-class materials, but even some proprietary technologies to make that happen.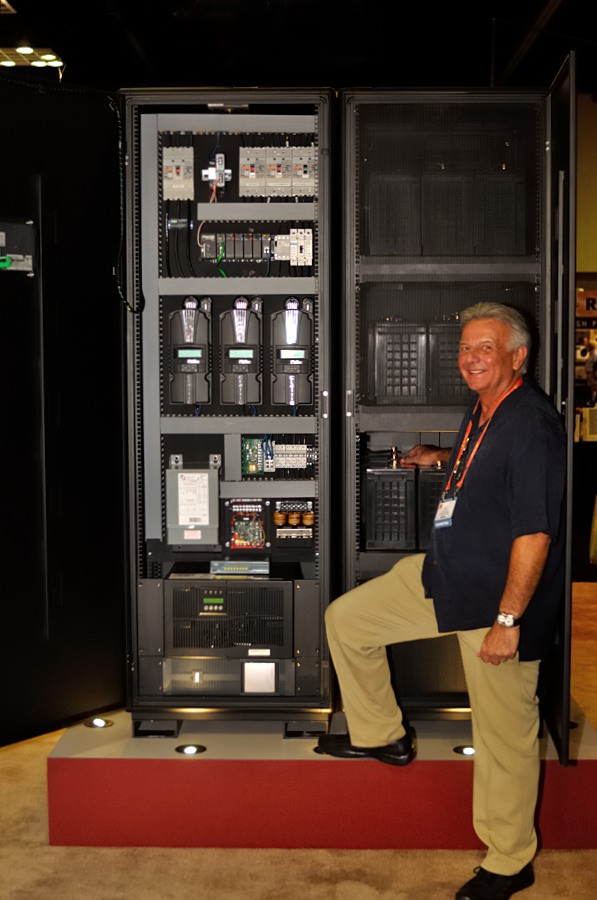 The utility of power…
Most of us rely on power provided by our local utilities. As our population continues to grow, these utilities struggle just to provide basic, and often "dirty" power. The quality of that power is not really of consequence to them. At times of heavy load – say, on a hot day with the whole community running their air conditioners, the power can drop causing brown-outs (power below the 110 volts our consumer products expect)…or in extreme cases – blackouts.
As more residences are adding high-quality, high-end home theaters, sophisticated home networks, computers, home offices, etc., consumers are investing in equipment that – in the best case – will not perform properly; and – in the worst case – will suffer software, content, and even hardware damage.
Connects and controls power from any source…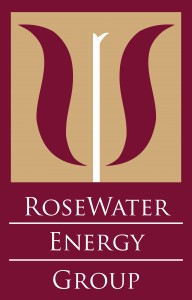 The RESH will fully interconnect and control power from your utility, with power from renewable sources (i.e. wind turbines, solar panels, etc.), and even with an emergency back-up generator. The energy provided by these sources is processed such that any power spikes and/or dips are removed to provide clean consistent power.
"The power coming out of our storage hub is a perfect 110-volt, 60Hz sine wave," Piccirilli told us at the Expo.
But more than conditioning the power coming to your home, the RESH also includes an impressive stack of 24 large batteries which allow the unit to work as an uninterruptible power supply (UPS). Thanks to the built-in batteries, Rosewater can assure homeowners that no matter what happens with their local utility – their equipment will always receive a steady supply of pure power.
Not your Daddy's car battery…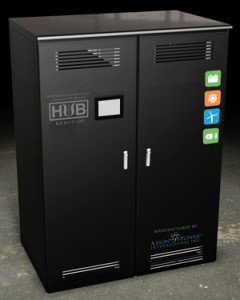 And although the batteries look like your standard 12-volt car battery – they are actually quite unique. According to Piccirilli, the Axion batteries used in the RESH are an advanced lead-carbon battery is safe for residential use (UL-approved), has 5-20 the life-cycle of a traditional battery (over 100,000 cycles), and is 99.3% recyclable. Not only that, but according to Piccirilli, the batteries can go from dead to full power with only 20-minutes of charging!
The RESH fully integrates into home automation systems which provides for both on-site and remote monitoring and management. This fact alone gives integrators and their clients a level of control that they've never really had before.
A luxurious neighborhood…
The Rosewater residential energy storage hub is targeted at the luxury residential market. While pricing hasn't been formally announced, Piccirilli told us that it will likely sell in the neighborhood of $45,000. That sounds like a pretty luxurious neighborhood to us. The company expects to start shipping the product in November.
Piccirilli told us that the RESH will only be offered in a select dealer network. He intends to be very selective in setting up his distribution network. For those dealers interested in learning more about the RESH, or wishing to sign-up to sell it, see: www.rosewaterenergy.com.