Chicago-based Vanco International has recently been releasing new products, especially audio products, at a furious pace. Once again, after barely stopping to catch their breath, the company is introducing five new audio products into their PulseAudio line of affordable, easy-to-integrate products for the residential and commercial markets.
Learn all about these new Vanco models…
Vanco says each of these new models were created as a direct result of feedback from their dealer base. The company has been methodically expanding their audio presence – with smart line extensions in virtually every audio category.
In this case, they are filling out their PulseAudio product line. The PulseAudio brand includes an indoor/outdoor speaker, amplifier, and audio accessory line sold through distributors. Vanco says PulseAudio is designed to provied "affordable, high-performance, and easy-to-integrate audio solutions."
Five New Audio Products Born of Requests from Dealers
These five new models include the PAV1100 commercial amplifier, PA-SS4V speaker selector w/volume control, PA-ADS1 audio delay, PASBR universal dual-axis speaker mount, and the PA-MICPRE microphone preamplifier. See more on all of these new models below.
Vanco was founded over 60 years ago on our expertise in the video industry, but once we dug our heels into audio, we never stopped innovating. We are committed to designing and manufacturing products that make our customers successful, which is why every product concept we've developed under the PulseAudio brand is derived from conversations we've had with dealers who are searching for the best possible solutions to solve the problems they face within the industry."

Randy Blanchard, Vanco International Director of Audio
PulseAudio PAV1100 100 Watt Single Channel Commercial Amplifier
Yeah I know, there are a million different amplifiers out there. But this one is in response to dealers who have been requesting a 100 watt version of the company's popular PAV140. The PAV1100 is a solid 100 watts of Class D power that the company says is the "perfect plug and play solution" for any 70v/100v speaker setup. And while it may be simple, it's not stupid. This new amp can identify up to 16 ID codes for more extensive commercial installations with multiple, zone-based PAV1100s for full independent zone control.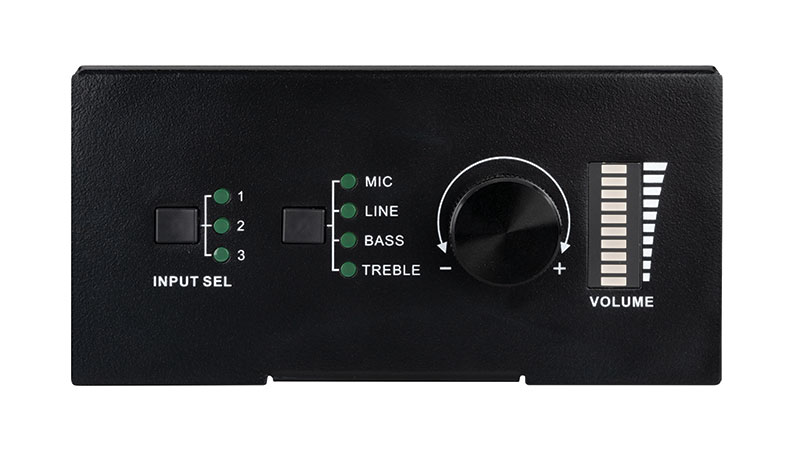 The PAV1100 also includes a three-level microphone input to accommodate dynamic, condenser, or wireless mics and itself is multi-talented. The mic input offers ducking capability, EQ control, and even mic mixing. In addition to the mic input, the amp comes with stereo inputs (using either a 3.5mm jack or two RCA jacks), one digital input, manual volume control, bass/treble control (on front panel), IR remote, and RS232. On top of all of this, the unit is convection cooled, so there is no fan…and no fan noise.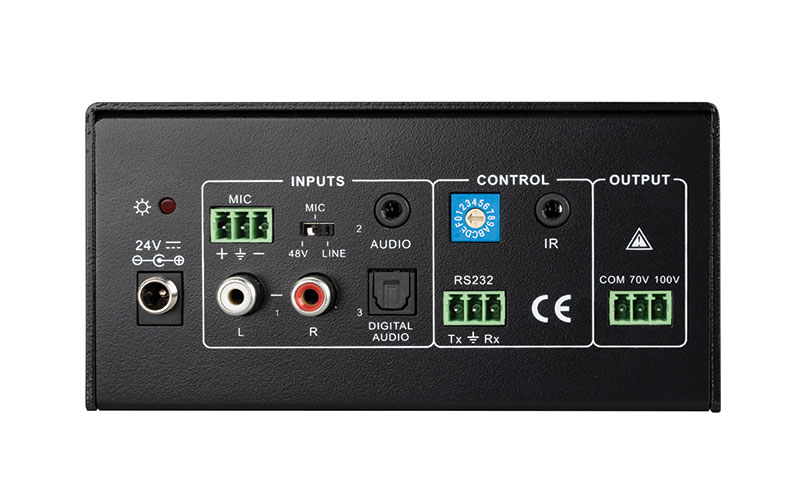 PA-SS4V Two Source, Four Pair Stereo Speaker Selector with Volume Control
This clever product offers a simple solution to those times when you simply need a good, reliable speaker selector…but one with the added flexibility of volume control and sources that can be sent to up to four independent zones. Meet the PA-SS4V, just that selector. With connections for two high-level stereo sources that can be sent to up to four zones, you get simple connections and maximum flexibility.
Each zone has its own on/off switch and an easily selectable impedance matching volume control to protect amplifiers in each zone. Spring-loaded speaker terminals can take up to 14-gauge cables and the unit has 12-step volume control settings. Dealers, Vanco says, have been asking for a high-quality, simple to setup and use, speaker selector. Here it is…
PulseAudio PA-ADS1 Audio Delay Device
Another simple but smart solution, the PA-ADS1 is an easy way to deal with installations suffering from audio/visual "lip synch" issues. Inserted into the audio chain of an installation that includes digital video, the ADS1 gives users up to 16 incremental delay adjustments ranging from 24-340ms. It's all handled through a simple dial adjustment that you can easily set and forget.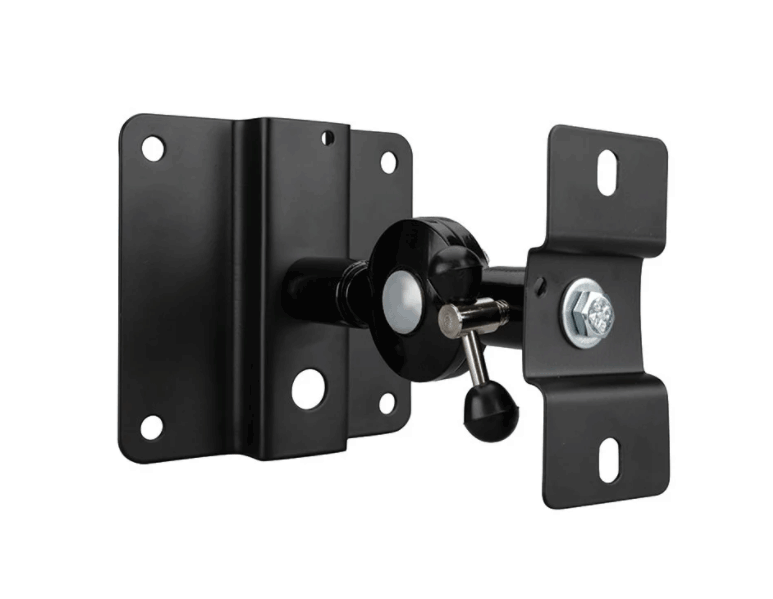 PulseAudio PASBR Universal Dual-Axis Speaker Mount
Just what you want in a universal commercial speaker mount: heavy-duty construction, unlimited positioning, safety x 2, and super flexibility. Meet the PASBR, a heavy-duty wall/ceiling mount that offers all of this and more. Strong enough to effortlessly hold speakers up to 33lbs, the PASBR has a two-axis positioning system with compression locking and 360-degree rotation capability that makes any position doable.
Not only that, but the unit comes with a steel safety cable for added security. Stock up your trucks with this mount because the PASBR is like the Swiss Army knife of speaker mounts – the one mount you will use in 90% of your installations.
PulseAudio PA-MICPRE Microphone Preamplifier
If the PASBR is the Swiss Army knife of speaker mounts, than the PA-MICPRE is the Swiss Army knife of microphone preamplifiers. Solidly built, it offers all the key necessities you will need for 90% of all of your installations where you need a microphone preamp.
With both balanced and unbalanced inputs/outputs, the MICPRE comes with both ¼" and XLR inputs and outputs, as well as a ¼" output for both mono or stereo applications. The input impedance is 10K ohm and the max input level is +4dBv balanced and +10dBv unbalanced. There is a manual gain control with clipping indicator and 36V phantom power.
Learn more about Vanco and its extensive line of products by visiting: vanco1.com.