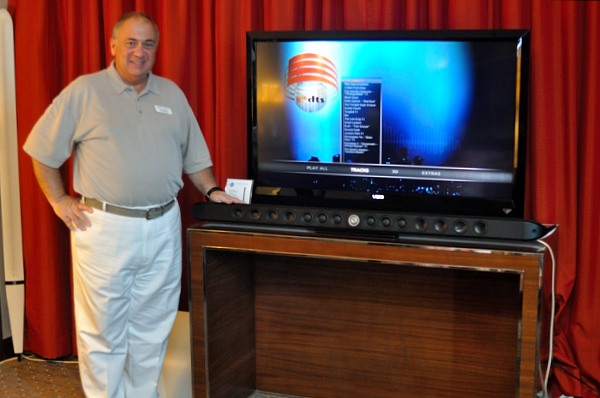 The recent CEDIA Expo was, as usual, dominated by hundreds of companies engaged in a seemingly endless and often mindless rash of line extensions – effectively burying us in a sea of products of uninspiring incrementalism. This year, however, thanks to the diligent effort of many of strata-GEE.com's and ALERT's  readers and followers that we saw at the show – we were often pointed us in direction of some hidden gems. Thanks to you, we were successful in uncovering wisps of innovation from a few new or reincarnated companies.
One such interesting start-up, whose launch we recently reported on here, with a follow-up story here, is AudioXperts. At Expo, AudioXperts showed us an interesting new product concept they call Korners.
And Korners may just represent the first successful attempt to bring peace in our industry's biggest and bloodiest war…
I don't know about you, but for as long as I've been in the electronics business – and that's a long time – I have always been engaged in an epic battle…a battle with my better half, who just does not share the same enthusiasm I have for 250-pound amplifiers driving 6-foot tall massive loudspeakers rattling our windows (and walls and foundation and neighbor's nerves). With every new system configuration, I have to constantly strategize on how I'm going to meet the minimum threshold of WAF (Wife Acceptance Factor) required to get the item added to our system. I'm not always successful!
Apparently, AudioXperts founder and president Eli Harary (and thousands of others in our industry) has been subjected to the same war. But as Harary started his presentation to us at the show, I THOUGHT he had waved the white flag of surrender…thrown in the towel…[insert your favorite metaphor here]…and ceded the living room to his wife. BUT WAIT…
Lose the battle, win the war…
Yep, that Eli is far more clever than me. He may have lost the battle…but he WON THE WAR. You see, Harary engaged in what military strategists call a strategic retreat. He gave up some ground, giving his wife the walls, the floor, the ceiling…but he retains his killer system – thanks to the innovation of Korners.
Korners is a well-thought-out and unique speaker system design that takes advantage of an area of the living room that Harary's wife was willing to give to him, the corners. The challenge of course, was to see if it is possible to design a speaker system that will not only sit unobtrusively in the corner of the room, but provide a decent performance on challenging music and movie content.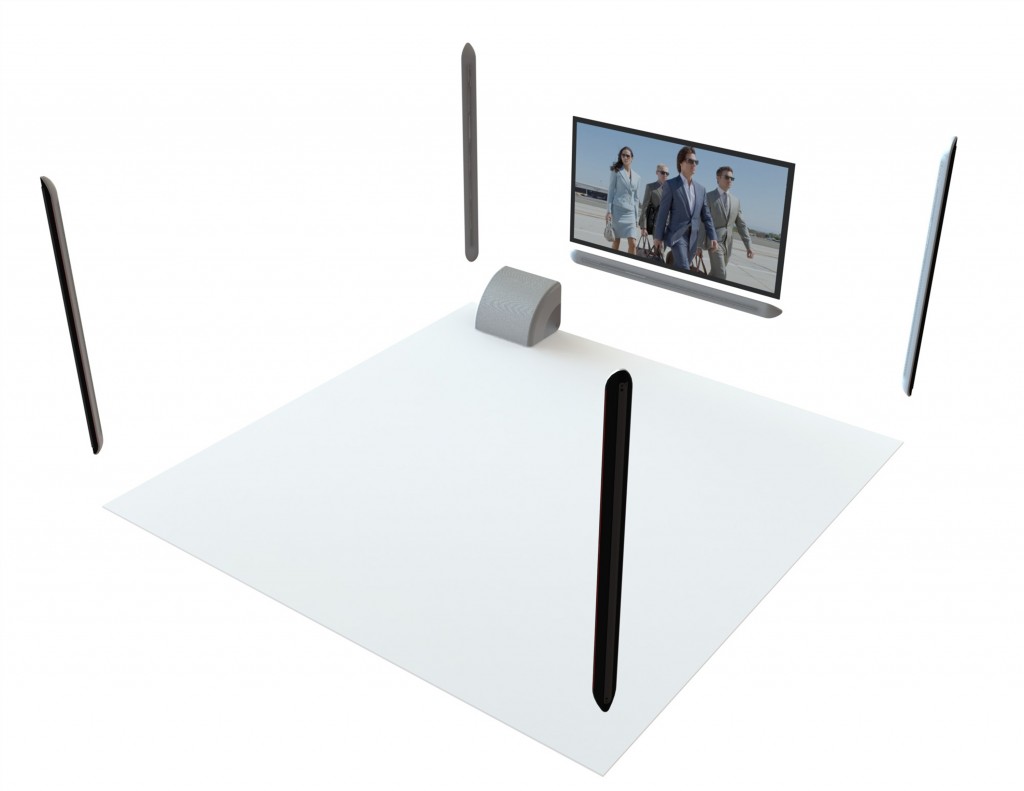 Seemingly impossible…
In the case of Korners, Harary has done something seemingly impossible – take the small form factor of the space available at the juncture of the two walls and create a system that not only provides decent performance – but based on our demo at the show – provided superior performance. And that is superior performance NOT as compared to other corner speakers – but as compared to traditional speaker designs which have the advantage of not being constricted in space, shape, or design.
Now let me say that the genius of the system is not JUST that it sits in the corner. Other manufacturers have done that before. Heck, I myself have sold Klipsch Klipschorns corner speakers. But those are massive and take up way too much floorspace for most of the gentler gender to accept.
An impressive amount of engineering…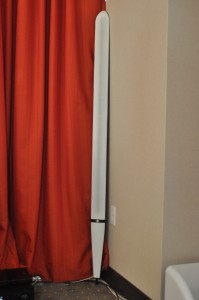 Korners, on the other hand, tuck neatly in the corner and are just 3½-inches wide and 2¼-inches deep. They almost completely disappear into the corners…even though they are 66½-inches tall. Really want them to disappear? Harary even gives you that option by offering a version of Korners in a white, paintable version. Simply paint them to match your wall color and…poof!…they are gone!
It took an impressive amount of engineering to accomplish this seemingly impossible feat. But this, of course is right up Harary's alley – as he has built an impressive career with stints in product development with powerhouse speaker brands such as JBL, Infinity, and Boston Acoustics to name a few.
Throwing out the speaker design rule book…
To squeeze such an impressive sound out of such a small box meant that Harary had to rethink basic speaker design. In Korners, he employs one 1¼-inch soft dome tweeter, six 2-inch fiber cone woofers, and eight 2-inch passive radiators…all stuffed into a cabinet made out of extruded aluminum.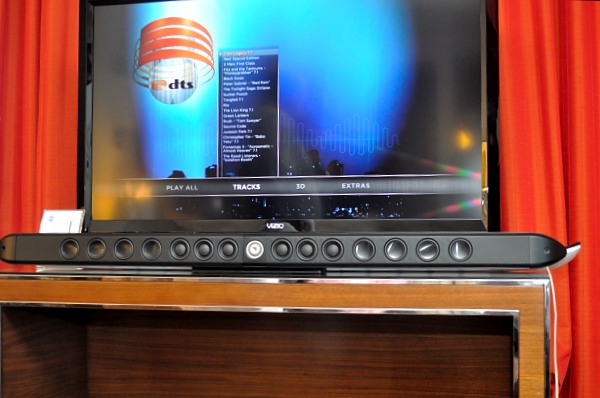 Why aluminum? The answer is simple – any speaker designer will tell you that cabinet rigidity is absolutely crucial for accurate, low distortion reproduction. In a cabinet as small as used in Korners, there was really no opportunity for any added internal bracing – so by employing extruded aluminum AudioXperts is assured of solid rigidity.
The configuration and spacing of the drivers was also critical – and it is interesting that the center channel is the same design as the left/right speakers simply flipped horizontally. There are different grills and brackets to accommodate either horizontal (center) placement or vertical (left/right) setup. The speakers can either be mounted to the corner, or set on special stands to ensure proper height placement.
Kompact subwoofer…
To fill in the lowest frequencies – necessary for convincing explosions in your favorite action movie, or for thunderous tympani and gut-rumbling crescendos in your most recent orchestral recording – AudioXperts will offer a uniquely designed, complementary subwoofer. Called the Korners Kompact Sub, the unit features an 8-inch long throw poly cone woofer and a built-in 100 watt amplifier. With available (and optional) wireless technology, this sub can be positioned almost anywhere in the room – in a corner, against a wall, behind a sofa – with no wire hassles and allows the system to reproduce deep fundamentals as low as 30Hz.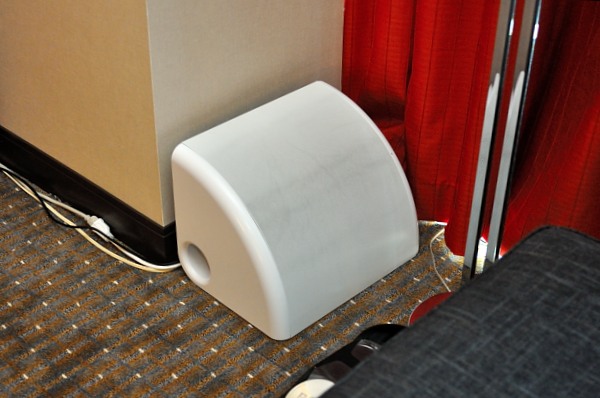 AudioXperts want Konsumers to be Konfident that the company will bend over backwards to make their experience with Korners uniquely satisfying. To that end, the company will back the brand with a five-year warranty on both parts AND labor. Not only that, but the company will offer Korners buyers a full two-year over-the-counter exchange. It goes without saying that the company is clearly going above and beyond the norm in customer support with policies like these.
Korners will be offered in three finishes: black, silver, and white (paintable). The company has not finalized pricing yet…although we expect that to be announced shortly. Korners will begin shipping by the end of this coming November.
For more information, see: www.audioxperts.com
RELATED STORIES______________________________________________________________
Eli Harary, ex-D&M, Launches AudioXperts
Did AudioXpert's Launch Succeed in 'Exceeding Expectations' as Their Tag Line Promises?