AudioSource, Inc., a maker of an eclectic mix of unique solutions-oriented products, announced today a new item that is a combination Bluetooth speaker/hands-free speakerphone it calls Sound pOp. Spelled with a curious capital "O", the sound pOp ties in with the growing popularity of devices that facilitate users streaming their favorite music from their smartphone.
With a cute/odd design that includes a big suction-cup, the big surprise is the price…
AudioSource thought of everything for a funky, portable, battery-powered, streaming speaker whose suction cup allows you to stick it to your shower wall, boat transom, car window or anywhere you fancy listening to music easily streamed from the content on your smartphone. Fully waterproof, the Sound pOp, opens new possibilities for listening environments.
Shaped like a brightly colored, silicon rubber-coated, 3-inch, 3.2-oz sphere with a suction cup attached, it would be easy to dismiss the Sound pOp as a toy – especially when you find out that the MSRP is only $39.99. But AudioSource says that this is a serious product with serious technology driving serious performance.
Good streaming, good speaking…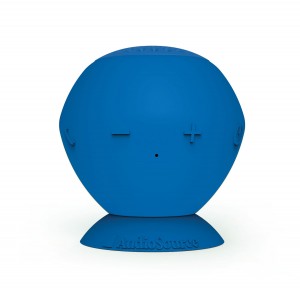 Available in 7 different colors (including camo and zebra), AudioSource Sound pOp incorporates the latest Bluetooth 4.0 technology for the best performing streaming solution. And, as mentioned earlier, the Sound pOp also serves as a speakerphone utilizing hands-free protocol HFP v1.6. According to the company, Sound pOp can be as much as 32-feet away from the streaming source.
The Sound pOp contains a 1½-inch speaker that the company says is a proprietary design and produces a sound quality high enough to "satisfy music lovers." Powered by a built-in rechargeable lithium-ion battery, AudioSource says its 3-watt Class D power amplifier will surprise users with its sound quality and longevity (up to 8-hours per charge).
"Our company boasts a long pedigree of creating audio solutions that answer specific consumer needs," said AudioSource CEO Tom O'Mara in a prepared statement. "From whole house audio to soundbars, we always listen closely to our dealers and end-users when designing the next generation of AudioSource products. Thanks to their feedback, we developed sound pOp to be the ultimate portable speaker and hands-free speakerphone device, and at a price that is within reach of even the most budget-conscious consumer."
Works hard…plays harder…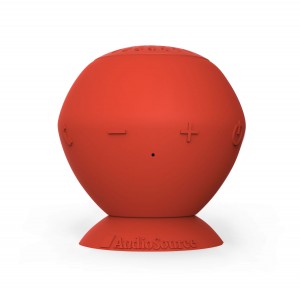 AudioSource says the Sound pOp will also be one of the best speakerphones consumers have ever used as they've included HD Voice technology and noise cancellation to help ensure that your calls are clear. Raised buttons for power, volume up/down, and answer make the Sound pOp very easy and intuitive to operate.
From the looks of the AudioSource website, the company plans very wide distribution for the Sound pOp, including Big Box stores, Cellular stores, and Convenience stores – although no specific retailers are identified.
For more details on the Sound pOp, be sure to visit AudioSource online at: www.audiosource.net/soundpop.