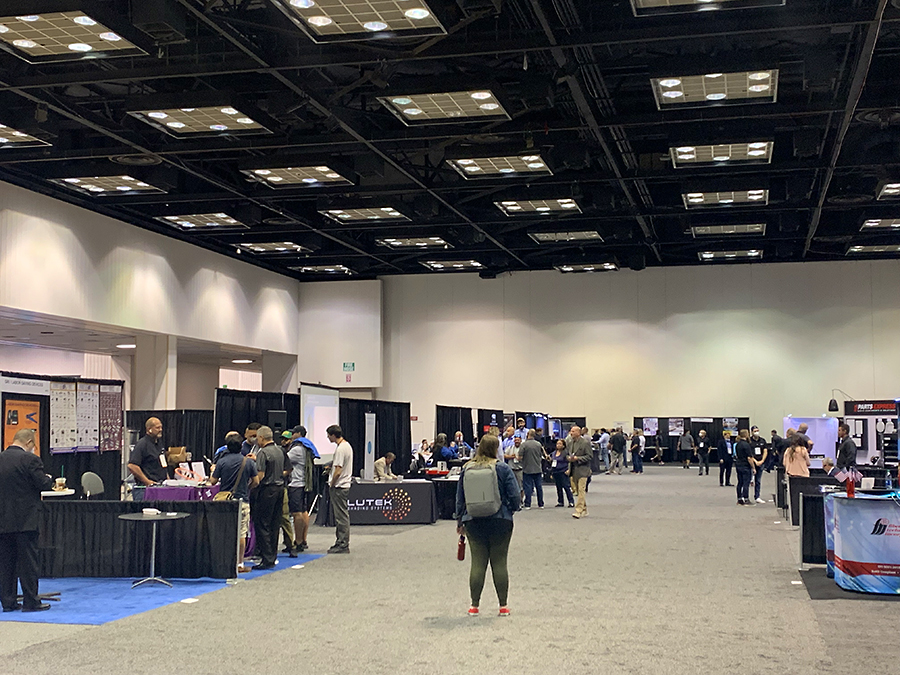 Value of EEX Stock Increases Nearly 19% on the Announcement
Emerald Holding Inc., the parent company of Emerald Expositions, a division that owns the CEDIA Expo trade show and CEPro media, announced its results for the first quarter of its fiscal 2022 year today – and these results clearly showed a strong rebound from the last two COVID-19 impacted years. With both revenues and earnings showing substantial increases, Emerald's President and CEO Hervé Sedkey stated that "…we are in the midst of a robust recovery."
See more on the Emerald first quarter 2022 results
In the first quarter of 2022, Emerald says they were able to successfully field 31 in-person trade shows, conferences, and other events drawing a collective 141,000 attendees and 5,700 exhibitors. As a result of this level of activity – which was far greater than was possible in either of the COVID-19 impacted years of 2020 or 2021 – the company saw a huge rebound in its financial performance.
Emerald reported that revenues in the first quarter this year came in at $98.5 million, up 664% over revenues of $12.9 million in the same quarter a year earlier. On top of that, Emerald swung from a net loss of $15.3 million last year to a net profit of $22.6 million this year.
Revenues, Earnings, and Cash
As its economic engine sputtered back to life, the company was able to generate more cash. The announcement said it generated $33.0 million of cash in the quarter this year. This figure is a substantial increase over the $1.6 million in cash generated in the same quarter in 2021.
Still, there were a couple of nagging issues dogging the company. First, it is still fighting to collect all of the money it says it is owed by insurance companies on its event cancellation policies that covered events canceled for a variety of reasons, including a pandemic. The company has submitted claims totaling $347.5 million, but so far has only collected $213.1 million against those outstanding claims. Emerald has taken their insurance carriers to court to try and collect the remaining $134.4 million that they say they are owed.
Nagging Issues
The other nagging issue is that the company has, once again, been forced to book a writedown in the first quarter for impairment of goodwill and impairment of certain intangible assets. For the first quarter, they wrote off $7.9 million – $6.3 million in goodwill impairment and $1.6 million intangible asset impairment. This initial prepared release does not provide a lot of detail on just what that writedown is about, but the company says it is related to the fact that it has, once again, reclassified its businesses, creating new categories and moving various properties around. They point to this reclassification as the reason for the writedown.
Overall, the company had a solid fiscal quarter. However, some may say that these results benefit from the comparison to a year of COVID disrupted business resulting in an artificial skewing of these results to look more positive than they might have been in comparison to a more normal business period. And there is some evidence to suggest they might be right.
Comparison to 'Normal' Year
For instance, in the first quarter of 2019, the last year of normal pre-COVID business operations, the company booked revenues of $137.4 million, or almost 40% more than the $98.5 million booked this year. An operating income in 2019 was $43.2 million, more than 77% higher than the operating income of $24.3 million in operating income this year. So while the company is in a recovery period, we are not yet quite back to normal.

We are pleased with our first quarter results which clearly demonstrate that we are in the midst of a robust recovery, highlighted by several of our events that have delivered or are tracking ahead of their pre-pandemic levels. Continued strong attendee turnout is also driving improved NPS [Net Promoter Score] scores for our exhibitors and providing a catalyst for rebooking of future events which we believe strengthens our ability to achieve our full year 2022 financial guidance. While our business and industry are recovering, we remain focused on transforming Emerald and accelerating organic growth through new show launches and accretive M&A.

Hervé Sedkey Emerald President and Chief Executive Officer
Launching Three New Events in 2022
Sedkey says Emerald plans to launch three new events in 2022, although he did not specify what those shows would be. But he justified the plan by saying, "…we believe new show launches can add two to three points to organic growth, annually, over the next few years."
Emerald's CEO also said that they continue to search for potential acquisition targets in "high-growth industries which will further Emerald's objectives to continue diversifying across end markets…" They have already been pursuing this strategy even during the pandemic. Recently, Emerald acquired the MJBiz trade show, an event that serves the growing Cannabis market.
Can Practically Hear a Sigh of Relief in Their Statement
In reading statements from both CEO Sedkey and CFO David Doft ("2022 has presented a welcome change to the events landscape…") you could almost hear an audible sigh of relief. Clearly, this quarter, while not perfect, was orders of magnitude better than the nightmare of the last two pandemic pummeled years for live event companies like Emerald. For them, it is now onward and upward.
But wait…the CDC reported this morning that COVID infection rates are rising again. Oh-oh…
See more on Emerald by visiting: emeraldx.com.