Last Friday, Amazon founder and now former CEO Jeff Bezos woke up the richest man in the world. He has been the richest man in the world for quite some time now. Yet when he went to bed Friday evening, he was no longer. And the reason that's so should serve as a warning to you and all of us in the tech biz in 2021.
See why you should take warning from the Jeff Bezos situation
So I'm pretty confident that you, dear reader, are not the richest person in the world. That is, unless you happen to be Bernard Arnault, chairman and CEO of LVMH, the French luxury brand powerhouse, who replaced Bezos as the richest person in the world last Friday. What could this possibly have to do with you? Bear with me.
Remember that last year, COVID ended up providing some tailwind to a few industries, as consumers who were forced to stay in their homes 24/7 due to local quarantines or stay-at-home orders during the pandemic shifted how they buy things. Traditional retail stores were closed, so they turned to online merchants – principally Amazon – to buy all of their goods, including in many cases even groceries.
A Reckoning for E-Commerce & Online
Other online entities such as Etsy (online craft retailer), Wayfair (online furniture dealer), and eBay (broad range of new and used goods sold online) all saw their businesses soar as a result of the situation. There was much speculation as to what would happen when COVID ended – would their momentum continue (by converting retail shoppers to ongoing online shoppers), or would they see their business tail off.
Well on Friday, we got a peek at that answer. Amazon released financial results that had been eagerly anticipated by Wall Street analysts who were looking for signs that their business would continue to grow. It did, but at a much slower pace than anticipated. It was a pretty clear indicator that Amazon's sales were stagnating.
Declining Revenues in the Future
Making matters worse, the company predicted that this next quarter's sales would come in at an even lower level. Amazon CFO Brian Olsavsky came right out and said what Wall Street was fearing, "People are getting out more and doing things besides shopping."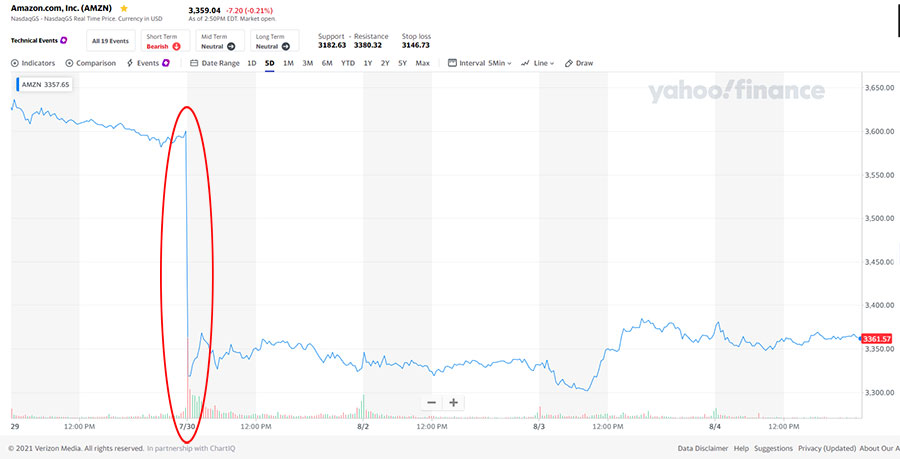 How did the stock market react? Ugly…Amazon's stock dropped a full 7.5% the day of the announcement and hasn't recovered since. The news for investors was clear – the party was over. Like Bezos in his spacecraft, Amazon's high-flying revenues were coming back down to earth. It was the worst 1-day stock drop for Amazon in more than a year.
Other Online Retailers Hit as Well
But Amazon was not alone. Stock in Etsy, Wayfair, and eBay all fell on Friday as investors bet they would all suffer the same fate – if not worse – than Amazon did as shoppers shift away from their screens to other pursuits. Clearly, in 2021 things are changing in ways that are less favorable to online entities.
All of which brings me to our industry. Last year during the pandemic, the custom integration industry benefitted by being designated an essential service. Customers all around the country realized that their systems designed for occasional entertainment were not robust enough to handle the new 24/7 work from home, learn from home and constant entertainment environment. This drove a lot of business as consumers scrambled to improve their home networks and systems to handle a dramatically enhanced workload – or just to keep everyone entertained around the clock.
Tech & Custom Integration Will Not Be Immune
So, in a way, we experienced a bit of the same effect that Amazon did. Logically, that means that also like Amazon, we are likely to feel a little less wind at our backs as consumers return to working at their company's offices, their kids go back to learning at school, and everyone has way more entertainment options available to them than they've had over the last year or year-and-a-half or so.
So if you've scrambled to build up your business, expand your staff, invest in more inventory based on what happened last year – you may want to take a more critical look at that. While it is likely true that consumers have learned a valuable lesson on how important technology is to their daily lives – they most likely won't have the same pressure to update or upgrade their systems this year…as they did last.
Even Social Media is Feeling It
Separately, even social media site Pinterest reported a 5% decline in global users last quarter. The company noted: "We believe engagement on Pinterest was disproportionately lower as people began spending more time socializing with friends outside their homes, eating in restaurants, and generally participating in activities that are not our core use cases."
So perhaps the COVID boom for tech is over. But what about the rise of new infections due to the Delta variant? While this is troubling and could be a complicating factor impacting the economy moving forward, no municipality is considering any new quarantines or stay-at-home orders. In the most likely case, municipalities may order mask requirements, but still allow openings and movement.
What do you think? Are you seeing a shrinking pipeline? Or are you still busier than ever? Leave your thoughts in the comment section below.
See more on Amazon at: amazon.com.