In a new analysis by eMarketer, we learn that Google has made significant inroads into the smart speaker market, causing Amazon's Echo to begin to lose market share. So far, they remain the number one smart speaker, but projections show continued erosion, as consumers are embracing Google's, as well as other's, smart speaker options on the market.
See more on this early but meaningful research on Amazon's declining share…
Let's first make one thing perfectly clear: Amazon's Echo is still the 800-pound gorilla of the smart speaker market. Wait, check that, more like the 500-pound gorilla of the smart speaker market. They remain well above any of other competitor and are not at risk of losing the number one slot in the channel…at least not anytime soon.
But this fact notwithstanding, recent data shows a real and measurable uptick in sales of Amazon's competitors…principally Google's Home smart speaker, which is attracting more support. Furthermore, many more smart speakers from other brands are entering the market and while many of them individually don't register significant share…collectively as a group, they are beginning to be felt.
40 Million People Pick Amazon Echo
Brand new research by market researcher eMarketer shows that this year, fully 40.7 million people will use an Amazon Echo at least once a month. This works out to fully two-thirds (66.6%) of all smart speaker users.
But new projections show this dominant position beginning to slip, dropping more than 6% in just two years in 2020 to 60.8%. This is a fairly significant drop, even though they still finish in first place in terms of share.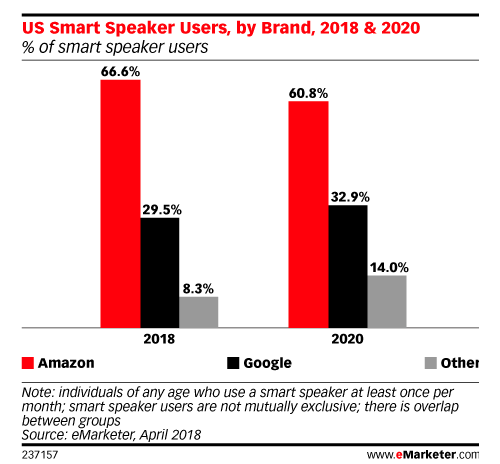 This Year, 18 Million Pick Google Home; In 2020?
Compare the results of the number two player – Google. This year, eMarketer's data shows that Google Home will have 18.0 million users this year. Although a fairly big number, this is still less than half of Amazon's market share.
However, the trends favor Google, as eMarketer predicts that within just two years, this number will grow to almost 33% by 2020. This growth, coupled with Amazon's decline, means that at that point Google will enjoy a much tightened race for first place.
Google Mini Drove Growth Over the Holidays
"Google Home's competitively priced Mini drove growth for the brand in the 2017 holiday season," said eMarketer forecasting analyst Jaimie Chung. "With Amazon and Google vying for spots in both the smart-home and ecommerce spaces, Google's pricing has revitalized the artificial intelligence race to dominate the home."
Overall data on the smart speaker market remains quite bullish. The data from eMarketer shows that 61.1 million people will use a smart speaker at least once per month this year. That is a 40% increase from just 2017, and is well over the number the researcher forecast just one year ago.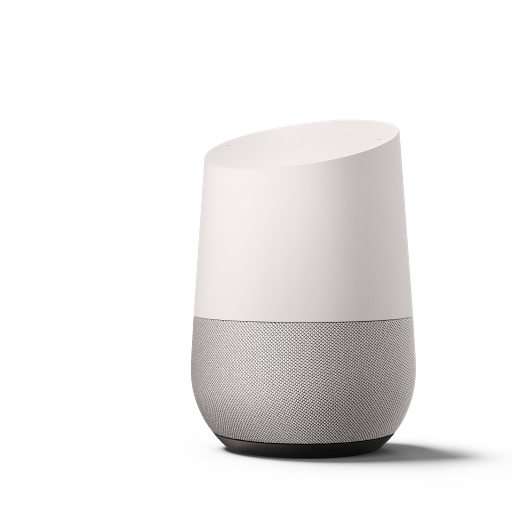 Smart Speakers are Used Most For This
What do most users do with their smart speaker? The number one activity is listening to audio – either music or podcasts…or digital radio.
See more market predictions from eMarketer at: www.emarketer.com.