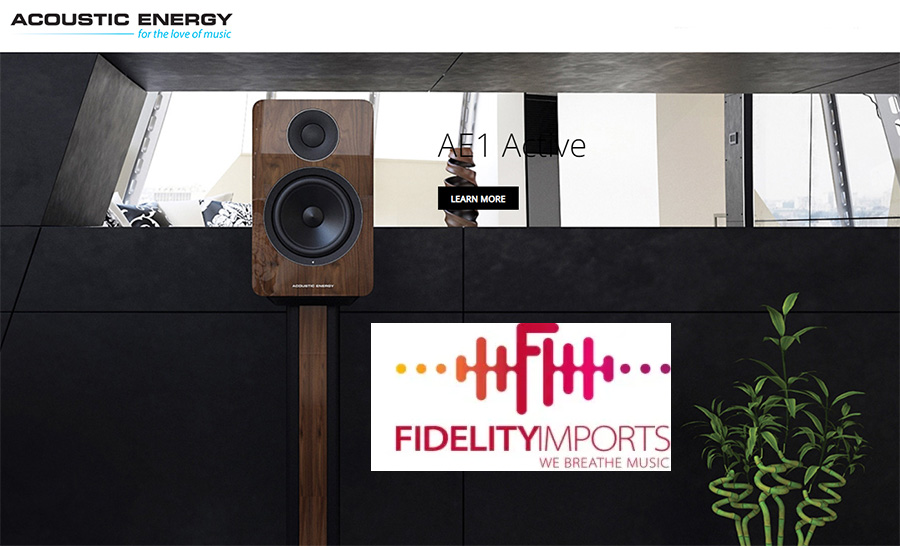 London-based Acoustic Energy Loudspeakers Ltd., announced today it has appointed growing high-end specialty distributor Fidelity Imports as its "exclusive new business partner for the US market." Fidelity will take over full responsibility for sales and support of its line throughout the U.S.
See more on Acoustic Energy's appointment of Fidelity Imports
With the signing of this agreement, Fidelity Imports takes on the duty of supplying its growing network of specialty dealers with Acoustic Energy's full portfolio of award-winning loudspeakers in the U.S. This includes everything from the company's flagship 500 Series to its latest 100 Series.
Founded in 1987 in London, England, Acoustic Energy's first product was dubbed, appropriately enough, the AE1, a compact bookshelf design that soundly outperformed many larger systems with a unique design offering greater dynamics, power handling, and clarity. It was to set the standard of all products to come from the company over the ensuing years.
Awards & Accolades
Acoustic Energy says it has won literally hundreds of awards from the Hi-Fi media all over the world. That certainly seems to ring true as their website displays the banners of many such awards.
Launched and owned by music lovers, the company's tagline is "For the love of music."
Fidelity Imports – A Curated Collection of the World's Top Brands
Fidelity Imports was launched in 2018 by two friends whose combined experience represented 45 years of servicing the high-end channel. Distributing a collection of world-renowned brands, the company has built an enviable portfolio of some of the finest audio brands on the planet. They then offer the world's finest lineup through a select group of authorized dealers throughout the U.S.
Fidelity Imports says its dealer partners are as carefully curated as their manufacturing partners, selected based on the dealer's outstanding level of service and the appropriate assortment of complementary lines in their showrooms.
We Breathe Music
Like Acoustic Energy, the folks at Fidelity Imports also love music. Their tagline is "We breathe music."
When we first spoke to Steve and the team at Fidelity Imports it was immediately obvious that Acourstic Energy would be a perfect fit within their portfolio of premium brands. We've always enjoyed a loyal following to our brand in North America and now with a professional, well respected distribution partner onboard, we are looking forward to increasing awareness and business growth through a wider, discerning audience.

MD Mat Spandl, Acoustic Energy Loudspeakers
For More Information…
To learn more about Acoustic Energy Loudspeakers, visit acoustic-energy.co.uk.
Reach out to Fidelity Imports to see Acoustic Energy and all of its other fine lines here at fidelityimports.com.
Want to sign up now? Contact the good folks at Fidelity Imports at the contact form here and they'll get right back to you.