Industry audio/visual manufacturer ClearOne [NASDAQ: CLRO] has filed an application to register a trademark on the characters "MAGA." According to multiple comments on Twitter on the matter, ClearOne apparently intends for MAGA to represent Make Audio Great Again. This is very close to a political slogan that has became quite controversial in America. From the looks of the comment stream I saw on Twitter…this is going to be the topic of a lot of discussion.
See more on ClearOne and MAGA
Let me say from the start that I reached out to company representatives in an attempt to get a comment on this trademark application from someone associated with ClearOne on several occasions over the last few days, but was told no one, including President and CEO Zee Hakimoglu, was able to be reached for comment. I will continue to attempt to get the company's thinking on this.
ClearOne is a manufacturer of various audio/visual communications solutions, largely in the conferencing, collaboration, and network streaming segments. The company participates in both the commercial and residential spaces.
Application for Trademark Filed in June 2020
ClearOne is a public company, whose stock is traded on the NASDAQ exchange with the stock symbol CLRO. The company had total revenues in 2020 of $29.1 million and a net profit of $0.5 million.
On June 29, 2020, ClearOne filed an application with the U.S. Patent and Trademark Office (USPTO) for registration of a trademark on the letters MAGA. MAGA, of course, is a widely used acronym most commonly associated with former President Donald Trump's campaign slogan, "Make America Great Again." In comments I viewed on Twitter earlier this week, various tweets claiming knowledge of the company's plans said ClearOne intended to modify the slogan and promote it as Make Audio Great Again.
According to the company's application, the mark is for:
Mark For: MAGA™ trademark registration is intended to cover the categories of video and audio conferencing and collaboration equipment, namely, video codecs, cameras, and speakerphones, electronic hardware accessories, namely, loudspeakers, speakerphones, microphones, acoustic echo cancellers, audio signal processors for speakers, audio mixers, amplifiers, and downloadable computer software to manipulate audio signals for use in point to point and multipoint video collaboration and conferencing on multiple devices; wired and wireless microphones; wireless and hardwired conferencing phones.
Business Segments Registration of MAGA is For
As is the case with trademark applications, the primary concern is to hold rights to the trademark for those product segments in which the business participates. Those segments or "classes" of goods need to be precisely defined. Accordingly, for the U.S. the "primary classes" or business segments ClearOne requests to have the trademark registered for, are:
021: Electrical Apparatus, Machines and Supplies
023: Cutlery, Machinery, Tools and Parts Thereof
026: Measuring and Scientific Appliances
036: Musical Instruments and Supplies
038: Prints and Publications
For international purposes, the company has defined the Primary International Class as:
009 – Primary Class
(Electrical and scientific apparatus) Scientific, nautical, surveying, electric, photographic, cinematographic, optical, weighing, measuring, signaling, checking (supervision), lifesaving and teaching apparatus and instruments; apparatus for recording, transmission or reproduction of sound or images; magnetic data carriers, recording discs; automatic vending machines and mechanisms for coin operated apparatus; cash registers, calculating machines, data processing equipment and computers; fire-extinguishing apparatus.
A Literal Mark, Not a Unique Design
This trademark is a literal mark and the company makes no special claim for any special design of the lettering used for the mark. Consequently, the application only shows the plain letters "MAGA" in a standard font. Actually, we saw several applications at the USPTO for MAGA, all using the same plain letter characterizations.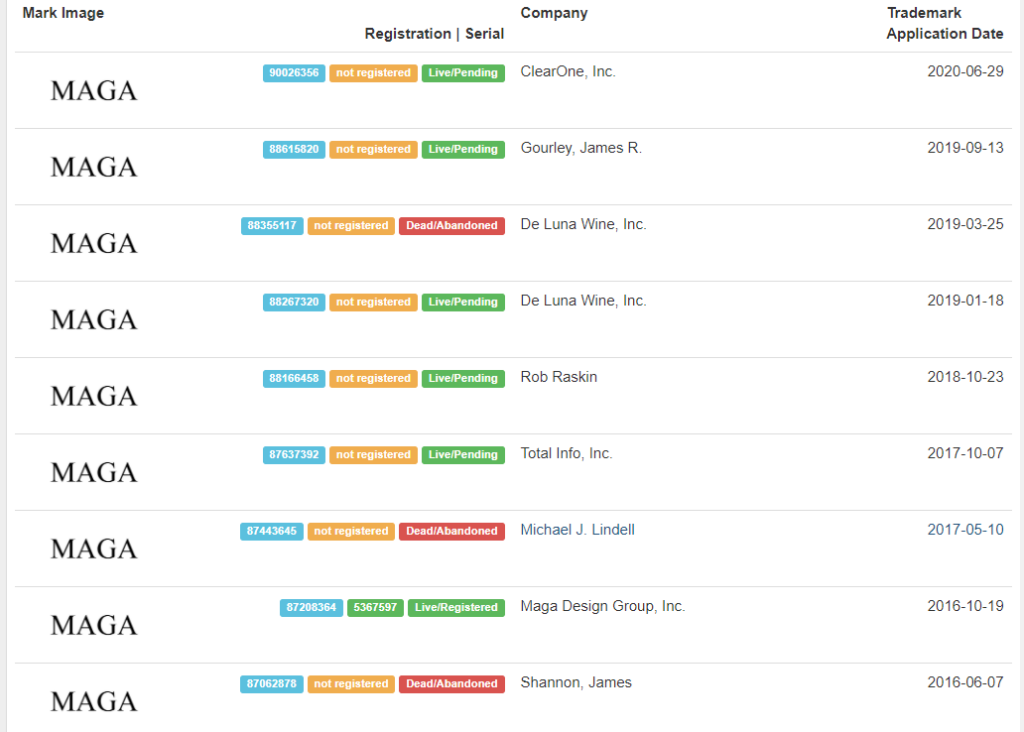 On March 16, 2021 the trademark was "published for opposition" which means the trademark is published in the USPTO's Official Gazette for a period of thirty days. During this period of time, companies or individuals who believe they will be impacted by this registration can file in opposition, triggering a trademark opposition procedure which is sort of like a special lawsuit. Who opposes? Usually other people or companies using the same or similar trademark in the same or similar business segments.
If there is no opposition, then the trademark is registered for the applying party. That publication period on ClearOne's application is now coming to a close.
The Bigger Issue
But of course the bigger issue is whether the use of the MAGA trademark, or Make Audio Great Again slogan, is a wise marketing strategy for a business to adopt. It certainly can be argued that MAGA was a strong rallying cry for the many fans of former President Trump – and therefore might make ClearOne's products more attractive to this crowd. However, it is also true that MAGA has been condemned to almost the equivalent degree by opponents of Trump – and there is certainly the risk that they will be repelled from the company's products by their use of this marketing strategy.
When earlier in my career I took my first sales job and needed to be trained in best practices, sales trainers commonly warned new salespeople to avoid talking about two topics – politics and religion. These subjects risked being areas of conflict as much as areas of agreement. Why, the thinking goes, limit your potential market?
Is This Good Marketing?
It is also true that the country has become more polarized than at any time before. As a result, passions are high – as was clearly displayed in some of the comments I saw on Twitter about ClearOne's marketing plans.
So Strata-gists, what do you think? Is this a smart move by ClearOne? Or are they making a mistake?
Feel free to comment on this post below – but please keep comments civil and respectful. I reserve the right to remove offensive comments. This topic is not about the politics…it's about the marketing strategy. I ask you to keep your comments in this marketing vein.
Learn more about ClearOne and its products at: clearone.com.