Crestron Electronics Corp. (Crestron), one of the largest and most popular custom integration control brands delivering literally thousands of products to both the commercial and residential smart home channels, announced today the launch of Crestron Home OS 4. This exciting new update brings much to the party, not only a more polished and graphically appealing look and feel but also a more intuitive end-user operability. Oh, and not to mention, some exciting new functionalities.
All of which, I got to see for myself in the company's completely renovated residential-specific showroom. This company is on the move…
See more on Crestron Home OS 4 and my visit to the company…
Earlier this week, as I walked up to the main Crestron building that houses, among other things, the company's reception center, showroom, and education center, something felt different…palpably different. I last physically visited the Crestron campus in Rockleigh, NJ almost precisely four years ago in late August 2019, just a few months before the COVID-19 global pandemic viciously came out of nowhere and literally changed the world for all of us.
I Had No Idea What was to Come
It was a brilliantly sunny late summer day of deep blue skies with floating puff balls of intensely white clouds and temperatures in the low 80s – a welcome respite after a run of hot humid days punctuated with violent thunderstorms. It was a good day to get out of the office and go look at some toys.
I had no idea what I was about to experience…
Crestron held quite a few surprises for me… Some of which I am unable to share with you today. But others, you will learn all about in the near future.
Surprises that are Pretty Sweet
After an admittedly tough pandemic period of surging demand frustrated by extreme supply chain problems, the upbeat optimism of the whole Crestron team was clearly evident. And the two surprises I can share with you today are pretty sweet.
First, the company has completely revamped its showroom. When I was there four years ago, it was dominated by mostly commercial products and technology displays. There was, at that time, just one wall area dedicated to residential products.
An 'Almost Shocking' All-New Residential Showroom
Now, however, the company has built the equivalent of an entire Manhattan apartment inside the showroom. A clear indicator of the growing importance to the company of the residential segment, the dramatic increase of residential-centric space was almost shocking…and certainly impressive.
The space includes an office area with built-in bookshelves, a full kitchen, a livingroom/media room with a large video screen, a bedroom subroom with its own dedicated A/V entertainment system…and even a large space that looked to me like an enclosed indoor/outdoor area. All spaces include motorized shades on any windows, fully controlled lighting, and A/V options throughout. And all of it was thoughtful, creative, and very well done.
Crestron OS 4 Brings You More
It is a great space to see a demo of the newly updated Crestron Home OS 4 in action in the new and authentic home environment in the Crestron Experience Center.
So what's new in OS 4? It's a long list of new or expanded features, most of which have been requested by Crestron integrators. Clearly, Crestron listens to its dealers.
Home OS 4: First, A More Polished and Pleasing Visual User Interface
First, to my eye, Crestron Home OS 4 has a more pleasing visual user interface (UI) than the previous version which had a serviceable, if more functional, look. With upgraded graphics, intuitive control flow, and a more refined and approachable design, it really is quite attractive to look at…and to use.
Fresh Design that Remains Subtly Recognizable and Approachable to Current OS 3 Users
Interestingly, the company sought to modernize the look, expand functionality, and improve useability, but they did not want to confuse users with an overly radical redesign experience. So one surprise is that the look is more refined and modern, but will remain recognizable (and unintimidating) to current Crestron Home users.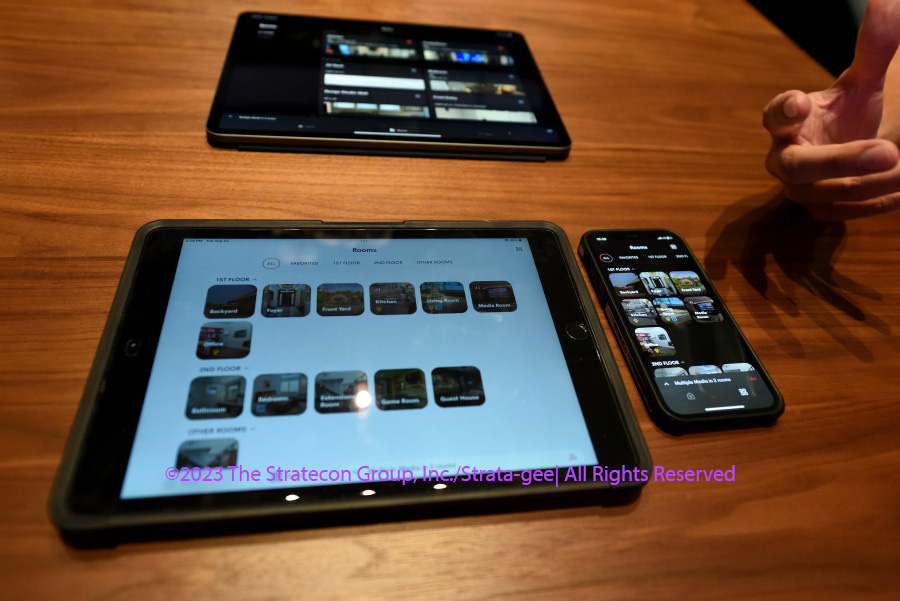 Part of the design enhancement was to optimize the layout for every type of mobile device an end-user may choose to use. So Chase Bouchard, who carries the rather unusual title of Product Owner, Residential Solutions for Creston, noted that whether being displayed on an iPhone, iPad, Android mobile, or any version of Crestron touch panel – 10-inch, 7-inch, 5-inch or even 5-inch portrait – all will display a perfectly proportioned version of the Crestron Home OS 4 interface.
OS 4 Offers Much More With Simpler Usability
With newly updated icons and more and smarter use of color – most screens now provide more information that is easier to see and use for enhanced navigation. That, perhaps, is an important point to emphasize. These various design enhancements are not being provided simply to be prettier – the goal is to offer more readable/usable information, added flexibility, easier/faster navigation, and greater functionality without overwhelming the end-user.
So for those clients with extensive systems, Crestron Home OS 4 has added room lists and filters to help users (or their integrators) create screen layouts that provide just the information the client wants to see. A smart new "Compact" view combines icons and expanded room lists that allow users to quickly find and navigate to the room they are seeking to control. Compact view, Bouchard tells me, is especially useful on smaller mobile devices.
Empowers End-Users to Simply Customize Their System
It's hard to describe how smart this interface looks, but screens in which more control capability has been added for many functions, whether shading or environmental or A/V systems – somehow seem easier to achieve whatever it is the user would like to do – all thanks to clever design.
One thing I really liked is that Crestron is expanding simple customizations that can be easily implemented by the end-users themselves without requiring a truck roll, or even a support phone call, to their custom integration company. One great example the Crestron executives showed me was the ability to customize and simply set scheduled events. Scheduled events are simple system interactions to complete a set task. Say, for example, shutting the lights off in the kitchen at midnight. End-users can set this scheduled event on their own and modify it later – say to add more rooms or change the timing – all on their own accord.
Enables Crestron's Digital Lighting Platform
One of the more interesting aspects of Crestron Home OS 4, is that it enables full control of Crestron's incredibly cool digital lighting platform. It is here where the interface really shines (pardon the pun). The flexible OS 4 gives you full control and interaction with Crestron's excellent DMX-C fixtures, with tunable color, dimming, on/off, and more. This includes, of course, the ability to activate and whole-house circadian rhythm lighting scenes, for those seeking the health benefits that brings.
But what to me seems really amazing, is that Crestron has gone one step further and says OS 4 allows the full use of lighting systems and fixtures from other companies that fully integrate with Crestron fixtures on a native-like basis. You get the full tunable color and dimming fully coordinated and controlled with the Crestron lighting products, as though those third-party products were native to the Crestron system. Amazing…
This will be done via a new class of drivers that are currently being developed by a multitude of providers. Crestron itself has launched Philips Hue smart lighting and has released easy-to-use APIs to the wider driver development community. They expect a plethora of new drivers available to serve the greater pantheon of the lighting community.
All This and More
Did I mention that with Crestron touchscreens, OS 4 gives end-users the ability to easily page a group of rooms or the entire house? Yep, intercom and paging capability have also been added with OS 4. This is yet another feature that Doug Jacobson, Crestron's Senior Director of Product Management, Residential Solutions says clearly bubbled up from the Crestron dealer network.
I saw more during my visit at Crestron, much more, but those announcements are yet to come. However, one thing is for sure, with the cessation of supply chain issues, Crestron engineers have been busy and there are many new innovations ready to spring forth from this newly reinvigorated company.
Crestron Home OS 4 is a robust and worthy start to this next phase for the company.
See more on Crestron Home by following this link...