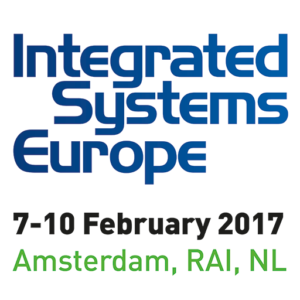 Integrated Systems Europe announced today that their ISE 2017 show drew 73,413 attendees making it the largest ever trade show servicing the international residential and commercial integration industries. The show, which is a 50/50 partnership between CEDIA and InfoComm, saw attendance swell 11.7% over the level in 2016.
See more on this successful international trade show…
Calling itself "the international destination of choice for AV and systems integration professionals," the organization says there were a total of 1,192 exhibitors – both equipment vendors and service providers. The show, which has no direct equivalent in the U.S., covers a wide range of industry segments, including digital signage, unified communications, audio, smart building, residential and education sectors.
ISE says that attendees came from 150 countries "reflecting the show's global read and influence." About 600 attendees were from the media community.
A Key Show with Keynote Presentations
"We listen to the industry and we listen to our exhibitors," said Integrated Systems Events Managing Director Mike Blackman in a prepared statement. "We invest in the show and, importantly, we have the people in place tp produce the type of exhibition that they tell us they need. It's a real collaborative effort and I'd like to thank everyone that's been involved."

ISE 2017 had a record attendance this year
This year, the ISE 2017 featured two keynote addresses, one by architect Ole Scheeren and another by Cirque du Soleil President and CEO Daniel Lamarre. Both speakers addressed the need for creative thinking and innovative technological development and their connection to advance architectural design and live event production.
Expanded Educational Offerings
The show spans 14 halls within the RAI Amsterdam exposition center and in addition to the show floor, the event included educational programs presented by both of its co-owners.
"ISE 2017 has been the biggest and best year yet for CEDIA," said CEDIA CEO Vin Bruno. "We expanded our education offering and doubled bookings to more than 800."
Added InfoComm Executive Director and CEO David Labuskes: "It was a fantastic ISE 2017 for InfoComm, but more importantly, it was an industry-affirming show for the AV industry as a whole."
The Next ISE Show
The next show, ISE 2018, will take place at the RAI Amsterdam on February 6-9, 2018.
To learn more about ISE, visit: www.iseurope.org.