Two weekends ago, we celebrated my wife's birthday. For the last few years, one of the things she most wanted for her birthday was a birthday cake. Not just any cake, mind you, but a cake made by Buddy Valastro – TLC's Cake Boss. This is not as simple of a request as it sounds and for the last couple of years, I couldn't fit it into my schedule to make it happen.
This year, I made it happen – and learned something about marketing strategy from the Cake Boss…
For those who don't know (if there IS anyone who doesn't know), Cake Boss is a show on The Learning Channel (TLC) based on the life and times of Bartolo "Buddy" Valastro, owner and master baker at Carlo's Bake Shop in Hoboken, New Jersey. A large Italian-American family, there is plenty of drama on the show – as well as fantastically creative custom cake designs whipped up in front of the cameras.
Carlo's Bake Shop was a small, sleepy neighborhood bakery…much like the bakery in your town I would suspect. However, thanks to the popularity of the reality TV show, Carlo's Bake Shop has gone big time and become popular – unbelievably popular. So popular, in fact, that it has turned Hoboken into a tourist attraction.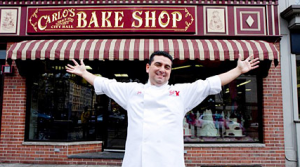 It also became popular with my wife (and a few of my kids), who watched the show regularly…came to know the family…and turned into fans of the show. But we never physically visited Carlo's Bakery since it is not exactly around the corner from where we live. So that Saturday morning two weeks ago, when I told my wife to get dressed we're heading to Hoboken baby – you should've seen her shocked expression!
We arrived just after noon and parked in a public parking lot two blocks away. As soon as we turned the corner of the building along side the parking lot, we saw the end of a long line of hundreds (thousands?) of people. Yep…that was the Carlo's Bakery line – two huge city blocks long.
Little did I know that we would be exposed to some unique marketing strategy by the Cake Boss:
Abandoning his privacy by going on reality TV turned Buddy and Carlo's Bakery into a genuine phenomenon – No doubt about it, Buddy found a way to effectively promote himself and his bakery through  reality TV. Having said that, he had to deliver a unique and entertaining combination of comedy, drama, and fascinating custom cake designs. The formula worked, the show took off (just wrapped its fifth season, spawned two spin-offs, and got Buddy a gig on Rachel Ray's show) and people now line up for hours to buy Cake Boss baked goods.
Take care of your fans #1– When we first arrived at the end of a very long line, we didn't know how long it would take…if we were standing in the right place…and what happens next. Within minutes of our arrival, a friendly Carlo's Bakery employee in a bright red shirt came along the line passing out tickets(?) and asking if anyone had any questions. He answered our all of our questions including important ones – Where is the nearest public restroom? – and less-important ones – How long will this take/how does this work? We immediately relaxed now that we had our ticket and knew the process…and where the restroom was.

Street performer Batman entertains Cake Boss fans.

Take care of your fans #2– We were only in line for about two minutes when we realized that there was a street entertainer singing songs, talking to the crowd, taking song requests, and organizing group sing-a-longs/clap-a-longs. He was goofy, but entertaining. A little later, a fellow dressed up as Batman showed up…delighting the kids.Not only that but there was a hotdog cart set up right by the line. Now I don't know for sure if the Cake Boss paid for the entertainers and food cart to be there and I couldn't get the Carlo's Bakery employee to tell me (he just smiled when I asked) – but I wouldn't be surprised. And by the way – the cart was relatively inexpensive (at least by NY Metro standards) – soda was $1…jumbo hotdogs were $2.29. This sustenance was really appreciated by the Cake Boss fans who had to wait hours in line.

See the line of folks on the left? That line does not end at the Office Depot sign in the center/right of the photo. Look closely to the right and you will see the end of a line that starts further down the block.

Keep neighbors and local authorities happy– Carlo's Bakery at all times had between 2-4 employees dedicated to actively working crowd control. These employees watched the line at all times and had walkies-talkies to communicate amongst themselves. We were told to stay close to the wall to keep sidewalks clear. We were "released" in groups to move the line forward…and to move across the street to the Carlo's Bakery block. This undoubtedly was done to maximize safety…both for the folks in the line…and for other pedestrians on the sidewalks. It also minimized disruption of surrounding businesses and downtown foot- and car-traffic. Smart.

All day long tourists stopped to have their photo taken in front of Carlo's Bake Shop.

Embrace ALL fans, including those from whom you will not make any immediate money– All day long I watched an endless stream of tourists step up to the front of Carlo's Bake Shop to have their picture taken. Mostly, these were people who were waiting in line to go inside and buy something. But not always! In fact, many of these tourists simply walked up to take the picture. Carlo's Bake Shop employees did not chase these fans away recognizing there may be long term value in these fans down the road.

Just one section devoted to Cake Boss merchandise.

Maximize your return– How many bakeries do you know that have promotional items on display and for sale? Even though Carlo's Bakery was just a regular-sized bakery – almost as much space was devoted to the display and sale of promotional items as there was to baked goods. You could buy books, DVDs, water bottles, travel mugs, baseball caps, t-shirts, sweat shirts, knit caps, and even a baker's outfit like Buddy wears. Many of these items were autographed by Buddy and other "cast members" of the Cake Boss show. Even the spaces between the pastry cabinets had DVDs for sale – talk about sales-per-square foot…the Cake Boss didn't miss a beat! The show has been so successful, the main bakery has been moved to what they call their "Cake Factory" in a nearby town. Oh and the Cake Boss offer classes on cake designing and baking…for a fee, of course!

Just a small sample of the "wares" on display at Carlo's Bake Shop. YUM!

Deliver on the promise – So when TV declares that you're the Cake Boss, an expectation is set with customers that your products are well above the norm. You had better deliver on that promise – or your fame will be fleeting. Carlo's delivered! First of all, the quality control was obvious. Looking closely at the rows and rows of cookies or cupcakes that were identical showed that the Carlo's production bakers are serious about consistent quality. And my wife's birthday cake? See below…
Two hours to nirvana…
We waited a total of two hours to get into Carlo's Bake Shop. The line in the first block was under an overhang which blocked the sun (and would also protect from rain). However, when you transition to the block in front of Carlo's – you're completely exposed to the sun. It was a warm – though not hot – day so it felt good to get into the bakery's air conditioning.
But, the bakery was packed! I was surprised at how large the groups were that the line handlers were letting in. But generally, it was an orderly group. Only then did we discover the actual purpose of the tickets that they handed out – when you entered the bakery, they told you to look around and wait for your number to be called to be served (see the lighted number on the wall at the back of the photo).
Cha-ching!…
Understand that it took us two hours to get into the bakery. During the whole day, the line never shortened and was as long when we left in the late afternoon as it was when we arrived at noon. According to "Mike" one of the Carlo's Bakery line control folks, the average customer spends between $100 – 200. Considering that we saw thousands of people by the end of the day, this has got to be the single largest grossing bakery in the U.S. in terms of average daily revenues.
Oh, and lest you think that the line was long because we were there on the weekend, Mike told us that the length of the line on the day we were there was about the length it was every day throughout the summer. Apparently, after school starts, the line does lighten up a bit.
No cow pies here, Ma'am!…
How powerful is the Cake Boss show in driving Carlo's Bakery's business? The folks standing in line in front of us came from Texas to see the Cake Boss.
I have to admit…it is an impressive operation. But all day, I had one fear. After two hours of standing in line…would the cake be great? Or would it simply be good or average…and we would have succumbed to marketing "hype"?
Then cake we picked was a golden cake with a fudge frosting and butter cream flower and decorations. It wasn't good…I'm pleased to report that it was spectacular! Am I overhyping it because of what we went through to get it. Nope, the cake got three thumbs up from our kids…none of whom went through what we went through to get it.
So the Cake Boss delivered. Or should I call him…the Marketing Boss?!?!
P.S. The Cake Boss announced the day after we visited Carlo's Bake Shop that they are about to begin shipping baked goods nationally.