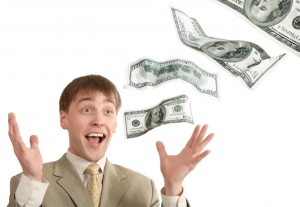 Imagine for a moment that you won the lottery, or gained an inheritance, of a substantial amount of money…say, $100,000. How would you spend it? That was the intriguing question pollster Harris Interactive asked an online panel of U.S. Internet users. Would they buy a new car? Would they remodel their home to add a home theater? Would they buy a nice present for their spouse? Would they donate some or all of it to charity?
Think you know YOUR customer? Then you better check out this survey – the answers to the above scenario may surprise you.
The question that Harris Interactive asked was…as we said…intriguing. But it's even more so when you consider the fact that Harris broke down the respondents' answers down by age range – sure to catch the attention of marketers seeking to better understand their customers.
If you're a marketer, you are likely very familiar with the age demographic breakdowns which – like weather storms, we seem to like to assign a name. For those of you who are not marketing managers, those demographic designations are:
Millennials: 18-36 years-old
Generation X (or more commonly referred to as Gen X): 37-48 years-old
Baby Boomers: 49-67 years-old
Matures: 68+ years-old
A fundamental change in consumer purchasing sentiment…
This survey caught our eye because it shows what we believe to be a fundamental shift in the mentality or thought-process of today's consumer. Priorities have clearly changed for the consumer in the wake of 2007's financial crises and resulting recession, and one needn't look too far in this survey to see that change on prominent display.
So the survey takers were offered several choices to choose from to say what they would do with that $100,000 windfall. These choices included (among others): "Pay off an existing debt," "Save for a rainy day fund/unexpected expenses," "Buy a car," "Treat myself to something that I would not normally spend money on," and more.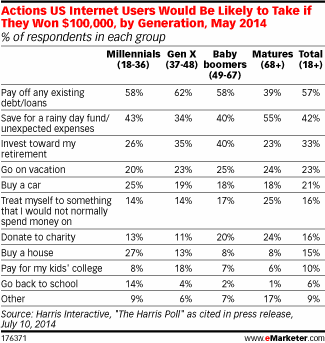 No surprise here…
It might not surprise you, for example, if we told you that "Matures" said that they would save this windfall for a rainy day fund. Given the fact that many this demographic are on a fixed income, that would be a very sensible answer.
It also might not surprise you to learn that most "Baby Boomers" would use the money to pay off an existing debt. Given the fact that the baby boomer group is the age range struggling with mortgages, college expenses, car loans and aging parents – this also seems logical.
Here is a surprise…
But it might surprise you – as it did us – to learn that "pay off an existing debt" was the number one choice of "Millennials." And, going one step further, the number two choice for Millennials was to save for a rainy day fund.
Gen X'ers also said they would use the cash to pay off an existing debt. Although saving the money for a rainy day fund came in third for Gen X'ers…right after "invest toward my retirement."
Priorities have clearly changed…

The American consumer has clearly changed priorities. We're pretty confident that ten years ago, the answer to a survey such as this would have shown the consumption categories – i.e. buy a house, buy a car, treat myself, etc. – in much higher-ranked positions.
The Harris Interactive survey took place in May 2014 and was reported in July. We discovered it in a report by market research company eMarketer.