Government data makes a strong case for a sustainable recovery under way – but most people in the consumer electronics industry tell me that this recovery is, at best, mediocre and, at worst, not happening. And as challenging as most are finding the economy, start-up companies tell me the headwinds are more like those of a Category 1 hurricane as they try to launch new products and services – hoping to get traction – in a very hostile start-up environment.
But one new start-up that has caught our attention – Wren Sound Systems – seems to be gaining ground with its new wireless speaker system…a product we find unique and interesting.
See what interests us about Wren below…
A few weeks back, we wrote about the collapse of start-up AudioXperts – a surprising turn of events considering that it seemingly had everything going for it in terms of qualified team, innovative products, and apparently strong financial backing.CEO Eli Harary told us that, after less than 18-months on the market, their backer pulled the plug on any further investment and the company collapsed.
One of our takeaways from that unfortunate event is the conclusion that start-ups are finding the current economic trends – and current industry trends – adding a tremendous amount of friction to their ability to move forward and get a toe-hold in the market. But newcomer Wren Sound Systems (Wren) seems to be bucking that trend.
A cast of thousands…
Launched at the beginning of this year by CEO Mike Giffin, Wren chose what some would say was a daunting category to enter – wireless speaker systems. Widely viewed by many in the industry as a hot growth category, we've already seen a tidal wave of thousands, maybe tens of thousands, of wireless speakers launched.
But Giffin, who has a long history in our industry with a strong audio background, has clearly defined a unique position with his first product, the V5. How did he do that?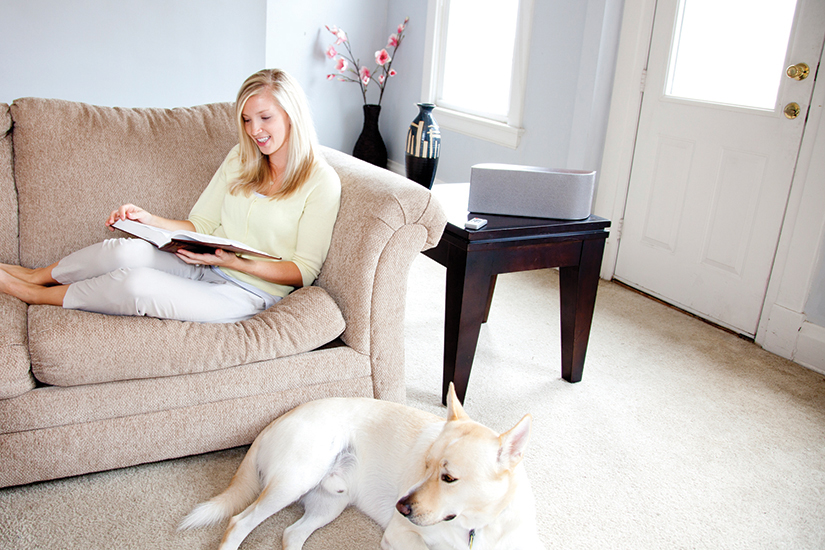 Wireless technology that's a speaker, or a speaker that's wireless?…
Most wireless speakers are based on the concept that what the consumer wants is cool wireless technology in a product that happens to be a speaker. And because so many companies are hoping to drive the mass market, they shoot for popular (low-end) price points – assuming that if they have the cheapest, cutest, wireless speaker…they win!
With Wren, Giffin chose a whole different path – creating a better designed, better fit-and-finish, better sounding, higher-quality audio speaker…that happens to be wireless to better fit into the lifestyle of today's consumer. Oh, and it costs a little more, but delivers much, much more in terms of sound quality and design attractiveness…such that it can truly be viewed as one of the better values in the category today.
"My first audio product was wireless and portable – it was a Sony transistor radio," Giffin joked. "To me, this is so much about consumer focus because what I focus on in wireless audio is this: The picture I have in my brain about what we enable is an elegant, nice to look at, small, simple to set-up way to fill a house or a room with music – simple as that. That's what wireless enables."
The many flavors of V5…
The company first launched its V5 model with Apple's AirPlay technology built-in (V5AP). It has subsequently added a Play-Fi version to address the large Android market (V5PF). Finally, pulling up the rear by a few weeks, the company has rolled out a Bluetooth version as well (V5BT).
Key specs on the Wren V5
Available for Apple iOS fans with AirPlay (V5AP), Android users with Play-Fi (V5PF), or Bluetooth aficionados (V5BT)
MSRP $399.00 Available direct from Wren (http://wrensound.com); Soon to be available from a select group of retailers
Two finishes are offered: either a light bamboo…or rich rosewood finish
Two 3″ long-throw drivers with 4-layer voice coils (these are not your father's typical drivers)
Two 19mm edge-driven wide dispersion soft dome tweeters
Intersil D2 Audio DSP-controlled stereo class D power amplifier, 25-watts per channel
3.5mm stereo auxiliary input, USB digital input, DC input for included AC adapter
Cabinet design includes a stereo bass-reflex design which provides for deep bass extension (more than we would have ever thought possible from 3″ drivers!)
Cabinet is constructed of rigid half-inch MDF with extensive internal bracing. The company says the material is "acoustically inert."
The bottom of the cabinet has an unusual 4mm thick low durometer silicone pad which stabilizes the cabinet and absorbs any vibration – effectively isolating the speaker from the shelf or whatever you have it positioned on.
Dimensions: 6 1/8″ (h) X 4 1/4″ (w) X 16 5/8″ (l)
Weight: 6.6lbs.
Warranty: 3 years
First launched direct-to-consumer…expanding into retail…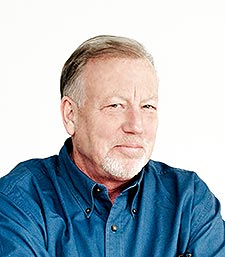 Wren started by selling their products direct-to-consumer on their website at the $399 MSRP. Customers get free shipping, a no-questions-asked 30-day return policy, an amazing 3-year product warranty, and even a unique technology swap program. For those customers who change their smartphones to one with a different operating system – Wren offers them an option to swap out their speaker for a different V5 with the appropriately compatible wireless system. This can be done anytime during the 3-year warranty period and Wren only charges $99 for the swap.
Company CEO Mike Giffin told us that the company is also now beginning to launch in retail – primarily specialty dealers. Some of these retailers approached him after catching wind of some of the over-the-top positive reviews the V5 has been getting. Mostly, however, this roll-out will take place in 2014, although Giffin says they may get started on a smaller scale with a few retailers before the end of this year.
His wildest expectation…
Giffin told us that the reception to the V5 by the industry has exceeded his wildest expectations. The company has a long string of reviews that run the gamut from mildly positive to breathless, this-is-the-greatest-thing-ever-invented.
Not yet a year old (in the market at least), Giffin says they are already progressing their product planning. The new Bluetooth version of the V5 has just rolled out, yet Giffin says the company is working on future products that down-the-road will support all wireless protocols.
Our audition of the V5…
Wren gave us an opportunity to spend some time with their V5 and we came away quite impressed. And that impression began the minute we received the product – literally right out of the box. The unit comes double boxed and everything is neat and tidy with ecologically sensitive packing materials.
The Wren product feels heavy and solid. The cosmetic or industrial design shows an attractive curvaceous look with, in the case of our sample, a beautiful rosewood cabinet. And we mean wood…not plastic. The grill has a silver-ish look in a metallic-looking frame. The frame and the grill follow the curve of the industrial design – it's a striking look.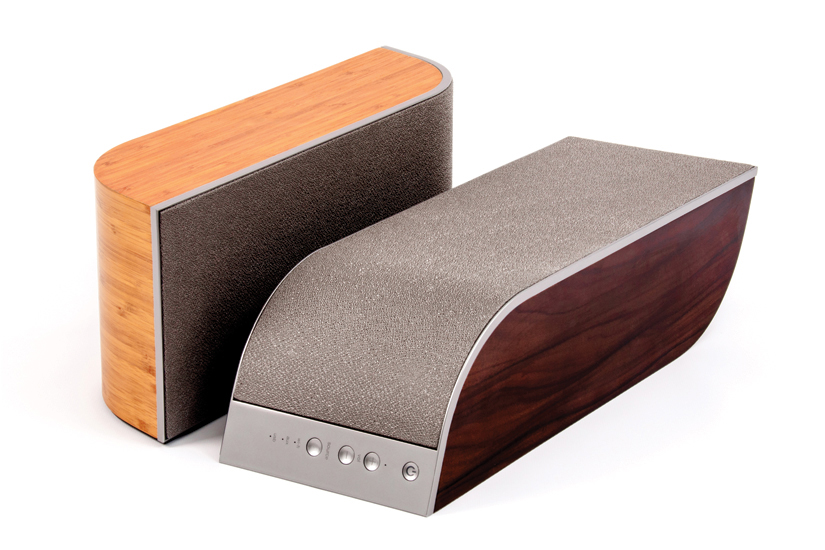 Idiot-proof…
The set-up of the unit to work with our system was flawless…idiot-proof, really. The company provides customers with a very simple (but complete) set-up guide that is both graphically rich and step-by-step easy. Getting the V5 synched with whatever flavor of wireless technology and network set up you have can be as simple as hooking up your device to the V5, pressing a set-up button, authorizing it to read your settings…and you're done. The company includes all necessary cables including a USB dock connector cable, the power supply, and even a remote control.
The sound quality is impressive – an incredibly robust and very deep, rich bass. In fact, so much so, if your material is bass heavy…you have to be a little cautious of your volume level. But for normal full-range music, the sound is full and rich – kind of astonishingly so as compared to most other wireless systems.
Guitar pick? Or fingers?…
We rotated through a wide variety of material and the bass was incredibly deep…and accurate. Not only do you get deeply extended frequencies, more importantly, the V5 retains the percussive attack of the tone with clarity and precision. You can tell if the bass player is using a guitar pick or his fingers to pluck the strings, for example. And generally, thanks to DSP controlled sound, the bass never gets mushy…or, like in some other systems…just a dull, deep roar.
The dome tweeters gives an out-of-box openness to the mids and high frequencies. However, we would have liked a little more sparkle, or sizzle on the high-end. Overall however, the V5 is one of the better sounding speakers we've heard – and probably the best wireless speaker we've directly auditioned.
Working networks…

We had no issues getting and keeping the V5 working on our network. Not only that, but selecting and playing music couldn't be easier – just as you would want it to be for the general, non-techie type customer. We did have occasional issues with drop-out…but not distressingly so – and certainly not unique to the Wren. This is a problem that comes with any wireless product.
The V5 is remarkably flexible sonically, effortlessly handling a wide-range of music material. From hip-hop, to classic rock, to classical…the sound was always at least good…and, quite frequently, great.
Ever-increasing array…
With the ever-increasing array of companies entering the wireless space – recent announcements came from B&O, Samsung, Bose, and on and on – Wren enters a very busy market segment. But while these brands, along with others already on the market, split the field into either high-end or mass market …Wren is shooting for a classical step-up market positioning with a mix of better sound, better design, and affordable ( but not cheap) prices.
Consumers…and we would argue industry insiders, as well…should keep a close eye on Wren Sound Systems.
To learn more about Wren, see: wren.com.