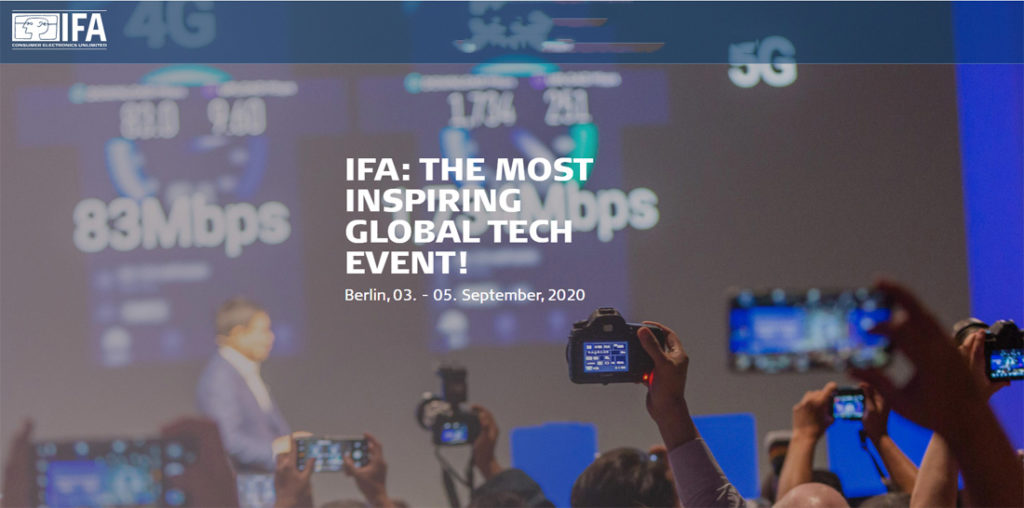 Promoter Says It Is Putting 'Health and Safety First'
Saying they are putting "Health and Safety first," IFA announces they have received the appropriate government approvals to hold a live, in-person trade show event in Berlin this coming September. The announcement was a dramatic departure from their previous announcement in April cancelling this very event. But will anyone choose to attend?
See more on IFA effectively un-cancelling their show…
IFA is Europe's largest technology show. It is similar to the Consumer Electronics Show, but larger and open to consumers. In 2019, just under 240,000 people attended the massive event which is spread across multiple exposition halls.
Even as they canceled this year's show, IFA management kept teasing that they would be introducing "an innovative new concept" shortly. They didn't say just exactly what that concept was – and most industry observers suggested it would likely be some form of virtual event. Now we know that the new concept is this re-conceived show (some might call it an ill-conceived show) that they are calling IFA 2020 Special Edition.
Canceled Event Was To Be 6 Days Long; Now 3-Days
Originally, the IFA event was to take place from September 4-9…six days to accommodate a myriad of attendees (nearly a quarter million), exhibitors (just under 2,000 exhibitors) and multiple events staged within the show itself. Now IFA says the show will be a smaller, 3-day event running September 3-5 and they will place "a tight limit on the number of attendees."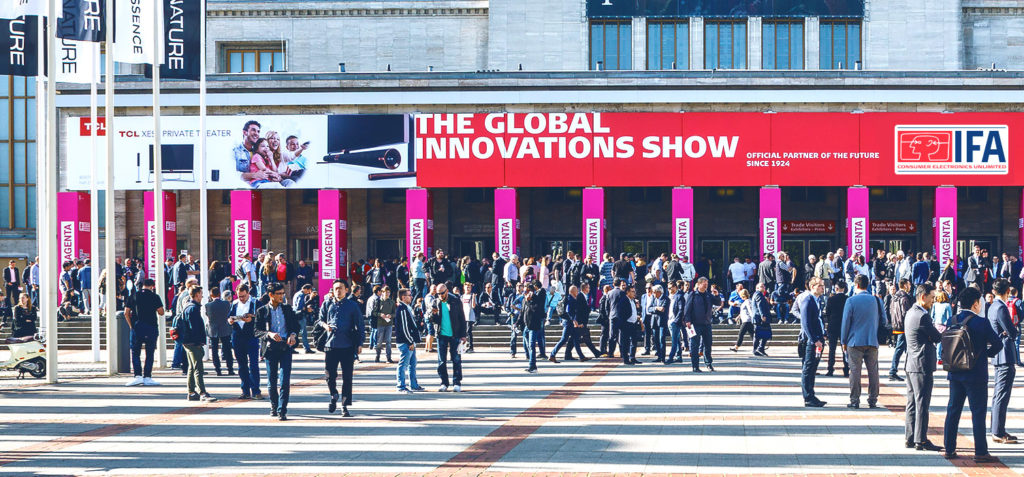 IFA management says that this new show "falls well within the restrictions imposed by the COVID-19 pandemic. It will be an invitation-only event with strictly limited attendance that will serve to address what it calls "IFA's four global core functions:
An innovation showcase for brands
A platform for cutting-edge technologies
A sourcing event for OEMs and ODMs
A marketplace where retailers and brands can come together.
'The Recovery of Our Industry Starts Here at IFA Berlin'
IFA executives note the importance to the industry of the September time frame of the event, which precedes many important selling season dates, such as Black Friday, Thanksgiving, and the December Holiday Season. They argue that our industry needs this event to launch a turnaround of industry fortunes in the wake of the COVID-19 business shutdowns.
"After all the event cancellations during the past months, our industry urgently needs a platform where it can showcase its innovation, so that it can recover and rebound. The recovery of our industry starts here at IFA Berlin. [While virtual events were useful, they were] missing the immediacy, hands-on experience and human connections that make events like IFA Berlin so incredibly useful."

Jens Heithecker, Executive Director of IFA Berlin
Are Promoters Risking a New COVID-19 Outbreak?
The question is, can the organization guarantee attendees that all those "human connections" they are talking about won't result in a new outbreak of COVID-19? To assuage those concerns, IFA management say that public health authorities in Germany were directly involved in helping to develop this event.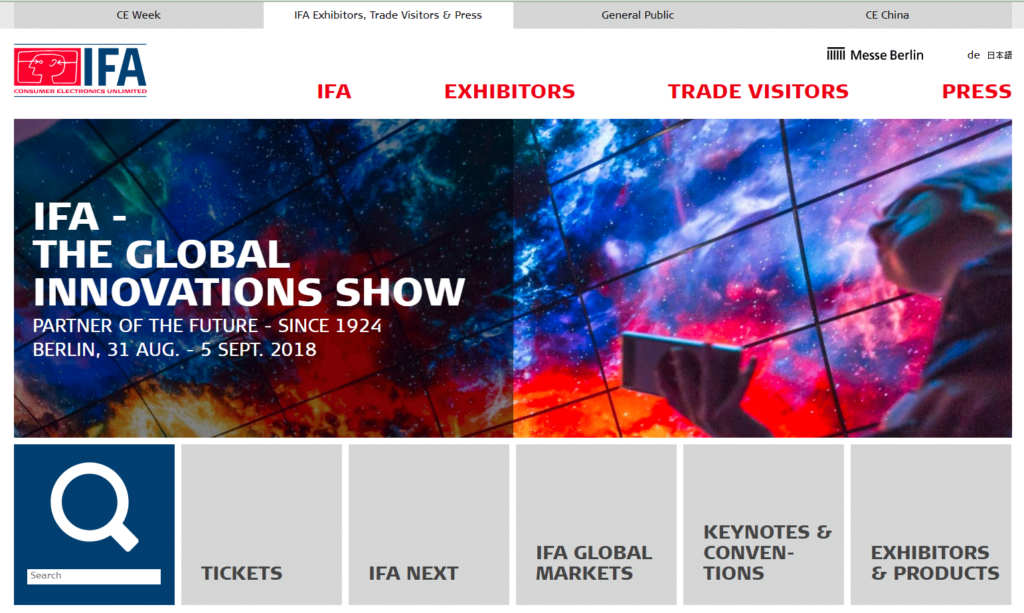 "The organizers will make sure that social distancing, careful crowd control and other effective public hygiene measures are all in place," their prepared announcement said.
So what about that crowd control? Perhaps the best example of that is that this year, IFA 2020 Special Edition will NOT be open to the public. Instead, only invited guests will be allowed to attend the show.
Four Freestanding Events During the 3 Days of IFA 2020
Furthermore, the promoter says that this Special Edition of the show will consist of four freestanding events. Each of these events will be limited to no more than 1,000 attendees. These events are:
IFA GLOBAL PRESS CONFERENCE – Open to 800 invited journalists from 50+ countries from around the globe, reporters and editors will receive an opening keynote presentation by Qualcomm President Cristiano Amon on the importance of connectivity during these uncertain times. They will furthermore see a series of press presentations from key IFA exhibitors.
IFA 'NEXT' MEETS IFA 'SHIFT MOBILITY' – This event actually combines two important areas for IFA…startups…and companies in the connected mobility sectors.
IFA GLOBAL MARKETS – IFA says this event is the industry's "first dedicated sourcing show in the world." They say that industry partners have told IFA that this event is needed "to repair and restructure its supply chains hit by the disruption of the COVID-19 pandemic."
IFA BUSINESS, RETAIL & MEETING LOUNGES – Promoters says that this event will be a marketplace where brands and manufacturers can meet with retailers to cut deals. The promoter says that deals valued at €4.7 billion (about $5.1 billion today) were struck at the 2019 event. With participation limited this year, they are unlikely to meet or beat that figure, but IFA still considers this a critical function of the event.
But Wait…There's More!
Finally, IFA promoters say that for those who are unable (or unwilling) to attend IFA Berlin in September, they will be hosting an online or virtual trade show event at the same time. This way, everybody can IFA…
Many in the exposition business believe that, down-the-road, a combination of in-person and virtual events are the future of the business. IFA will test that concept at a time when many exhibitors and attendees at other industry events have pulled back.
Whether this is a brilliant move…or a disaster…remains to be seen. Also, with only around 12,000 attendees this year, as compared to 240,000 attendees last year, it is an open question mark as to whether this event will be profitable for the organizers.
Learn more about IFA by visiting: ifa-berlin.com.