Momentum continues to build for voice-enabled devices like Amazon Echo and Google Home products, according to new data and forecast from eMarketer. Usage rates also appear to be increasing for the broader category of virtual assistants, such as Apple's Siri, Amazon's Alexa, Google's Now and Microsoft's Cortana.
See more on this all-new data on voice-enabled and virtual assistant market…
Saying that usage is "still far from mass adoption," market researcher eMarketer says virtual assistants of all types are being increasingly adopted by consumers. In their first ever forecast for the category, the researcher says that in 2017, "35.6 million Americans will use a voice-activated assistant device at least ones a month." That number, they say, is up 128.9% over last year.
The 800-pound gorilla of the category, not surprisingly, is Amazon's Echo speaker, which the report says will hold a 70.6% of the category. Far behind and playing catch-up is Google with their Home speaker coming in at just 23.8%.
The Many Lesser Beasts of the Jungle
After these two kings of the jungle, the remaining 5.6% will be split among the lesser beasts of wanna-bes like Lenovo, LG, Harman Kardon, and Mattel. However, eMarketer expects that over time Amazon's share will erode as Google and others begin to get some traction…especially Google. In any event, for as far down the road as they can see, Amazon will retain the #1 slot.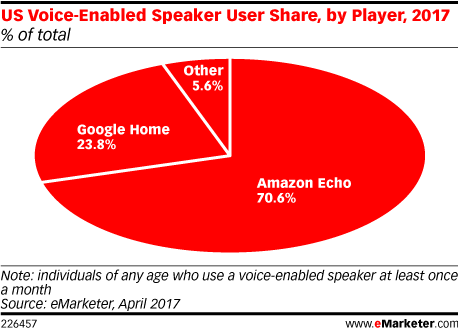 "Consumers are becoming increasingly comfortable with the technology, which is driving engagement," said Martin Utreras, vice president of forecasting at eMarketer. "As prices decrease and functionality increases, consumers are finding more reasons to adopt these devices."
Virtual Assistant Adoption Grows as Well
In the broader category of virtual assistants, the market researcher's forecasts calls for a more modest 23.1% growth in adoption in 2017. Says their report, "This year, 60.5 million Americans will use Siri, Cortana or another virtual assistant at lease once a month." That figure works out to approximately 27.5% of all smartphone users.
The heaviest users of virtual assistants are people between the ages of 25-34 years old. More than a third (33.5%) of all millennials will use a virtual assistant this year. According to Utreras, millennials value virtual assistants for their functionality rather than entertainment.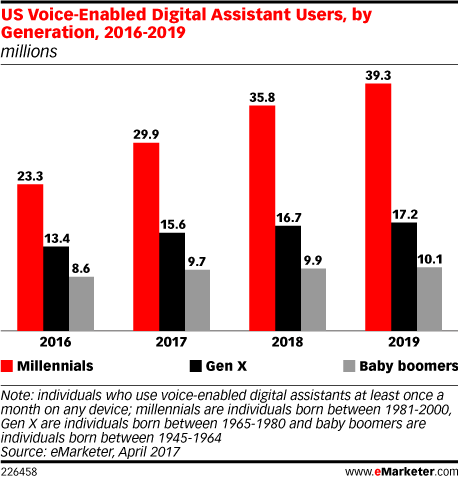 Learn more about eMarketer at: www.emarketer.com.