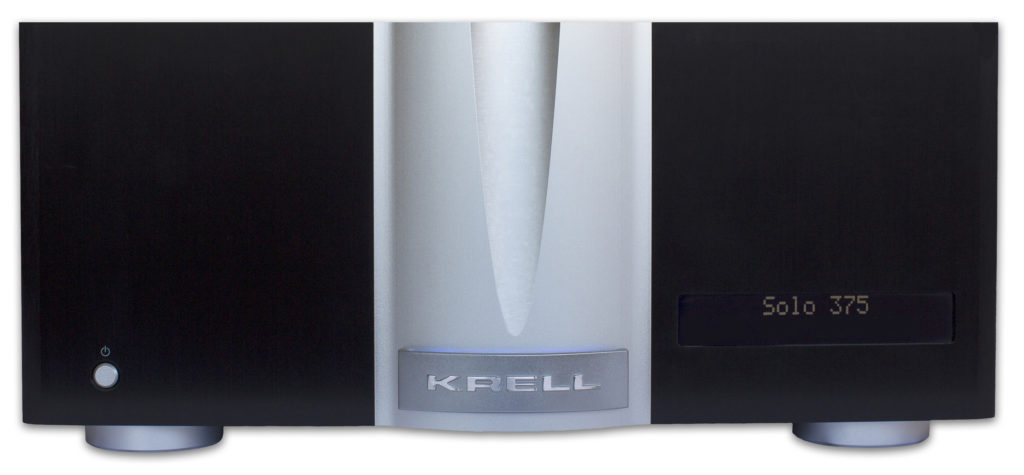 Several Krell-related sources, such as dealers and others, reached out to me on Monday to share the surprising news they had just received in that morning's email – top Krell executive Walter Schofield has left the company. Other than that basic fact, dealers didn't know much more as the terse communication from Krell contained very little information. Speculation is running rampant…
See more on what I've learned about developments at Krell
Krell Industries LLC, a manufacturer of fine high-end amplifiers and other electronics, is no stranger to turnover in its top executive position as the company has struggled for years with a specialty channel undergoing a transformation. However, on Monday the company abruptly announced the departure of Chief Operating Officer Walter Schofield – a key player that many dealers felt was leading a beneficial turnaround at the company ever since he joined it back in August 2018.
It was a key hire for the company, as just months earlier in 2018, rumors were swirling around that Krell may be going out of business. Within a month of joining, Schofield went to CEDIA 2018 along with VP Gordon Shackleford to lay out their plans for a revitalization of the Krell brand…and business. Shortly after CEDIA, Shackelford left the company to pursue other opportunities, leaving Schofield to lead the transformation.
COO Schofield is Out
Now Schofield is out, leaving a lot of questions about the company in his wake. Also departing the company is Lenny Lucatino, Krell's Network Systems Administrator. It is not known if this is a related departure, somehow connected to Schofield's situation…or simply coincidental.
The notification to dealers was signed by Rondi D'Agostino, Krell's owner, and was just four sentences long. It was notable both for what it said and for what it didn't say.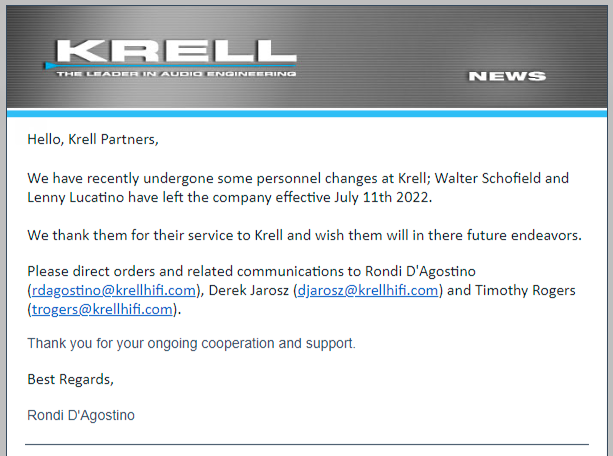 An Effective Date Two-Weeks Old
The first thing I noticed is that there is no attempt to explain this situation to dealers, even though one of them – Schofield – is a key person in dealer relations. The second thing I saw is that this communication, sent to dealers on July 25th, indicates that these executives left the company on July 11th – two weeks earlier.
While it does include the perfunctory, "We thank them for their service to Krell and wish them will [sic] in there [sic] future endeavors," it provides little information on what happens now – other than to list new communications points for dealers.
Statements from D'Agostino and Schofield
I reached out to both Krell owner Rondi D'Agostino and Walter Schofield, both of whom declined to speak with me directly. However, they both did provide a short statement on the situation.
Rondi D'Agsotino: "There is nothing to say other than Walter and [I] could not agree and so [we] went our separate ways."
Walter Schofield: "All I can say is that it was time for me to move on, and I did so amicably. I wish Krell all the best, and I hope people continue to support the brand."
More sources may emerge with additional details as this story circulates. I will update it if anything new or meaningful comes out.
See more on Krell by visiting krellhifi.com.