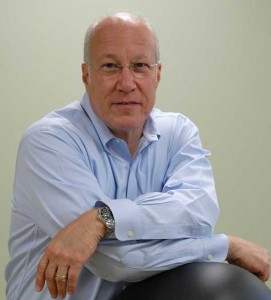 In a telephone interview today, new Thiel Audio CEO John Wittman told us that the company "struck a chord with me personally," virtually compelling him to take over as CEO after the owners' invited him to look at the company last winter. Over the course of an interview that went on for more than a hour, Wittman candidly shared his thoughts and perspectives in an enthusiastic and – to the degree he felt appropriate – open manner.
See what Wittman had to say about where Thiel is at…and where it's going…
Wittman struck us as intelligent and well-spoken – if a little "corporate" – in his responses to our queries. With no background in consumer electronics, he seemed (to us at least) as more of a professional company manager rather than a great technology visionary. However, we were surprised to learn that Wittman studied engineering and physics in college…and that this fact played a significant role in his desire to join the Thiel team.
Last winter, the ownership of Thiel – which apparently wishes to remain anonymous – asked Wittman to take a look at Thiel "from a market perspective, from a manufacturing perspective – from a variety of viewpoints." Wittman knew one of the principal investors at Thiel because he had managed another company in the past owned by this investor.
Where did former CEO Bill Thomas go?…
"One thing led to another," Wittman said, and after discussing his findings with the owners, he was offered a position at Thiel. Originally, he was going to take over operations, but in May was offered the CEO's position.
What happened to the previous CEO Bill Thomas? "Bill has since been elevated to Vice-Chairman [of the Board of Directors]," Wittman told us. "Bill has a lot of interests – you know this is not the only company that Bill is involved in."
Fate plays its hand…
Wittman admitted that this was his first venture into the consumer electronics industry. After graduating college, he found himself in the midst of a national recession with limited jobs available in his field of study. Wittman ended up taking a position in the consumer packaged goods business.
With Fate's hand played, he built a career on a variety of sales and marketing leadership positions in packaged goods – from the ground floor into management. From there, he moved into the publishing business – which includes not just the printed word, but spoken words and music.
"I've always had a love of music," Wittman said earnestly. "But I've always been an engineer at heart."
Intriguing opportunity…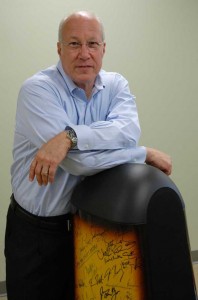 So when you couple his love of music with the fact that he is a trained engineer…you get a sense of why the opportunity at Thiel intrigued him. Wittman told us that he finds the opportunity challenging…but an invigorating challenge that he's up for.
Wittman was quick to point out that he has nowhere near the engineering knowledge of Thiel's VP of Engineering Mark Mason. On the other hand, thanks to his background and training, Wittman feels he has an advantage over other CEO's who may have only a business background.
"I can appreciate what he [Mark Mason] is telling me…and I can understand it," Wittman told us. "And I can help Paul [Paul Fisher, Senior VP of Sales & Marketing] interpret mechanical drawings. I get to go back and I get to use something that I haven't used for 30-years – and it's challenged me to grow…and that's exciting."
Three core principles at Thiel…
Wittman told us he has reviewed much of Jim Thiel's correspondence, notes, and writings and feels that he has tapped into Thiel's core values. "I really got a good sense that his principles were grounded in, regardless of price point, value has to be strong…quality has to be second-to-none. And while he chose a particular platform of technology, he was committed to sound. He really was committed to sound."
So, Thiel's CEO says, the company will move forward focused on these three core principles: (1) The company is committed to sound; (2) The company is committed to quality; (3) And the company is committed to value.
A new energy…
While we couldn't get Wittman to comment on the previous administration (the Bill Thomas era of the last couple of years), he did say that the company was going through a form of rejuvenation (our word) with many new hires in key roles. There is a new energy at Thiel, Wittman said enthusiastically.
"So you look at it and you say to yourself you've really got something here…and you need to be very respectful," Wittman said. "You need to preserve the best qualities – and while you're doing that, you need to bring in new thinking…and challenging thinking. So we have a pretty diverse group – we have people from pro audio, people from home audio" and Mark Mason who is leading their product development group.
Challenging conventional thinking…
Wittman also noted that the company has brought in Paul Fisher who, as the company's Senior Vice President of Sales & Marketing, is "just a strong consumer marketer. Who understands how to interpret declining markets, interpret change in markets, capitalize on change. And [who] really is open to new thinking."
The team, which includes long-time Thiel employees Lana Ruth and Rob Gillum, has expanded to include many, many new employees "and you get this genesis of new thinking that – you know – may challenge the convention," Wittman told us thoughtfully. "But is always respectful of the tradition, if you would."
Summing up his attraction to Thiel, Wittman told us rather optimistically, "It was an opportunity to look at a company and an industry that's ready to grow again."
Direct question, indirect answer…

Often, when we asked Wittman a specific question…we'd get a general or philosophical answer. We asked him what the plan was for his administration's first 100 days. To this we got a long-winded and somewhat indirect reply.
"I think we have a very good sense of the company…it's capabilities…and the marketplace," Wittman said. "I think we have a very good sense of the current legacy product that we have today. And you evaluate the technology and you say, OK this is a good – it's an awfully good product. And the last engineer, Jim, probably took that to its apex…he really perfected that sound. And that sound has appealed to a group of consumers. And so now what new platforms do we introduce…and what new products do we introduce that have an appeal that builds upon those same principles – sound above all, quality second to none. And third and probably foremost, let's always be respectful but let's welcome the unconventional…let's think a little differently…and let's bring some new products to the market in the space that we're in and get some wins under our belt. So that's like step one."
Just what those new platforms – and new products – will be, we couldn't get Wittman to reveal. This is probably to be expected as he is still relatively new to the situation. Although, given the fact that he has been analyzing the situation since at least May (and probably longer), we would have expected a more fully baked list of 6-8 bullet points of initial goals.
Finally, where the product line is heading…sort of…
Beyond those first 100 days, Wittman told us they would observe the reaction to their new line and make future decisions based on the market's reaction. We kept pushing Wittman to give us some more specifics about what is coming from the company and finally, the CEO revealed that Thiel is working on an entirely new and comprehensive line of floorstanding speakers, home theater speakers, and custom installation speakers.
These new models, which Wittman declined to describe in detail, are being worked on now and would likely be introduced at the January CES 2015. There is a possibility that one or more models could be shown at the Rocky Mountain Audio Fest in October. However, the company will not be showing products at the upcoming CEDIA Expo, telling us that the timing is just a little off for them.
"We're just not ready," Wittman declared. "We're close, but we're just not ready."
Moving beyond Jim Thiel's theory of coherent source…
One thing we were able to get the new CEO to tell us – new speaker models will not be based on Jim Thiel's theory of Coherent Source design. Wittman told us that Jim Thiel had taken that technology to its "pinnacle" and that new models would move beyond this to new platforms being developed by Mark Mason.
The company looks to broaden it offerings, moving on a "broader front" the CEO told us. "Thiel had a very strong following among audiophiles. So how do we broaden our market appeal to others who may not be audiophiles, but are still very discriminating about the quality of what they purchase."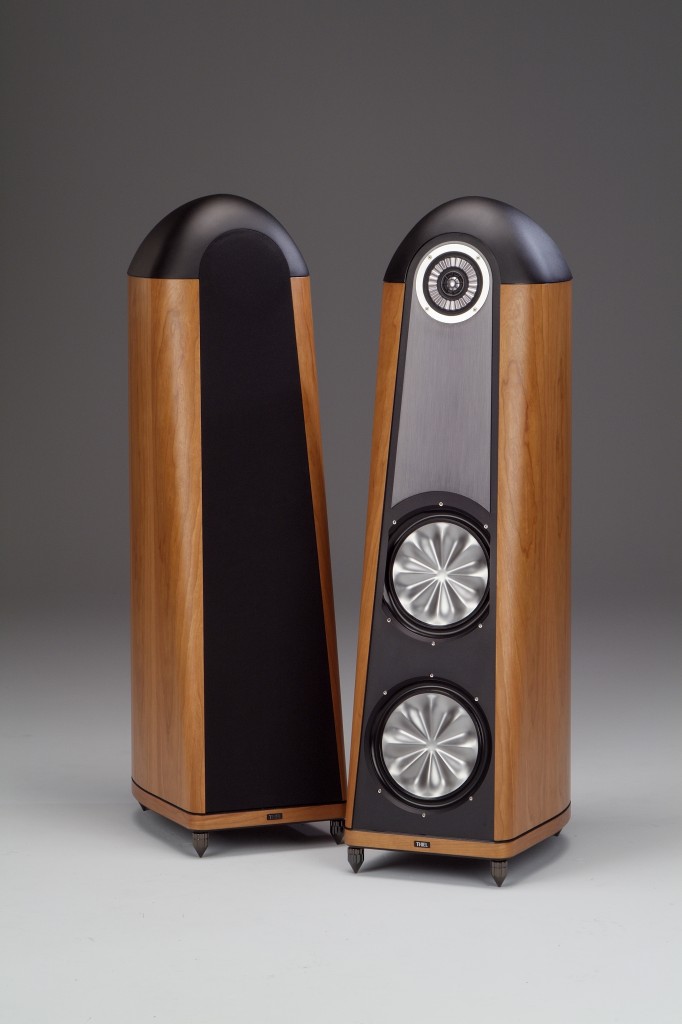 Moving to mass-appeal products?…
But does launching more products on a broader front mean the company is looking to offer lesser expensive, more mass-appeal products? "Oh no. Yesterday, Thiel focused on audiophiles…a very well-defined consumer niche," Wittman emphasized. "The audiophile is very important to us, because to me personally, they will judge our product and give it credibility. So we will continue [in the audiophile market] but we will expand beyond the audiophile to other consumer groups"
Wittman went on to emphasize his point: "Obviously, I don't want to go downstream at all. I don't think that is a good move for the brand. I don't think that's what at all the brand stands for. That is not good for this brand…at least at this point-in-time."
A commitment to Thiel's legacy products…
But Wittman's team seems to feel that there is another consumer segment out there who may not necessarily appreciate or understand the specific engineering behind audiophile products – but otherwise does appreciate high quality goods. "They may not be as attuned – if you would – to the engineering, but they are as demanding as to the output." These are, Wittman tells us, discriminating consumers – "They want to enjoy the high quality."
Aside from the new models referred to, Thiel is continuing to sell its legacy models. We were surprised to hear this and asked if they were actually manufacturing them. Apparently, they are not currently manufacturing these legacy products because they have quite an extensive inventory that they are continuing to sell from. When that inventory is worked through, they could then ramp up further manufacturing.
In any event, they will continue to offer service for Thiel's legacy products. And they remain committed to honoring all guarantees related to these legacy products.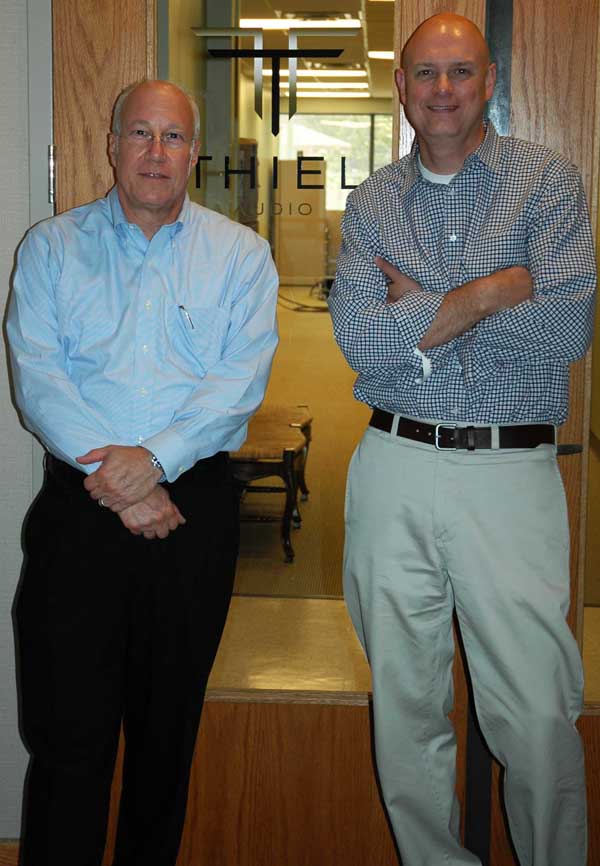 The move to Nashville was 'Not without challenge'…
Months ago, company sources had indicated to us that the company was building up inventory of the legacy models in anticipation of their move from Lexington, KY to Nashville, Tenn. This move is in process…although Wittman admitted that it is "not without challenge."
Telling us that this move is not just to new management…or to a new culture – but an actual physical move. "And think about it, we're doing all three at one time," Wittman said. "The hockey player in me says 'Just forget the Xylocaine and sew it up.'"
When the move is completed, the company will have a total of three new facilities. The new main business or administrative offices are not in Nashville, but in Brentwood, TN. The new manufacturing facility is in Nashville, TN in what is known as the Metro center area.
Three new buildings in TN, but no showroom…
We had been told previously that the company would be opening a showroom – but Wittman said it is not really meant to be a showroom. In fact, it will likely be a private, or semi-private facility – not open to the public…or only open for certain "invitation only" events. They do not plan to sell out of the lounge.
"We call it the lounge. It's not meant to be a showroom," he emphasized. "And it's not a sales floor. It's just a place to meet."
The lounge will be in Nashville's downtown on 3rd Street in the first floor of the Pinnacle Building. This location is not far from several Nashville hotspots, such as the Country Music Hall of Fame, the Bridgestone Arena and – the Thiel executives assured us – several of the best "honky-tonks" in the region.
Go-to-market or distribution changes? No, but…
What about Thiel's go-to-market strategies, we asked. Is Thiel planning any changes in distribution or policies that might impact their current partners?
"You know, there's no change," Wittman said, somewhat tentatively. "You always look at how do I improve and how do I build upon."
But then, in a discussion that might make current dealers a little nervous, Wittman told us, "I'm a big believer in bricks-and-mortar…and I'm a big believer in e-commerce as well. I think its our responsibility with respect to our brand to foster good relationships both ways – so that they're fair and competitive. So how we do that, I'm not prepared to talk to you about yet – I haven't thought it completely through…it's something that we're discussing."
Later in our discussion, Wittman expanded on his thoughts: "I think that you've got to be in the right store – whether it's physical or virtual, you've got to be in the right store. Our business partners, our trade partners – the retailers – will select us carefully. And we will do the same…and we will develop great relationships. Partnership is a way over-used term – but I can think of no better term – I truly want to partner with the retail entities that we will work with. I really want to be a good business partner."
So stay tuned for more details on their go-to-market strategy.
Sales structure? Not decided yet…
We asked if the company was talking to its dealers – do they have a sales structure in place to include dealers in the process of change? The Thiel CEO told us that Fisher will lead the strategy in setting up their sales structure as he is the company's Senior VP of Sales & Marketing. But Wittman admitted that Fisher was more marketer than salesman.
"He [Fisher] is the consummate professional marketer. I wouldn't necessarily say he's a sales guy, so to speak. We haven't decided what we're doing from the sales standpoint," Wittman admitted. "So in lieu of that I want us to talk to retailers – I want the management of this company to talk to retailers. And then as we continue to evolve our sales strategy we'll probably introduce some new names into that conversation.
"But at this point in time I want Paul to lead our communications [with dealers]," Wittman said. "I certainly want to talk to people. I'm very excited to go to CEDIA [as an attendee]."
So what's our take on the many changes at Thiel?…
On the face of it, Wittman came across as sincere and enthusiastic about his new role. In this interview, we threw a couple of hard ball questions at him, but Wittman handled them capably  – even intelligently steering us away from areas he was not prepared to delve into. But we couldn't help feel that – despite his obvious good intentions – he has yet to recognize the full extent of the reality of the situation that he's gotten himself into.
Both Wittman and Fisher have a significant background in consumer packaged goods – not consumer electronics. Wittman did stints at companies such as American Home Products, Beiersdorf, Dow Chemical, Dep Corp. – eventually moving into publishing with Rand McNally and Follett Educational Services.
Fisher had positions at companies such as Unilever, Nestle and ConAgra. Eventually Fisher moved to Catapult Marketing, a consumer promotions marketing company, working on projects like the Temptations Cat Treats team.
A little disconcerting…
It is a little disconcerting that of the top management team, only Mark Mason has significant consumer electronics experience. And Mason's experience is almost exclusively in just one discipline (product development).
However, this fact doesn't necessarily disqualify these individuals – or automatically render them incapable of reviving Thiel. In fact, this diversity of background could open up the opportunity for new creative approaches…and potentially bold new product initiatives and direction.
We certainly know many of the old-school audio industry executives – even some formerly famous ones – who seemed to have run out of ideas for their specialty companies. These are tough times in specialty – with sales continuing to decline. We're not aware of anyone with the Midas touch – turning all they touch into gold. And, in our opinion, everyone is welcome to play the game.
The last word…
We'll give the last word to Wittman, who – when asked if there was anything else Strata-gee.com & SYNCH readers needed to know about the situation at Thiel – told us this:
"Tell them I look forward to working with them."
For more information on Thiel, see: www.thielaudio.com.