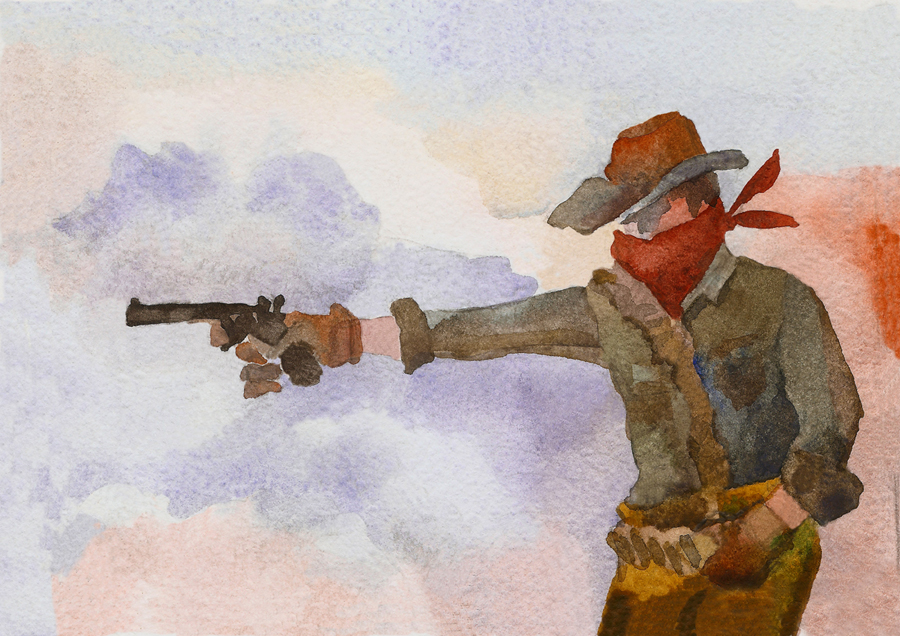 Outlaw Audio Runs Sales Promo Offering N95 Masks as Premium
Outlaw Audio, a direct-to-consumer (D2C) marketer of specialty electronics and speakers, is running a new type of promotion – one that may be totally in tune with the COVID-19 dominated world of today. Now, consumers making a qualifying purchase from Outlaw Audio can receive a number of high quality N95 masks included with their order for free.
Check out this mask promo from Outlaw…
Not long ago, Strata-gee told you about The DaVinci Group acquiring personal protective equipment (PPE) to offer their dealers, many of whom reported having difficulty in finding a steady supply for their crews. Now we learn about another PPE promo – this one from Outlaw Audio – to benefit their customers…the consumer.
Outlaw Audio was founded in 1999 with the then-unique (now more common) business model of being both a manufacturer and D2C marketer of audio electronics bearing their brand name. Since then, their catalog has expanded to include loudspeakers and electronics both under their brand and from Marantz. All items are sold to consumers at OutlawAudio.com.
To play upon the image of the "outsider" nature of their business model, the founders chose the name Outlaw Audio. Their marketing has continued to play upon this concept utilizing Old West images and cute marketing text incorporating concepts such as six shooters, saloons and the such.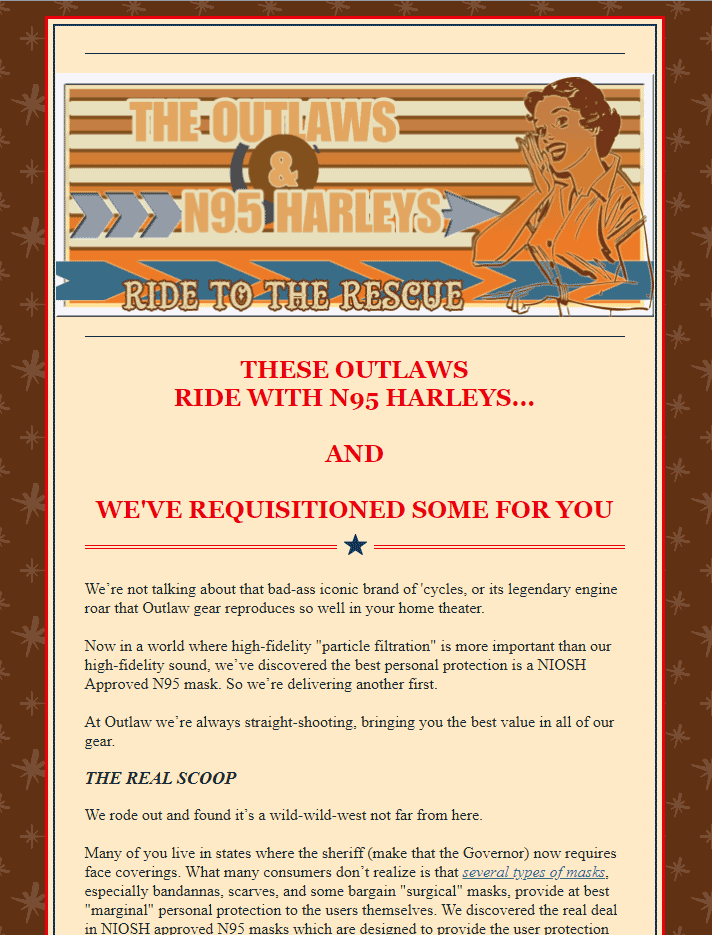 From Now Until June 7, Buy Electronics, Get N95 Masks
Now the company has launched what is for them a new type of promotion, one where the premium used to incentivize the purchase of products from Outlaw is NOT the usual fare…such as free speaker wire or specially-priced accessories…but rather one where the premium is N95 NIOSH-certified face masks. It seems to be a promo tailored for today's market, with many consumers still facing Stay-at-Home orders and often mandated to wear PPE, such as face masks, when needing to go out into the world.
Launched on May 29th and running through June 7th, any order from Outlaw Audio over $200.00 will include four free N95 masks. These masks, the company tells me, are the finest they have been able to find on the market now, made by a company called Harley Commodity and sold through Eastern PPE Imports, who is also the fulfillment agent on the Outlaw Audio special.
Cowboys Riding Motorcycles?
The company is promoting this special through their in-house mail list with a marketing email designed – as is typical to them – to look a little old timey and with humorous Old West language. Somewhat confusingly, it mixes its metaphors by adding in another (and new) Outlaw concept, a motorcycle gang – apparently a reference to the mask manufacturer's name (Harley Commodity). In a message titled, "These Outlaws Ride with N95 Harleys… And We've Requisitioned Some for You"… the email tries to weave the motorcycle concept into the promo as well.
Will Consumers Buy Electronics to Get Free Masks?
In any event, if you can wade through the too-long email with a lot of detailed information on masks, (not to mention a story about a Customs raid on counterfeit masks) you can actually see a photo of the Harley N95 premium and get their pitch.
Will consumers cough up $200 to get some free masks? We'll see… But it just might be a promo that speaks to the consumers' need for PPE – with an upgraded mask option that Outlaw says is most likely not readily available to customers in their local markets.
To see all of the details on this Outlaw N95 promo, just follow this link…¹
Learn more about Outlaw Audio by visiting: outlawaudio.com.
CORRECTIONS
¹ – The company provided a link to the details of the promo after the initial posting of this article