The DaVinci Group launched a new series of products at CEDIA called the Signature Series -part of their Encompass Home Theater line of products. Signature Series is a high-performance step-up system targeted for dedicated home theater installations.
Learn more about this new series from The DaVinci Group…
With the Signature Series, The DaVinci Group offers the market a seriously upgraded cabinet in-wall speaker that appears to fill a gap between the typical in-wall distributed audio product that is often used in a home theater installation, and the ultra high-end solution selling for thousands of dollars. The company not only developed all new speakers, designed a in-wall with drivers already mounted in a cabinet for more controlled performance..
Central to this new system is the IWLCR-66. This rather dramatic looking product is a full-range speaker designed to serve as the front Left/Center/Right in the theater. Mounted in a heavy-duty cabinet made of high-density MDF, these speakers are meant to be comparable to the performance of freestanding speakers – but are mounted directly in the wall. The cabinet is perfectly sized to fit between standard framing and are screwed right into the studs for maximum stability.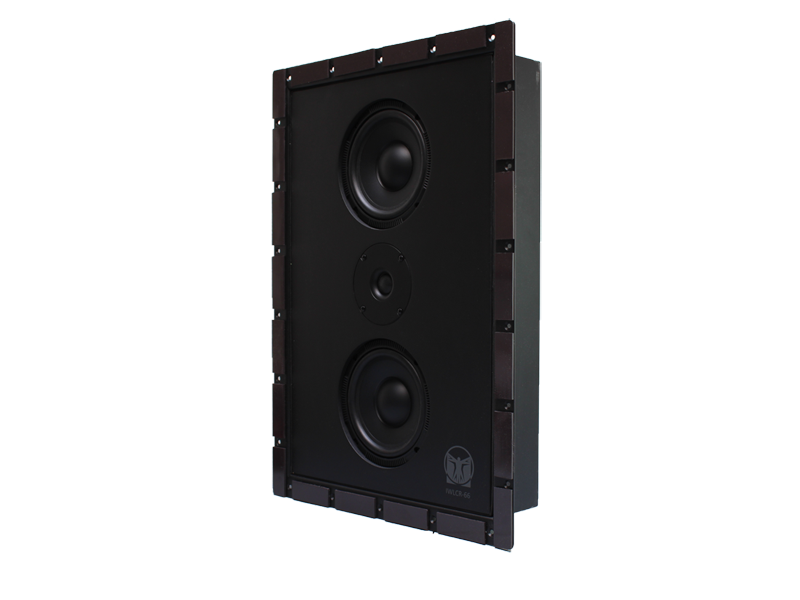 The IWLCR-66 is designed to sonically match TDG Audio's Encompass Home Theater line, so integrators can mix and match as the installation requires. But one thing your installation is certain to require is strong support for those gut-rumbling special effects. For that, the Signature Series also offers the IWS-88.
The IWS-88 is a dual 8-inch cabinet in-wall speaker that perfectly complements the Signature Series front L/C/Rs. Able to produce rich, deep bass, the IWS-88 features the same rugged grade of cabinet construction and overall quality of performance.
The DaVinci Group's Chief Technical Officer Alex Chiou told us that the Signature Series is designed for quick and easy installation as they fit perfectly between the studs and easily screw right in. And once there, the performance of that system has been dramatically upgraded.
Chiou also said that engineers have precisely matched the drivers to create a speaker of crystal clarity, but also have a wide power handling range to effortlessly reproduce dynamic movie effects.
The DaVinci Group is previewing this new Signature Series line at the 2015 CEDIA Expo in Dallas, going on right now. You can see them in Booth #1712 on the main show floor.
To learn more about The DaVinci Group, see: www.tdgaudio.com.
NOTE: The DaVinci Group is a client of Strata-gee.com's sister company, The Stratecon Group.