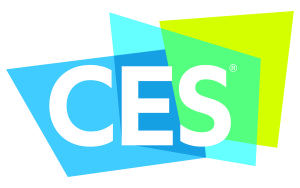 CES is back and its bigger than ever. According to the CTA (formerly CEA), the show spans 2.3 million sq.ft. of exhibit space, in which more than 3,600 exhibitors of all sizes and types have set up booths to hawk their wares. The show is expected to draw more than 150,000 attendees and 6,000 member of the press. It is impossible to cover the entire event…it has just gotten too large.
Luckily, with the industry stuck in several well-worn trends, we in the media can focus our attention beyond these usual suspects – automotive tech (autonomous vehicles and related technologies), drones, 4K UHD TV, Internet of Things (IoT), wearables – to new areas (such as Virtual Reality), and iterative updates from current companies.
See our CES overview…
As we've noted on Strata-gee before, CES, which started back in 1967, used to be a real business planning conference. The industry would align behind some newly invented product category (VCRs, CD players) and each brand would show their version of it with a plethora of new models on display. Retail buyers walked to floor, made their selections, wrote purchase orders (remember those?) and set their business plan for the remainder of the year.
However, a few years ago, we noted that as trends slowed down, buyers stopped writing orders. Pretty soon – especially in the years following the most recent 2007 recession – the show was less about business and more about an exposition of future products… Well, maybe future products, because many of those products just didn't take off (think Google Glass). The business side of the business took a back seat to the introduction of new industry categories (cars, appliances)…and more and more future products.
'Usually Amounts to Nothing'
Here's how Farhad Manjoo, tech writer for the New York Times put it, "CES long ago devolved into a noisy parade of puffed-up announcements that usually amount to nothing."
Hard to argue the point. And this year, we move into the realm of virtual reality – we've moved from today's business, to future business, to virtual business. The show has become a gadget lover's dream, but a businessman's nightmare.
A Decade Away
Take, for example, autonomous cars. Most experts say this technology – which many find exciting and could possibly change the world – is as much as a decade or more in the future before the industry is ready to market the product to consumers. Ten years away…
Widely touted as the next big thing – including by my son who has the Oculus SDK – is the finally launching consumer version of the Oculus Rift…prime mover of the much touted Virtual Reality craze. But there's a problem here, as I can personally attest. Quite simply, the Oculus Rift made me sick…quite sick. This surprised me because I am not susceptible to motion-sickness, usually a prime indicator of illness potential.
My son assures me that the consumer version will have better hardware, and better software, and that these facts will minimize the illness factor. But some studies indicate that any system that disconnects what you're actually doing, from what your senses tell you your body should be doing – is going to cause you to feel ill.
Anyway, here are a few select items announced so far that caught our eye: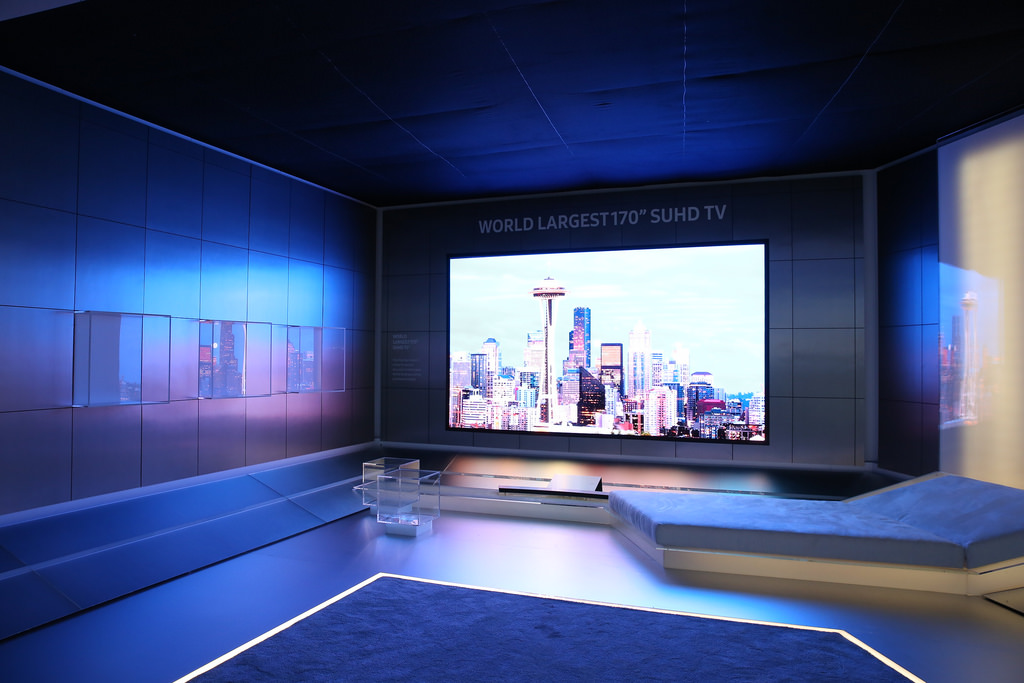 SAMSUNG
Samsung has gone all-in on 4K UHD TV, especially in the form of their SUHD TV. Although Samsung's Tim Baxter called IoT priority #1, 4K UHD TV sure seemed to be dominant. The company has dramatically expanded their 4K TV offerings and has interesting technology demonstrations of a 170-inch SUHD TV set and a rather dramatic looking 8K curved SUHD TV.
SUHD TV features 10-bit (Cadmium-free) Quantum Dot technology, with 1,000 nit brightness. Samsung's Joe Stinziano called it their most realistic picture ever. There will be five series of models from 49-inches to 88-inches…including some curved models. By the way, all Samsung 4K sets will feature high-dynamic range (HDR) capability.
The TV and Refrigerator as IoT Network Hubs
The company is planning to position your SUHD TV (which the company says has over 50% market share) as the hub for your IoT home network. Given the fact that every home has a TV, this could be a productive strategy.
Samsung also announced it will sell a 4K UHD Blu-ray player in March with pre-orders opening today. The company says that 20th Century Fox and Warner Brothers will deliver over 100 4K Ultra HD Blu-ray discs in 2016, helping to solve a significant objection to 4K Ultra HDTV – that there is a lack of true 4K content.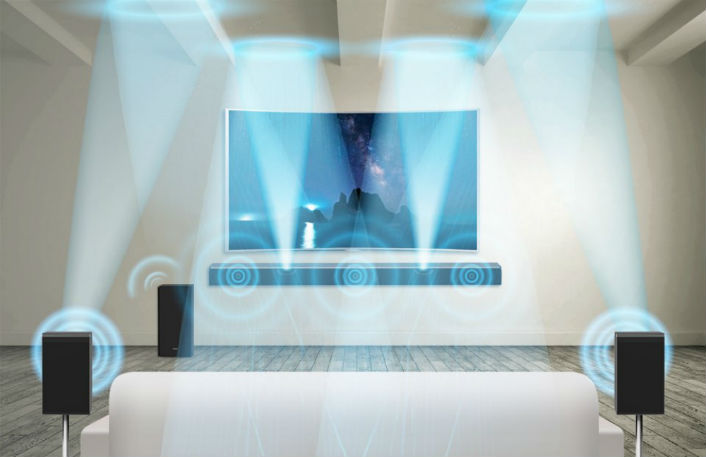 Dolby Atmos Soundbar
In what may be a "jump the shark" moment, the company announced a soundbar with built-in Dolby Atmos surround technology. Atmos, normally looked upon as an upgrade for surround technology, requires either down-firing ceiling-mounted speakers or upward-firing speakers to bounce off the ceiling. Samsung's soundbar includes upward firing drivers to accomplish Atmos.
The company also showed a new appliance line with IoT enhanced features and even built-in touch display panels in refrigerators. Samsung says it's time to update kitchen appliances. IoT has been added to cooking ranges to include remote monitoring and control capabilities.
The Refrigerator…er, Family Hub
And for the refrigerator, "the center of the kitchen," according to Samsung's John Herrington, the company announced the Family Hub. The Family Hub is mobile-enabled and features a 21.5-inch touch display so it can show a family calendar, play back music files or stream Internet radio stations, display family photos and even provides for direct ordering of groceries right from the fridge.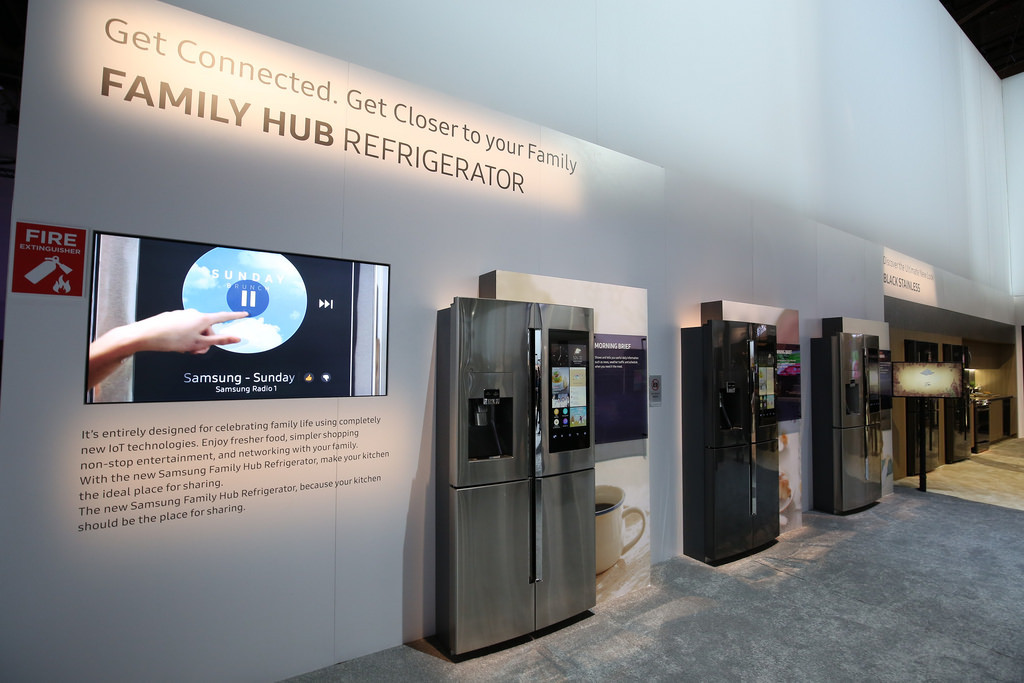 The Family Hub has cameras inside that take a picture of the contents every time a door is closed. At the grocery store and don't know how much milk you have? Power up your mobile phone and access a picture of the interior of the fridge to see.
Of their remaining announcements, perhaps the most interesting, was the announcement that Samsung's new Gear S2 watches would be compatible with Apple's iOS watch software. Is this a sign of détente in Samsung's war with Apple??
LG
LG remains firmly committed to OLED technology and announced 4K HDR-enabled OLED sets at CES said to have stunning picture quality. Led by the flagship models G6 (77/65-inch) and E6 (65/55-inch), the company says all LG OLED TVs will carry the new Ultra HD Premium seal launched by the UHD Alliance.
The G6 and E6 models introduce the company's Picture-On-Glass design in which an extremely thin 2.57mm OLED panel with a glass back presents a stunning image. The set also includes an upgraded soundbar speaker system, developed in conjunction with Harman Kardon.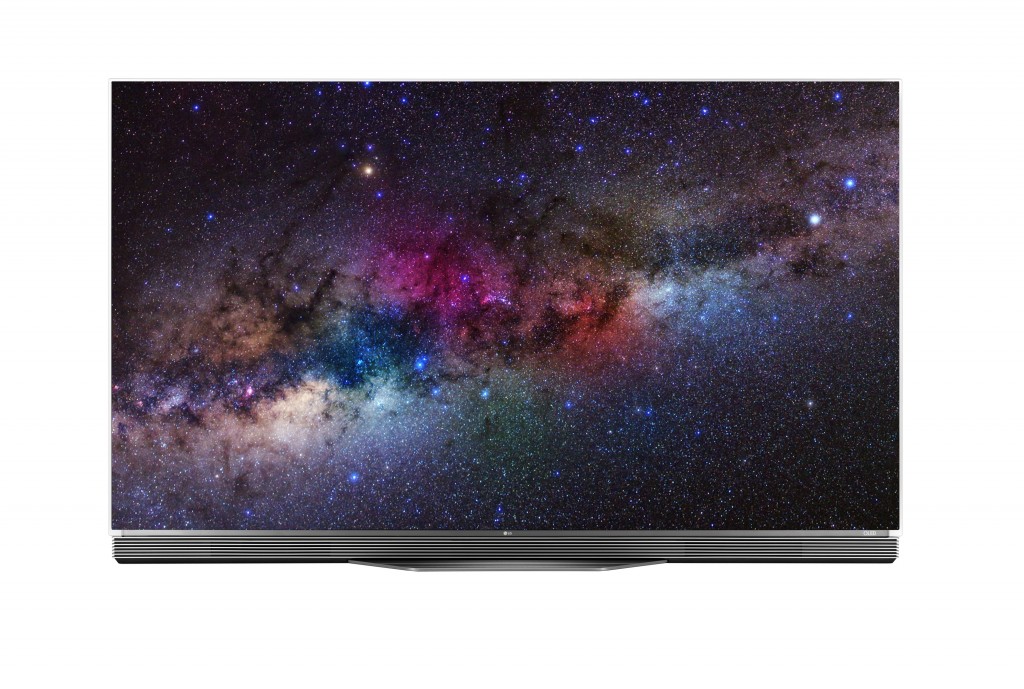 LG's sets feature 10-bit panels and 10-bit processing and supports the BT.2020 color gamut standard. These new models feature webOS 3.0, the company's proprietary smart TV platform.
LG recently announced an 18-inch rollable OLED panel. Yes, a panel that can literally be rolled up like a scroll. The company sees mobile and commercial uses for this technology.
The company also introduced the Signature Series, a multi-category series of products that represent a vision to stay "pure and sophisticated, true to each product's essence." The series includes an OLED TV, a washing machine, a refrigerator, and an air purifier.
SONY
Sony showed a new line of 4K Bravia sets featuring, among other things, HDR technology. Sony TVs also feature Slim Backlight Drive, X-tended Dynamic Range PRO display contrast expanding technology, Triluminos technology…all in an extremely thin design.
Sony also announced Ultra, an app from Sony Pictures Home Entertainment that allows consumers to purchase and stream 4K HDR movies and TV shows.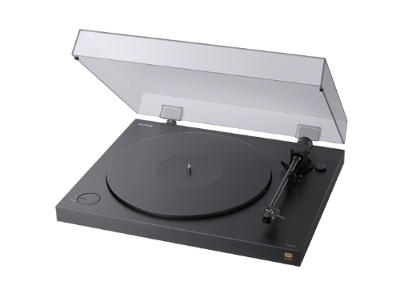 In audio, the company is still pushing Hi-Resolution Audio (Hi-Res) and is expanding its portable line with new wireless speakers and headphones. Sony also showed new models in its Extra Bass (XB) line of products, including wireless speakers and headphones designed to give more of a "club" sound (can anyone say Beats?)
Turntables make a comeback with Sony's launch of the PS-HX500. This is, to us, a bit of a quirky concept: introduce a retro product (turntable) to take advantage of a bit of an analog renaissance that is sweeping the country. That part, we get. But Sony's turntable is designed to convert your analog record collection into Hi-Res digital audio files. Yes, the HX500 has a built-in "state-of-the-art" A/D converter that creates Hi-Res transfers in either DSD (up to 5.6MHz) or WAV files (up to 192KHz/24-bit). But don't consumers who buy turntables do so because they WANT to listen to analog music???
A two-speed, belt-drive turntable, the company says that it possesses "quality analog components" that are typically "associated with reference standard turntables." The straight tone-arm comes with the cartridge included (so much for those profitable upgrade sales, if you have any upgraded cartridges, that is). This turntable will be available this Spring…no pricing was given.
VOLKSWAGEN
Make no mistake about it, cars and certain automobile-related technologies are big at this year's CES. But we noted with interest that this bad boy of environmental technology was a keynote speaker, showing some contrition in the wake of their diesel technology scandal. For those of you who haven't heard, Volkswagen's engineers had cleverly designed a technology solution that skirted government regulations for emissions testing.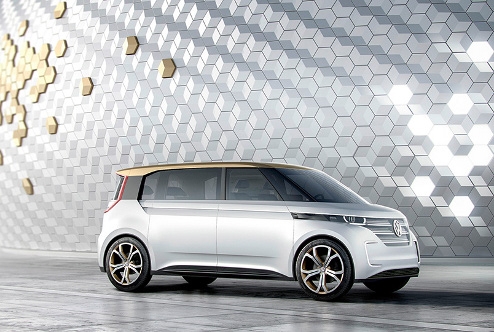 Volkswagen's keynote by new CEO Dr. Herbert Diess, who apologized for the company's transgression, showed clearly that the company will attempt to atone for this stunningly bad corporate behavior by introducing an electric vehicle that carries the cutesy name BUDD-e. For now, BUDD-e is just a concept car…not a real product. But this introduction clearly shows the direction for the company – electric vs. diesel to achieve fleet emissions standards.
KODAK
Kodak announced at the show that it is re-introducing Super 8 movie cameras to a new generation of filmmakers. The company, whose announcement included expressions of support from several iconic filmmakers such as Steven Spielberg, Quentin Tarantino and Christopher Nolan, who said that the news "is unbelievably exciting."
Kodak will show a prototype camera at the show in their booth. This new camera is said to blend the classic features of Super 8 with more contemporary digital functionality.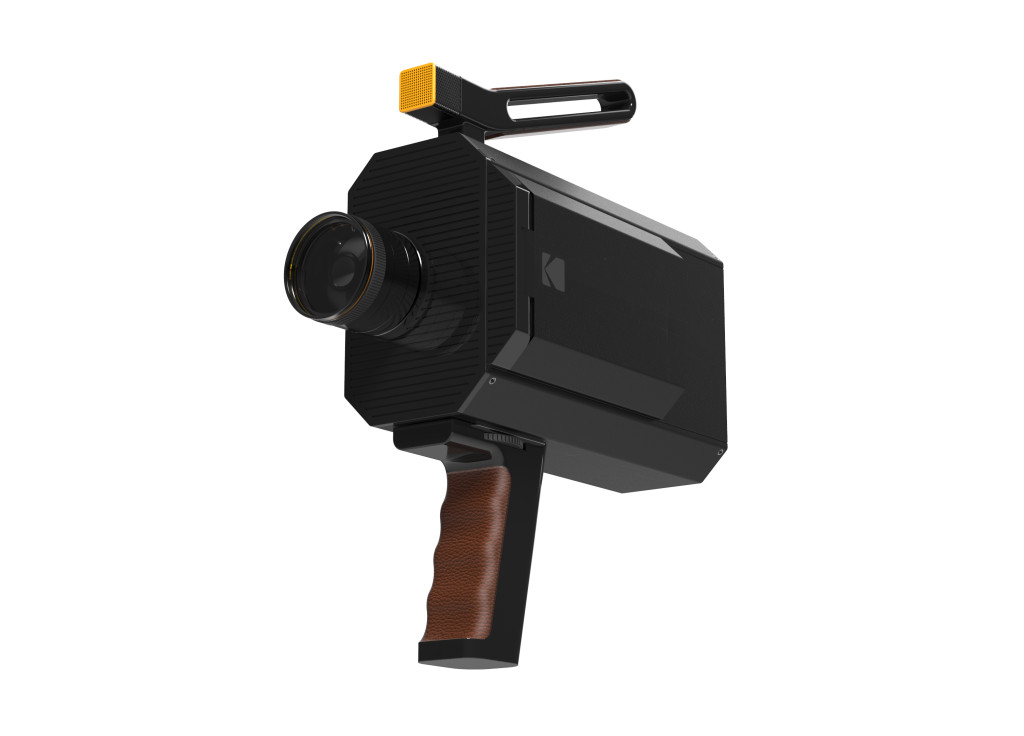 Then company is not stopping with the camera. Kodak will launch – or perhaps relaunch – a whole Super 8 ecosystem including film and development services, post production tools, and more.
All of this on the 50th anniversary of Super 8. "The fact that Kodak is building a brand new Super 8 camera is a dream come true," said J.J. Abrams, writer and director of Star Wars: The Force Awakens, in materials provided by the company.
VIRTUAL REALITY – AND – OCULUS RIFT
Oculus, the long-awaited Facebook-owned kingpin of virtual reality has finally announced its consumer version of the Oculus Rift – resulting in significant buzz at CES as the category is expected to get a boost from several players, including Samsung. This virtual reality headset is priced at $599 and will ship in March.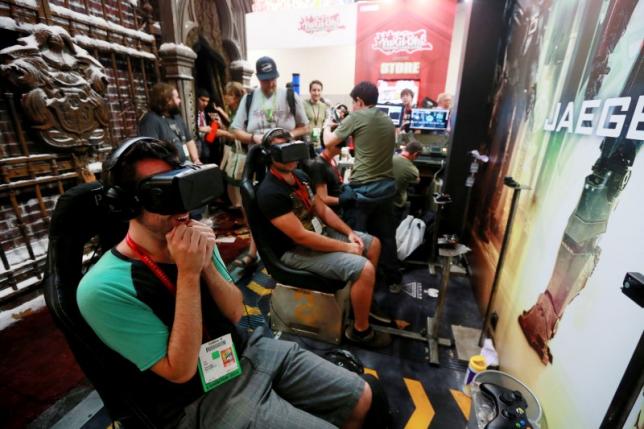 The company says select retailers will also sell the Rift beginning in April. According to Facebook CEO Mark Zuckerberg, more than 100 virtual reality games and "experiences" will become available in 2016.