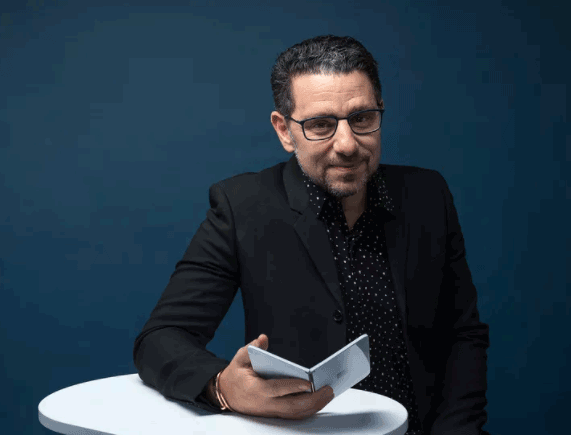 Last week, Sonos quietly let the Securities and Exchange Commission know that Panos Panay resigned from the Sonos board of directors, effective September 27, 2023. They made no public announcement that I am aware of, even though this news could have a major impact on the company's direction. Why? Simply because Panos Panay is one of the most respected technology product gurus in the industry – so much so that Sonos trumpeted his arrival loudly when they convinced him to join their board in 2020.
Separately, and within just days of the exit of Panay, the company announced three "new" (I'll explain the quotes around the word new below) additions to its executive team, including a new, promoted from within, Chief Product Officer…
See more about the departure of Panay from the Sonos board, and its new additions
I first told you about Panos Panay – a highly respected Chief Product Officer for Microsoft – joining the Sonos board of directors in 2020. The company made quite a bit of noise about it at the time and it truly looked like a really good "get" for the company.
An Impactful Contributor to the Company's Ongoing Success
In fact, at that time, Mike Volpi, chairman of the Sonos board said, "Panos brings extensive experience in building powerful and engaging consumer hardware products and experiences that customers love, at a global scale… His track record, along with his passion for Sonos, will make him an impactful contributor to the company's ongoing success."
Volpi's enthusiasm was justified – Panay was a long time Microsoft product guy who was credited with some great successes for the company. He is said to have a great feel for both hardware and software – an important attribute in today's digital world. He rose through the ranks at the company to its top product role as Chief Product Officer.
Panos Panay Welcomed to Amazon by CEO Andy Jassy
Panay is leaving the Sonos board – and Microsoft, for that matter – to take over the top product position at Amazon as head of its Devices and Services division. This move was announced by Amazon CEO Andy Jassy the same day that Panay resigned from the Sonos board.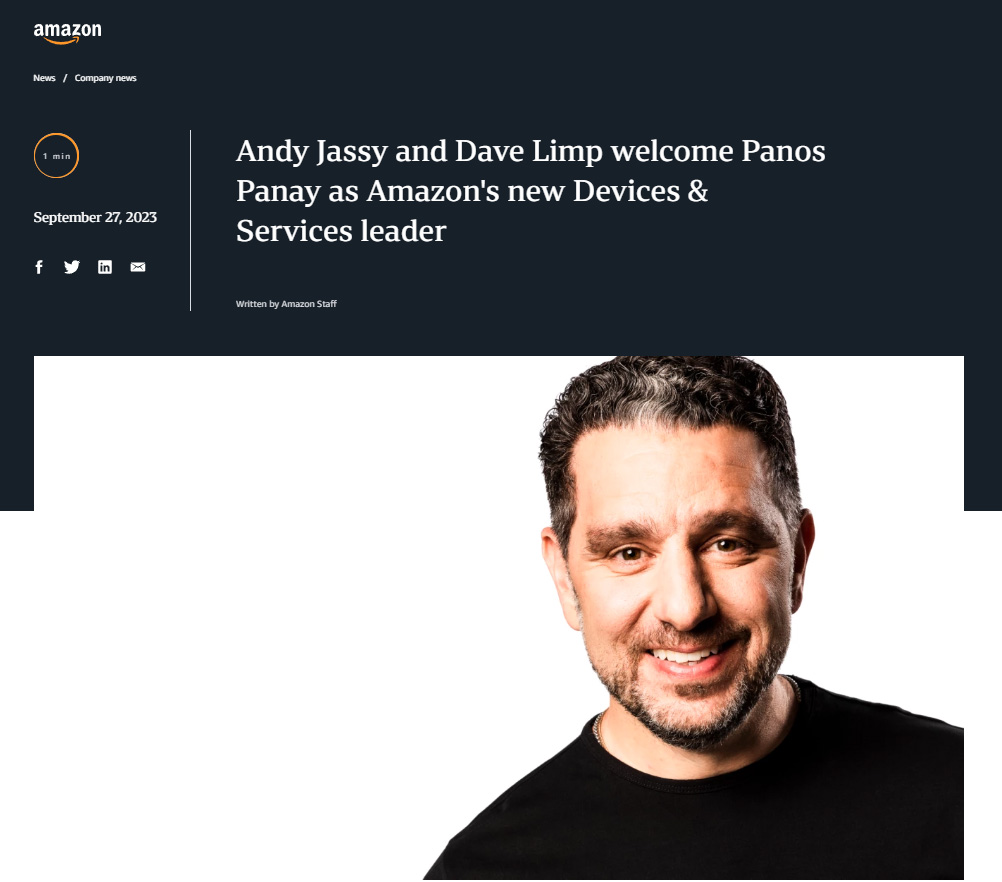 It's a big move to a big company that surely represents a great career move for Panay. It is not clear if Sonos knew it was coming. but all signs point to the fact that they had no idea it was about to happen.
Days After Panay Exits, Sonos Announces Executive Team Additions
While Sonos was quiet on the departure of Panay, just days after he left they did announce a set of executive appointments, saying they were "Preparing for the opportunity ahead." Joining the executive team at Sonos are Deirdre Findlay as its new Chief Commercial Officer, Dunja LaRosa as its Chief Revenue Officer, and Maxime Bouvat-Merlin as its Chief Product Officer.
I am excited to welcome this group of highly accomplished executives to these key leadership roles at Sonos. We are adding world class talent across marketing, sales and product, focused on achieving our ambition to be the world's leading sound experience company. Each will be integral in further strengthening our brand and executing on the opportunity in front of us.

Patrick Spence, Sonos CEO
Two of These Candidates are Not New to Sonos; One was Appointed to This Role 6 Months Ago
While Spence makes these folks sound like new additions to the company, that is misleading. The fact is that two of those three appointments are folks who are not new to the Sonos world. Deirdre Findlay joined the Sonos board at the same time that Panay did back in 2020. At that time, she was Chief Marketing Officer for Condé Nast – a large magazine publishing house. Now as Sonos Chief Commercial Officer, Findlay will be responsible for all go-to-market and customer experience functions.
Similarly, Maxime Bouvat-Merlin has been working for Sonos since 2016, when he joined the company as Vice President of HW Product Development. Prior to Sonos, Bouvat-Merlin did stints at QuickLogic, Qualcomm, Broadcom, and Texas Instruments. I had initially suspected that Sonos promoted Bouvat-Merlin in response to the departure of Panay, but according to his LinkedIn profile, he actually took the role of Chief Product Officer six months ago in April.
One Appears to Be a New Hire
Finally, true new hire Dunja LaRosa joins the company as Chief Revenue Officer. LaRosa joins the company after a nearly three-year stint at Dyson as its Senior Vice President of Retail Sales. LaRosa has a fairly extensive 25-year career with mostly sales stints at companies like Sony (in two separate tenures), Toshiba, Planar, InFocus, and more. Some of those stints were short – just 10 months in one instance, under two years in a couple of others.
As Chief Revenue Officer for Sonos, she will be tasked with driving sales both in the product categories in which Sonos competes in today…as well as those categories it will enter in the future.
This Announcement Feels Rushed and Embellished
Something feels off about this new announcement of executive appointments…
Was this week's announcement already in the works and not connected to the exit of Panay? I don't know. But to me, this second announcement feels rushed and embellished. Why announce this week the promotion of Maxime Bouvat-Merlin to Chief Product Officer if in fact that promotion took place six months ago in April? Could it be to deflect questions about product development in the wake of Panay's departure from the board?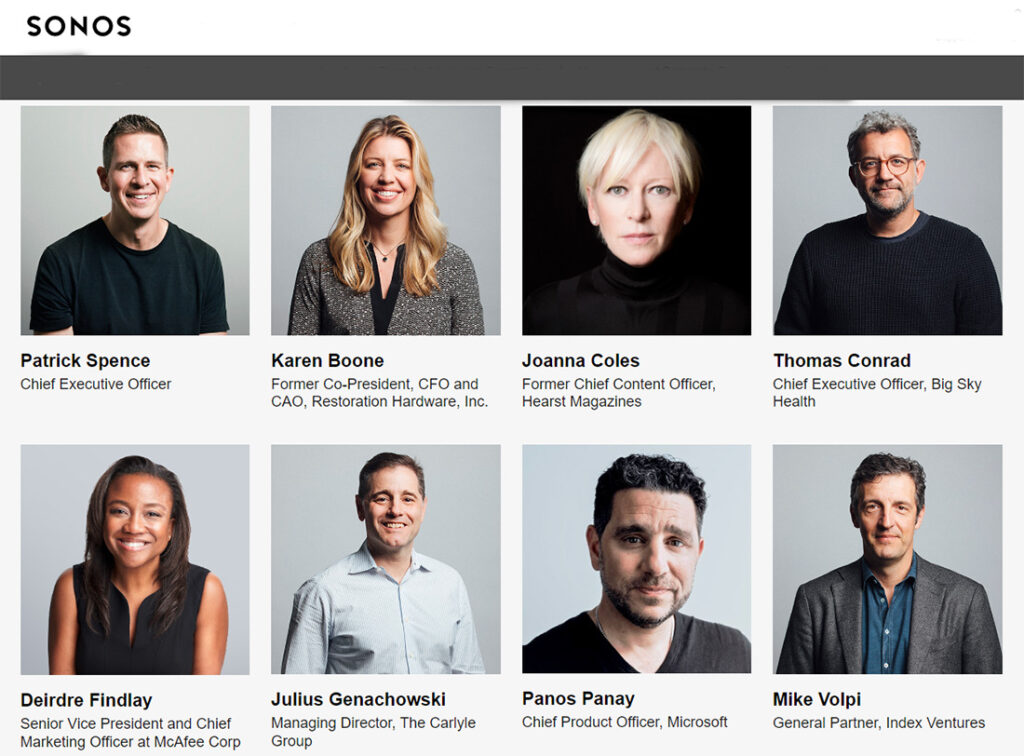 Sonos Website Pages Showing Leadership Team and Board Have Not Been Updated
Not only that but on October 5, 2023, two days after this official announcement, the Sonos website showing the Board of Directors has not been updated and still shows Panay and Findley (who stepped down from the board to take her new executive role) as current board members. And a second page showing the executive leadership does show Bouvat-Merlin as Chief Product Officer but has no mention of Dunja LaRosa as Chief Revenue Officer.
This is unusually sloppy for a public company.
It. just. feels. rushed. I'm suspicious…