SupplyStream, the industry product-line aggregator that offers dealers and integrators a web platform with cross-vendor consistency in product and pricing information, announced today that it has upgraded its search function based on feedback from current users. The company also says that it will make its API available to select 3rd party software solution providers.
See more on this growing service…
The SupplyStream dealer web portal is a simple interface that brings an industry-wide amount of data to your fingertips. Dealers can quickly find the information they need to select – and then order – the perfect product for their installation job.
Formed almost three years ago, company VP of Business Development Josh Willits told us that they spent the first two years programming the back-end of the system. The company then embarked on an almost eighteen month Beta-testing program with around 1200 dealers. Officially launched at this last CEDIA Expo, SupplyStream is a new and growing entity within the mostly custom integration community..
Beta is better…
It was from the 18-month Beta testing, Willits told us, that SupplyStream learned that dealers had a strong feelings about how results of searches should be presented.
"Dealers told us that their number one priority is stock Availability," Willits explained. "Number two in priority is Proximity [how close the source of supply is to the dealer]. And, finally, priority number three is Price."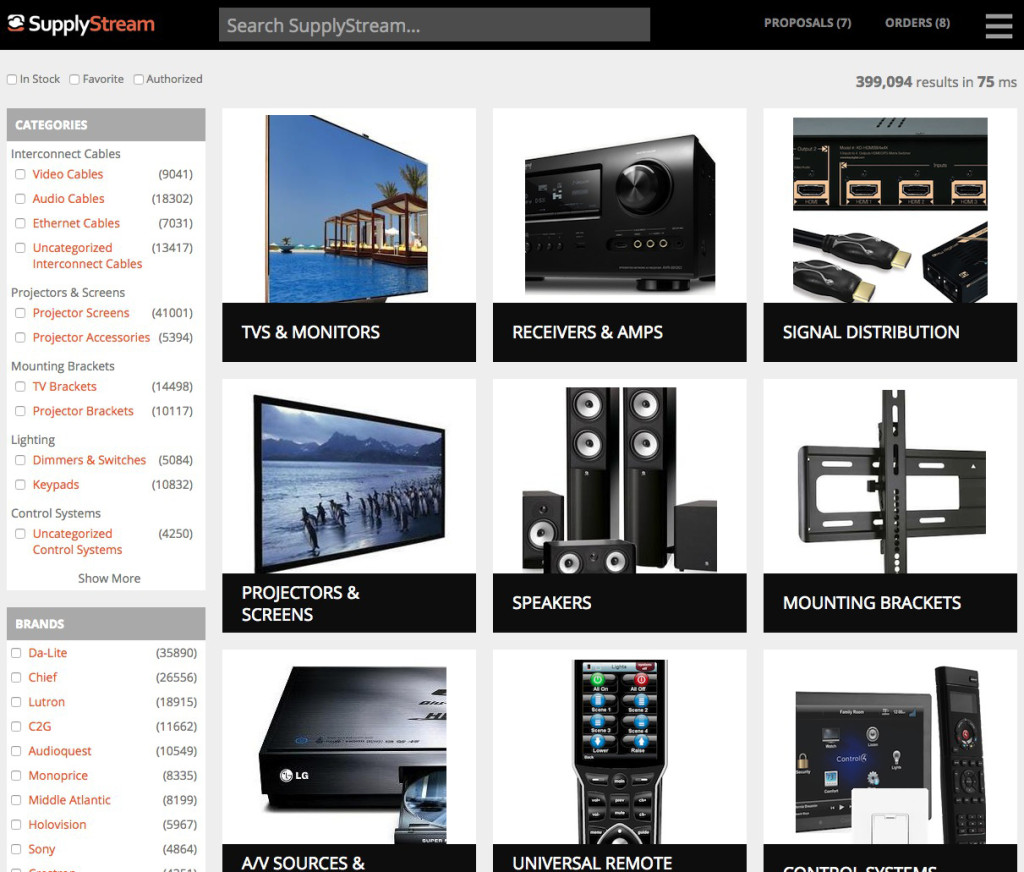 Dealers set the priorities…
And so this feedback from the Beta testers was one of the more significant changes SupplyStream made to their search algorithm. Search results are now presented in order of priority as defined by the testing dealers.
We asked Willits about the rather low position of price in the dealers' order of preference. Willits, a former integrator himself, told us that when an integrator has a hot job, just getting their hands on the product – in the quickest time possible – trumped pricing as a key concern. But price certainly is factored in as well in the top three priorities.
A half million SKUs…
SupplyStream says that their system carries the entire product lines of 2,500 brands from 250 sources of supply – almost a half million SKUs in total. That is an impressive accomplishment in its own right.
The company is also in development on apps to extend their power to the more mobile crowd. Right now dealers use desktops, laptops and maybe a tablet.
"Our latest catalog improvements reflect the feedback we received from dealers after more than a year of their engagement with our platform," said Founder & CEO Kirk Chisholm. "We found that the most important thing to dealers is a great search tool, so we threw away our existing search technology and re-built it from the ground up. An entire industry of products is now searchable from a single search box that rivals even the best e-commerce websites."

This is a product detail page from the SupplyStream catalog
From log-in to order in minutes…
Dealers can join SupplyStream and for only $29 per month have full access to the catalogs from their brands and key suppliers. According to Willits, dealers can usually build their first order in a matter of minutes – the user interface is that easy.
See more on SupplyStream, including a video on how the service works, at www.mysupplystream.com.
EDITOR'S NOTE
10:35AM – About 2½ hours after the original posting, we changed the product detail page to remove inadvertently displayed costing information.