SupplyStream, the online aggregator of industry brands and products data, announced today that it has decided to change its name and business model in a move that they say will more properly align their branding with the reality of their business activities. The change takes place immediately.
See more on this surprising change…
We first told you about SupplyStream back in 2015 with our overview of their then new service. The idea was to help out integrators by offering them a single source where they can see detailed product catalogs from all of their vendors, including pricing information from multiple sources, and easy ordering across brands.
The company also noted that their service could facilitate the bid building process, saving time and effort for the integrator.
Company Has Succeeded
After five years of effort, SupplyStream has grown to 16 employees and 5,000 users, many of whom had paid a monthly subscription fee of $29 to use the service. The company says it has succeeded in its goal of building an industry-wide single searchable web catalog.
Now, the company says it will change its name to Portal. It will also change its web address to www.portal.io – to align it with the new name.
"For five years we listened carefully to every feature dealers requested, and the result is a service that is tailor-made for the modern reseller," said Kirk Chisholm. "However, we have not finished innovating, we are just getting started. We have big plans for game-changing functionality."
Big Plans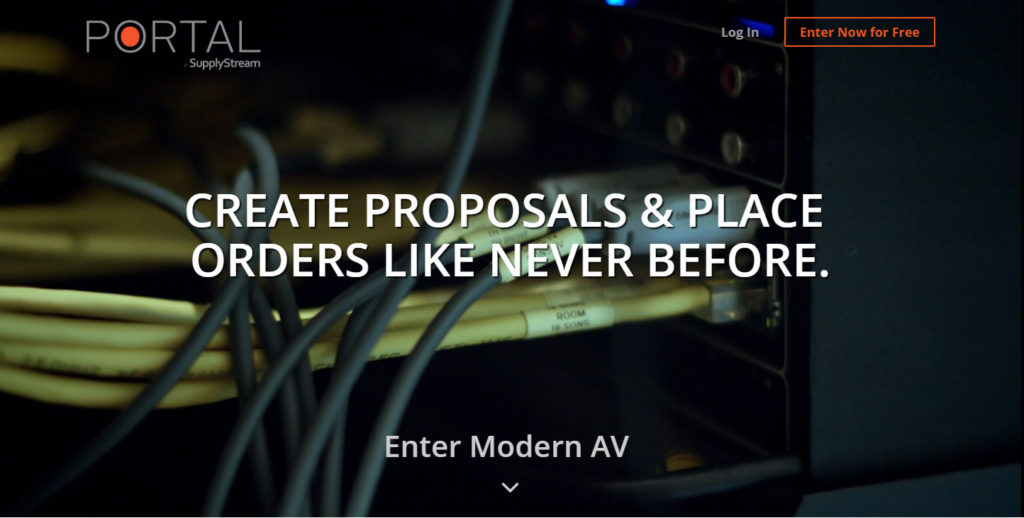 These big plans include a new native iPhone app, expanded third-party integrations, dedicated programs for manufacturers, distributors, and reps. The company will also launch a "major" rewards program at CEDIA next month.
In addition to all of this, Portal…in a dramatic shift in its business model…will now be made available to integrators for free. They will no longer be required to pay a monthly subscription fee – whether existing subscriber or new customer.
Investor Kicks In $2.5 Million
The company says it has received a $2.5 million investment that will be used to fund this expansion. They did not identify the source of this capital.
The company's release also did not explain why all this change is taking place. If we are meant to see SupplyStream as a success after five years of effort to create the service, build the brand, and spread the word – they why throw all that out to begin again under a new brand?
Why Change Now?
We reached out to Josh Willits of Portal to find out why the company felt it needed to take these steps. Willits told us that over the years, SupplyStream has become known as the industry's portal for information and ordering of top custom integration brands. In fact, Willits told us, many of the top brands have worked directly with SupplyStream to input their information…such that SupplyStream became that brand's defacto portal.
With all that being the case, it made sense, Willits told us, for them to align the reality of the forces driving their business, with their brand and branding. Hence the name Portal.
Business Model Change – Now Free
The decision to change the business model came about as the company planned to offer many upgrade services to participating vendors for an added fee. Currently, vendors can participate with Portal to get their basic information into the system for no charge.
Soon, Portal will be rolling out a variety of added services for participating vendors to take advantage of for a fee. Some of these services will be transactional in nature – such as credit card processing.
Vendor Fees Will Subsidize Service – Now Free to Users
The company is projecting that these vendor fees will aggregate to a level that will subsidize the total cost of the service. With that being the case, Portal can completely eliminate the monthly subscription fees to integrators. They hope that making Portal free to users will further drive user adoption.
To learn more about Portal, visit: www.portal.io.



*UPDATE
August 19, 2016; 12:30PM – Replaced screenshot of Portal website which had been updated to remove a typo on their part.