There are a lot of people excited about facial recognition, but so far the most aggressive experimenters (aside from law enforcement) have been marketers. This is especially true of retailers who see a lot of opportunity to exploit the technology to enhance in-store experiences, conduct research, or to stop shoplifters. Yet new polls show that consumers are truly creeped out by facial recognition, and privacy groups, consumer advocates, and even some regulators are coming out against it the technology.
See more on the controversy surrounding facial recognition…
A report by eMarketer notes that "brand marketers and tech providers" are "jumping at the chance" to implement facial recognition technology. As an example, the report tells the story of consumer products manufacturer Unilever testing a special in-store display utilizing facial recognition technology.
The Unilever test took place in both the United States and in Brazil, and they employed special displays that used facial recognition technology to "measure consumer engagement." Unilever's global vice president of consumer and market insight BV Pradeep, in a presentation at the 2018 Marketing Week Insight show, said that marketers should definitely "put more effort" into developing powerful tools like this using facial recognition.
Watching You as You Shop
Other marketers are conducting experiments where facial recognition technology is being used to track buying habits, and to alert salespeople to shoppers' preferences and previous purchase history as they enter the store. Armed with this information, the salesperson can then give each shopper a more personalized shopping experience.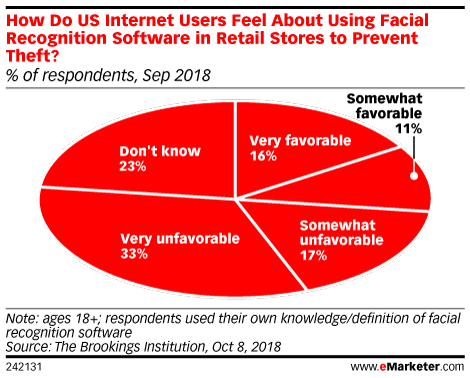 But market researchers are suggesting that brands looking to use facial recognition technology should "proceed with caution." RichRelevance, a retail marketing researcher, polled US internet users on the use case of employing cameras and facial recognition to identify shoppers and provide salespeople with the shoppers preferences and past purchasing history. The result? More than 60% of the survey respondents said they thought that such a use of the technology was "creepy."
Facial Recognition to Catch a Thief?
In a separate study by The Brookings Institution, 50% of U.S. internet users expressed concerns about facial recognition (see graphic above). Of that total, 33% said they had a "Very Unfavorable" view of the use of facial recognition technology by retail stores to prevent theft.
"If we fail to think these things through, we run the risk that we're going to suddenly find ourselves in the year 2024 and our lives are going to look a little too much like they came out of the book '1984.'"

Brad Smith, Microsoft President speaking at The Brookings Institution
Regulators are Beginning to Step In
All of this has led various privacy groups and concerned citizens to begin agitating for government regulators to step in and limit the technology. They are having some success. Just last month, the city of San Francisco became the first American city to ban the use of facial recognition technology by any governmental agency.
The State of Washington is also now debating a bill backed by state Senator Reuven Carlyle that would require companies that make facial recognition technology to obtain consumer consent, and to notify consumers when they walk into a store or access a website where such technology is being used.
The Need for Transparency
Consumer concerns about privacy are continuing to rise. So much so that use of the technology may become a political issue in the upcoming election. The report by eMarketer suggests that for the technology to thrive, "transparency with consumers will be key."
See more on this and other research at www.emarketer.com.