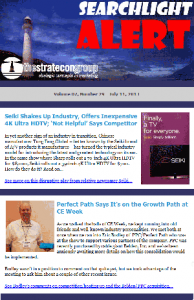 There are some major – and exciting – changes taking place here at The Stratecon Group headquarters…and on its Strata-gee.com website.
While we can't tell you everything going on at this point – the big news that we can tell you is that the ALERT newsletter is being discontinued.
Why would we discontinue our ALERT newsletter, which many of you – our loyal subscribers – have been receiving for years? Read more below…
READ BELOW to see why the ALERT is going away and, more importantly, what's coming!…
As many of you know, we launched the Strata-gee.com website a little over a year ago to replace our original StrateconGroup.com website. While this change was forced upon us as a result of our original website provider getting out of the web hosting business…it is always risky to change business addresses – whether physical or on the web.
But we didn't just change addresses – we changed names…picking the domain name Strata-gee.com because it was more memorable, easier to spell (phonetically at least), and better embodied our mission of providing you with news, views, and advice on marketing and business STRATEGY. This concept is more in line with the type of service that The Stratecon Group provides for its marketing clients…and we wanted our web presence to be synchronized with that as well.
A whole lotta' nervousness…
Despite some sleepless nights and a whole lotta' nervousness then, the transition has turned out to be a screaming success and our stats shows an ever-increasing number of Unique Visitors and Page Views, suggesting you all agree. Now it's time to continue to move forward with our efforts and implement some new, and we think logical, changes.
You may have already noticed some of these changes if you've visited the Strata-gee.com home page recently. At the top of the home page, there is an all-new header graphic and nameplate for the website. It is a simpler design with a less cluttered look…and a new contrasting color scheme that we think helps it stand out. We also have a new tag line: "Marketing & Business STRATEGY in TECH Today."
Now it's time to retire the ALERT…
The ALERT remains a vestige of the original StrateconGroup.com website. The design, graphic, and color scheme were all initially designed with that old web address in mind. But clearly, with an all-new look on Strata-gee.com's website, we needed a new newsletter design as well.
So starting in September, we are rolling out an all-new newsletter that replaces the ALERT. The basic "bones" of the newsletter – structurally – remains similar and will feel familiar to you…but everything else changes. As you can see with the graphic shown below, there is a whole new color scheme – using colors drawn from the Strata-gee.com website.
Not only that, but there is a new title style and new image positioning…both of which will give a subtle but cleaner look to the newsletter.
Everyone needs to get in SYNCH…
Most importantly, we are changing the name of the newsletter. (I know, I know, some people never learn!) Our new newsletter will be called: The Strata-gee SYNCH.
Why would we change the name of the newsletter after using the ALERT name for so many years? There are several reasons, none of which is related to the performance of the ALERT which continues to add new subscribers every week!
Thinking strategically…

Here are some of the reasons why we felt the time was right to change the look, feel, and name of the ALERT:
First, we wanted a more consistent brand image across our various communications properties. In this case, our newsletter comes to your email inbox and synchronizes you with what's new on the Strata-gee.com website – hence, the Strata-gee Synch.
Second, we feel that the Synch is a better concept for our newsletter than the ALERT. While occasionally the news we're reporting on is impactful enough you need to be alerted to it…for the most part, our job is to keep you in synchronization with companies' strategy shifts, marketing trends, consumer trends, technology trends, etc. These are changing all the time and what we really do is keep you in synch.
Third, many of you remembered our ALERT newsletters for their look…but not so much for their name. I think the name ALERT was a little too generic. SYNCH is a little more distinctive and unique…and hopefully, <fingers crossed> more memorable.
See a full-sized sample layout of The Strata-gee SYNCH at the link here… Or click the image at right (this is just a sample using older stories).
Other
important notes

for subscribers…

To stay consistent with our branding, starting in September your Strata-gee SYNCH will be mailed to you from Strata-Gee.com – from a new email address of: info@strata-gee.com.

Please add this email address to the contact manager or white list of your email client program. This way, our new newsletter will not get filtered out and you'll stay in synch!

THANK YOU as always for your loyalty and your support! I hear regularly from readers who tell me how much they enjoy our stories and editorial approach.
WANT TO SUBSCRIBE to the Strata-gee SYNCH?
Simply enter your email address in the box at the top of the sidebar on the right-hand side of this website under the "Get our FREE newsletter!"