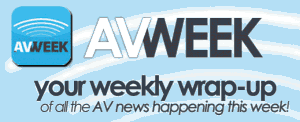 Not having learned their lesson last time, AV Nation once again invited me to participate in the latest edition of their AV Week webcast to discuss the hot A/V topics of the day. Also appearing in this week's episode of AV Week was Sam Malik of ASK Proxima and Kevin Iselli of Crestron Electronics. And, of course, AV Week is hosted by the incomparable Tim Albright, founder of AV Nation.
What topics did the guests on AV Week ponder? See more below…
Episode 115, titled Thanks Lucy, We'll Take it From Here, was recorded on Friday, November 1 and covered a wide range of topics. The group offered their at times witty take on topics such as Samsung's decision to open their first LCD plant outside of Korea, Sony's launch of a new 4K-UHDTV camcorder, the future of broadcast, 8K broadcasting in Japan, why Michael Dell decided to take his company private, and the key financial metrics integrators should monitor.
AV Nation calls AV Week: "Your weekly dose of AV news and information. Featuring some of the most engaging people in the AV industry, AVWeek always brings the most current, entertaining, and sometimes controversial news and commentary about the industry today!"
AV Week first invited Strata-gee to participate

back in July and we found it a fun and engaging experience. The banter between the host and the guests…and between the guests themselves…often provides for an entertaining treatment of the topics of discussion.
Take a listen and see what you think as we talk of sausage factories and leaky boats and their relevance to AV, here: http://avnation.tv/shows/avweek/avw-115/