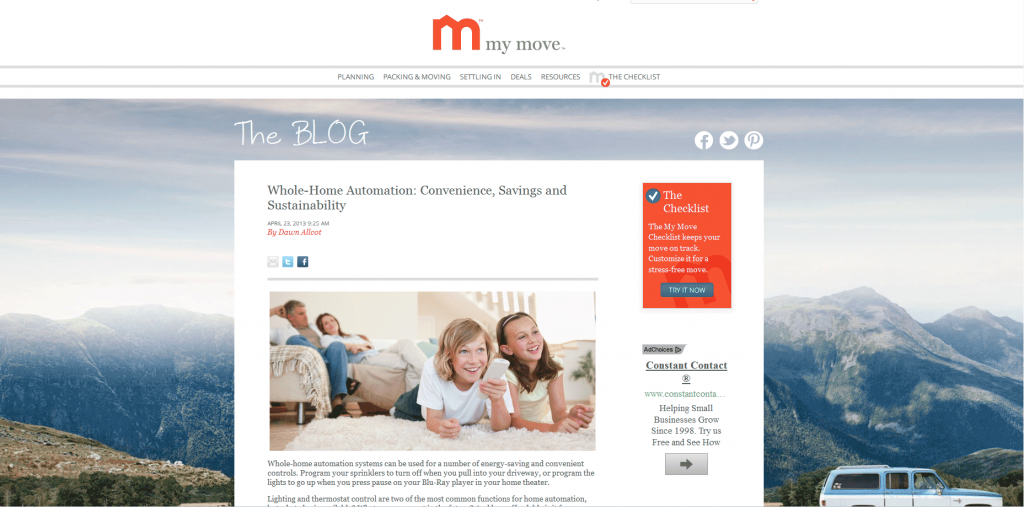 MyMove.com, a website and blog dedicated to any and all issues surrounding a homeowner's moving, this week posted an article on home automation that featured three industry experts – Delia Hansen, Marketing Solutions Manager at Crestron; Michael Braithwaite, Chief Strategy Officer for ClearOne, manufacturer of the NetStream DigiLinx home control system; and Strata-gee.com's very own Ted Green. Written by Dawn Allcot – principal of Allcot Media, the post was titled Whole-Home Automation: Convenience, Savings and Sustainability.
 How did this story approach home automation…and what did Ted tell them? See more below…
Allcot started off giving a non-jargon, plain English description of what whole-home automation systems are and provided several real-world usage examples so consumers can relate to what these systems can do. Allcot focused on a couple of key benefits: efficiency – "thermostat control" and "energy savings"…and convenience – "sprinklers turn off when you pull into your driveway" and "lights turn on when you " approach your home.
Green largely commented on a couple of examples of home automation's "cool" elements as well as provided some thoughts on what factors homeowners should consider when buying a home automation system. Specifically, he advised homeowners to consider the "tolerance for technology" of all of the home's residents. Green also recommended that homeowners conduct a "lifestyle checklist" before approaching a custom integrator.
"Dawn did a great job of providing both a digestible description of what home automation systems are, and real-world examples to demonstrate their benefits," Green said. "It was well-written and easy to understand. I appreciate her including some of my ideas and comments."
See the whole article here: Whole-Home Automation: Convenience, Savings and Sustainability.