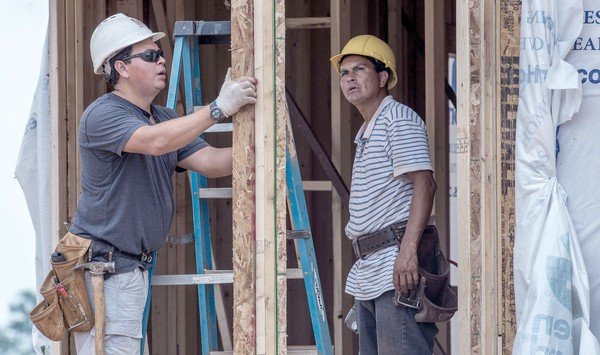 Newly released data from the Commerce Department shows that housing starts took what many are characterizing as a startling jump in November – rising 23% overall above the October rate and almost 30% above the November 2012 rate. Analysts are struggling to explain the gains other than to say these numbers show a durable housing recovery – welcome news considering the fact that the housing construction industry is a key driver of the overall economy.
The news is good…but is it a real recovery, or just an outlier?…
According to the Commerce Department, overall home starts in November were at a seasonally adjusted annual rate (SAAR) of 1,091,000 units or 22.7% higher than October's revised rate of 889,000 units. And the November rate was an impressive 29.6% over the year earlier rate of 842,000 units.
While the above rates for the overall market includes multi-family units, the news was almost as good for single-family starts which we consider a more meaningful statistic for the residential technology integrator market. Single-family starts in November came in at SAAR of 727,000 units or 20.8% above October's revised rate of 602,000 units and 26.2% over November 2012's SAAR of 576,000 units.
Real recovery? Or unreal?…
Many economists pointed to the report as proof of a real and durable economic recovery in the United States. From 2006 through 2009, housing starts took a beating and was a significant factor in the overall economic recession of 2007. However, since 2011, starts have made a notable, if modest, recovery. This new data would seem to suggest that the pace of recovery may quicken.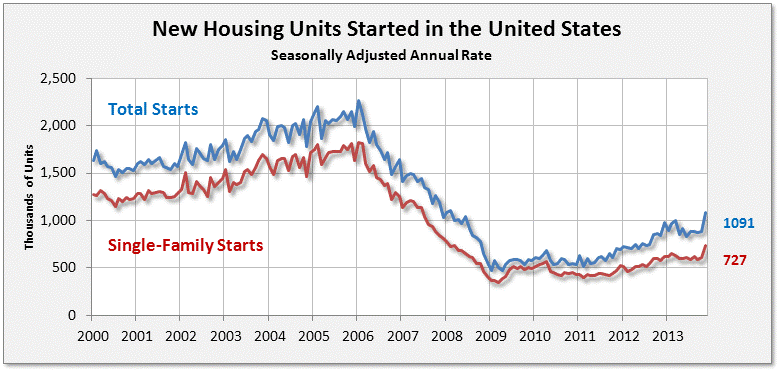 Indeed, some analysts have even suggested that this new housing report may have influenced the Federal Reserve Board's decision, announced yesterday, to begin tapering off its economic stimulus activities by trimming its monthly asset purchases by $10 billion for a new rate of $75 billion. Yet other observers suggest that we should all remain cautious about this surprising housing report.
Can we believe these numbers?…
"Astonishing November numbers, but the underlying core trends are much less exciting," Ian Shepherdson, chief economist at Pantheon Macroeconomics said in a note to clients as reported by the LA Times. "Whether we can believe the numbers is another question, though; starts are very erratic from month to month and we think a clear correction in December is a good bet."
Helping to additionally fuel a sense of caution – some analysts point to the fact that, in the very same positive report of November housing starts, building permits, an indicator of future housing construction, actually declined a meaningful 3% below the October rate. Also, leading up to the November report, starts had actually been drifting downward since this past summer. Given the fact that initial reports are usually revised the following month, many expect this surprising November number to be revised downward in the December report.
So, it would appear, we are not completely out of the woods yet.