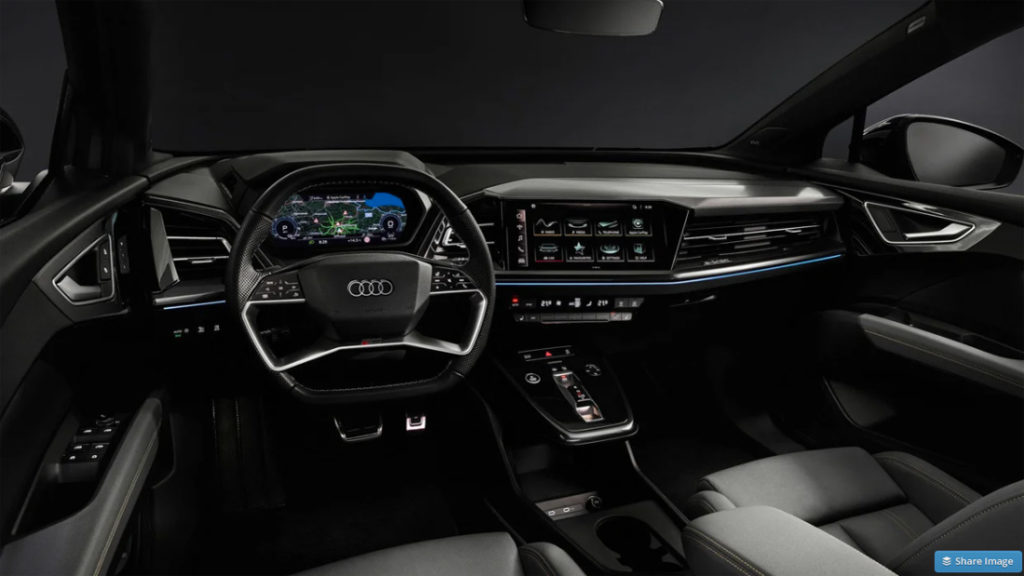 On Tuesday, Sonos held a major investors event that started off with the introduction of their new Roam portable speaker. But the real purpose of this event was to provide investors information on their financial performance. And stock analysts and the media got quite a show – and a few surprises – as the company revealed their formula for success.
Learn what Sonos says is their success formula…
At the beginning of this investor event, the company spent the first half-hour introducing their new Roam portable speaker. Then, after a short pause, the event began again with the real purpose, to review with investors the company's financial performance, share a little of what is behind their "secret sauce," and offer new guidance for their go-forward performance estimates.
The presentation was slick, well prepared and detailed. It included custom produced video and overall seemed fairly forthcoming. However, it came with a heavy dose of optimism, as the company has just come off a record first quarter. But it was a surprise that the company offered guidance on their performance all the way out to 2024.
Three Main Goals of the Event
Once again, starting us off was Sonos CEO Patrick Spence who said he would focus on three main things:
First, is the size of the opportunity "in front of us" and the trends that will power their growth post-pandemic (and beyond)
Second, is the "power of our unique business model," which he says works for both Sonos customers and the company. This model, he says, "sets us up for increasing customer lifetime value over time."
Third, the company will review some of their strategic initiatives "that will enable us to seize this opportunity" and deliver their newly updated forward guidance.
Sonos Plans to Get Big…Really, Big
In his presentation, Spence noted that, at the moment, most people think of Sonos in their homes. His plan is much more expansive than that, saying "…we aim to eventually be there for sound in every area of their life and throughout their day with our innovation in sound and software."
Sonos' CEO then told a story of his time working at RIM, maker of the once super hot Blackberry. He spoke how he felt that at Blackberry, he could make a real difference. They grew to a $20 billion company with 2,000 employees…but…
But…we also screwed it up. We didn't build the conviction in who we were, how we would innovate, to say no to Verizon when they needed a response to the iPhone on AT&T. [Also] We spread ourselves way too thin. We didn't think about building company culture in a sustainable way. We didn't build the kind of culture that could pivot away from hardware, when that was the right move. [And] we didn't build something that would be successful, long after we all left."

Patrick Spence
Themes That Ran Through the Event
Sonos, Spence said, is his second act, "and a chance to put everything I learned at Blackberry to work." And this time around he wants to build an adaptable, admired and enduring company. He wants Sonos to be a company where people "can do their best work" and everyone feels welcome and included.
These themes – adaptability…enduring…pivoting away from hardware – ran throughout his presentation.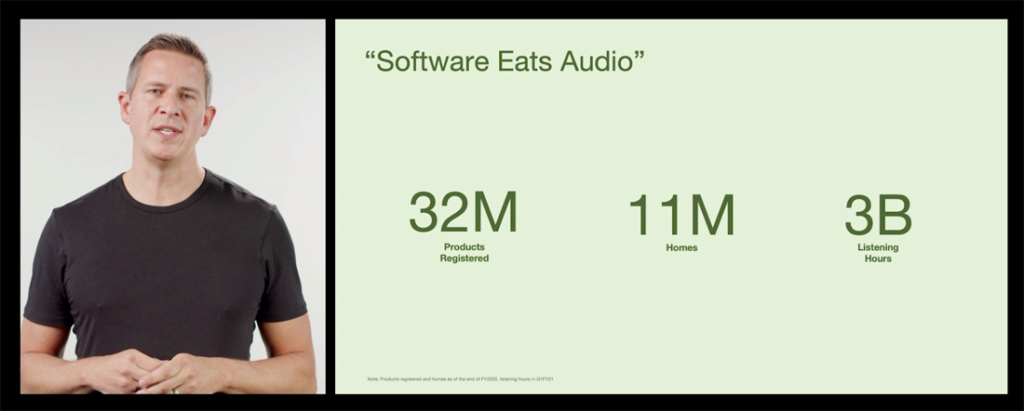 From here, Spence turned to some numbers to better quantify where the company is at and where it is going. Some key numbers he looks at:
32 million products registered in…
11 million homes generating…
3 billion cumulative listening hours in the last 90 days
A Very Apple-ish Advantage
Sonos' success, Spence believes, is based on the concept of "software eating audio." By which he means the prominence of software over hardware driving adoption, use, and satisfaction. This is a very Apple-like approach. I have long said Apple's greatest super power, that the typical hardware manufacturer does not possess, is that they are both a hardware and software maker. This allows Apple to control their whole ecosystem.
With Apple, it is much easier to have a much more impactful user experience by presenting a product with a much tighter – or seamless – integration of hardware and software. Sonos is pursuing the same secret sauce – Spence reveals that two-thirds of their entire engineering team is dedicated to software development.
Trends Driving Opportunities
Spence went on to discuss three major trends providing a strong tailwind for their business growth. These trends are: 1) We are in the golden age of audio; 2) Homes becoming movie theaters; and 3) The great reshuffling (the trend of more people working from home).

From these trends Sonos sees great opportunity in front of them. They look at this opportunity from two different perspectives. The first way they look at it is in terms of market size. Sonos targets what they call the affluent buyer which is defined as households with about $75k in disposable income per year.
9% Penetration of the Target Demographic, 7% of Market Dollars
At the moment, Sonos has about 9% penetration of that market, with plenty of room for growth. Beyond that, they have identified a larger market for products in what they call their "core" categories. This additional category is primarily related to targeted global communities.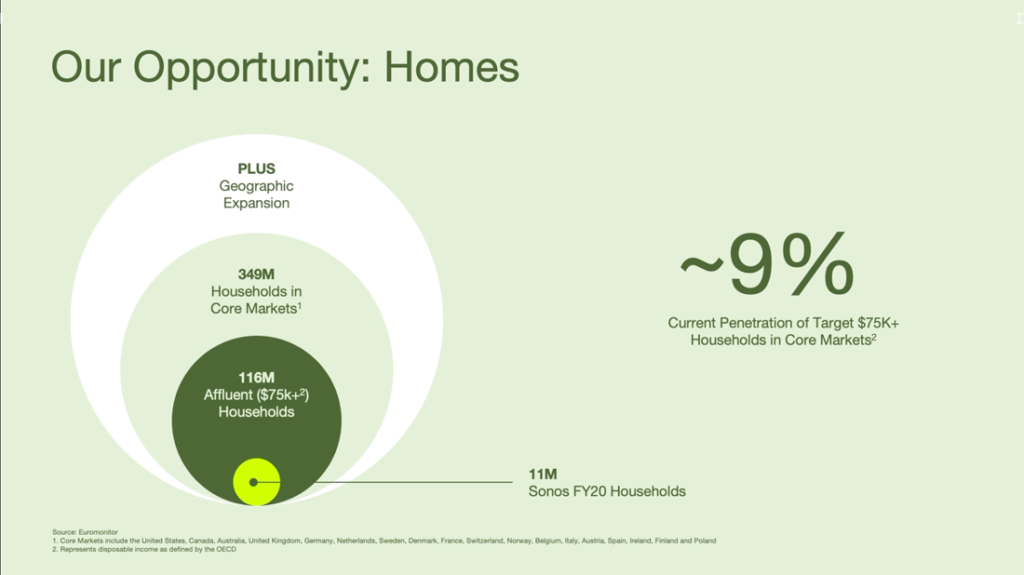 The second way they look at their opportunity is by revenues. The household market analysis is cumulative, but the market in terms of revenue in dollars is annual. Sonos says they have about 7% of the $18 billion premium segment of the $25 billion home audio market. Spence says he is confident that they can take way more share of the premium segment, and even more beyond that as "we begin to expand into the broader audio market.
I don't know about you, but I'm thinking this is the true purpose of their new Roam $169 portable wireless speaker. Roam is their lowest priced product to date – perfect to begin to address a broader market.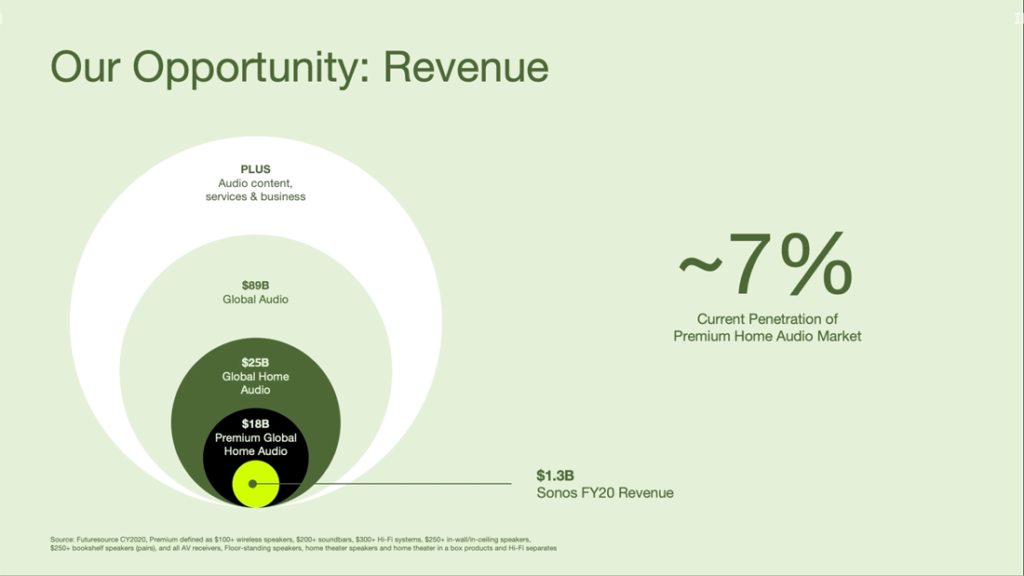 A Business Model that Drives Ever-Improving Success
Spence says that Sonos' business model is simple, but powerful. The key is that the company has made it easy for customers to start with one speaker and add on to their system by adding more speakers over time. He says their data shows that this strategy works.
Sonos continues to reduce their Household Acquisition Costs (HAC, pronounced like "hack") over time. This is largely because most of their sales come from word-of-mouth recommendations from satisfied customers…not paid advertising. They also see strong organic growth on their website due to traffic drawn by their strong brand.

HAC is also driven by the fact that Sonos customers continue to add more units over time. "And we see this continuing in perpetuity," Spence said.
HACs & LVs
This means that each customer has a strong Lifetime Value (LV or LTV). The average Sonos household owns 2.9 Sonos products. This translates to about $270 in lifetime value – "Or double the HAC," Spence notes.
And Sonos believes that this LTV will grow. Based on new products and services they plan to introduce, Spence says he believes they will get to between 4-6 products per home. With increased scale comes further reductions in their HAC, and he forecasts this LTV will go to 3 to 4 times the HAC.

As of today, Sonos products are being used by roughly 25 million people in the 11 millions homes that they are currently addressing. Spence believes that this will grow in short order to 100 million Sonos users.
Three Strategic Initiatives to Drive Future Growth
There are three strategic initiatives the Spence says will drive future growth. First is to expand their brand – which he says is all about how their brand and marketing strategies evolve to better serve more customers. Second, is to expand their offerings – moving into new categories of products, AND into new customer segments, AND to layer services on top of everything that they do. Finally, third, the company will strive to always drive operational excellence.
Spence summed up his presentation by saying, "I've never been more proud of our team. And I've never been more excited about our future. We are in the best position we have ever been. [Sonos has] a ton of momentum. We have a huge opportunity in front of us.
"And," Spence added, "we're just getting started."
Sonos Plans for Integrators?
Now there were several more presentations from marketing, product, financial, and even their lawyer, wielding densely packed slide decks full of data points, but I want to focus on just a couple of additional pieces of the puzzle that interest me:
VP of Marketing Pete Pedersen said their target customer is a culture seeker who is a voracious content consumer and a bit of a social media influencer. When it comes to how the company converts prospects into customers, he mentions first their direct-to-consumer (DTC) sales on Sonos.com which grew an impressive 84% in 2020. He next mentions retail, where we learn that Sonos products are now sold in 700 Costco warehouses. Retail partners help them reach customers "at scale," Pedersen says. He mentions that retailers can also help them enter new geographies. The right retail partner, Pedersen notes, "…can give us credibility and help us to establish trust with the consumer very quickly." He makes no mention of their deal with IKEA or their efforts to address the custom integration channel.
Ted Dworkin, SVP of Product Management and Customer Experience does mention both IKEA and the custom integration channel, which he calls the installer channel. Of the installer channel, he said this: "When installers are involved, we want Sonos to be the brand of choice for custom installations. Custom installers have a lot of influence over purchase decisions, given their expertise. Customers that work with installers tend to have larger systems… [Installer] customers want Sonos, which creates a very healthy flywheel with installer… There was no information on an installer product roadmap or how the company would continue to earn the support of integrators.
Brittany Bagley, Chief Financial Officer surprised many by – amongst a lot of other things – actually offering financial guidance for the year 2024. Bagley says that they believe that in three years from now, Sonos revenues will come in at $2.25 billion, gross margins will range from 45-47% (huge for a manufacturer), and adjusted EBITDA margin (adjusted net profits) will be in the range of 15%-18%.

Sonos Car Audio
One of the bigger surprises at the investor event came up during the question-and-answer session. The Q&A appeared to be a pre-choreographed affair with select stock analysts asking questions of the management team. One of them raised the question of car stereo – specifically with Audi.
So I don't know if this was truly a slip on Audi's part…or if this was some kind of clever "leak" that was supposed to look unintentional. Companies sometimes do this so they have plausible deniability. But Audi put out an advertisement on the day of the Sonos event showing the interior design of a Q4 E-Tron electric vehicle.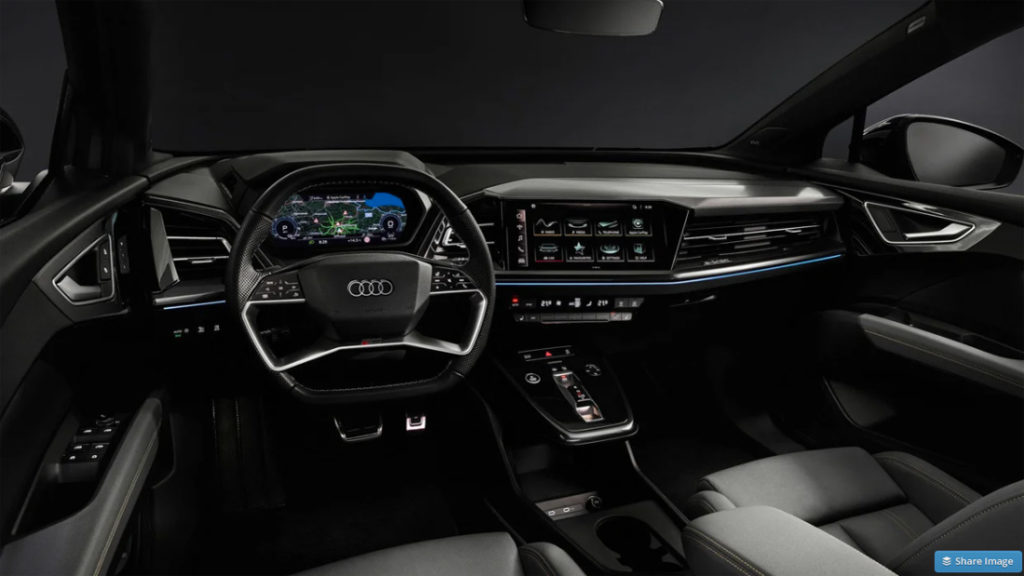 Although not clear to the naked eye, if the image is blown up, a Sonos logo is visible on speakers.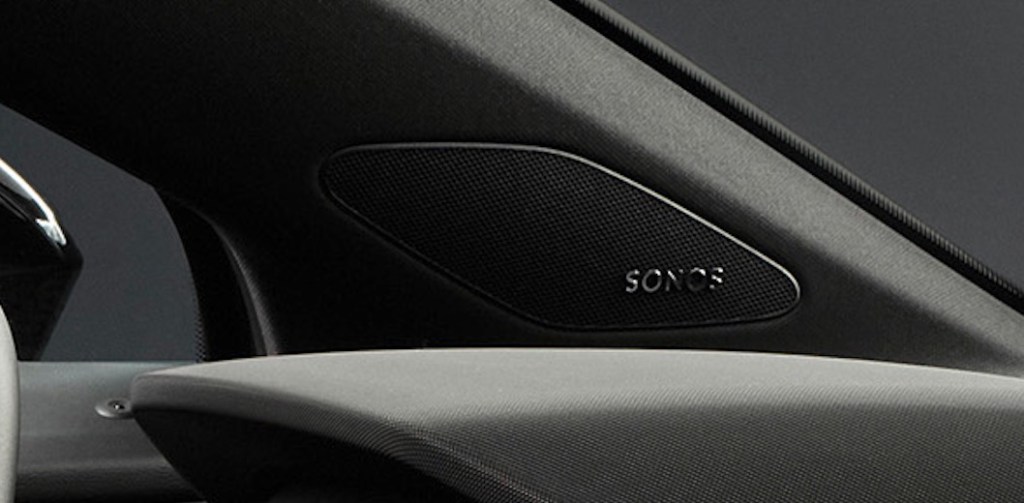 The Verge ran a story on the new collaboration and they credited Protocol with having first reported on this news.
Spence, when asked about Sonos car audio, answered without hesitation (which suggests intentionality). He confirmed that Sonos has formed a partnership with Audi for car stereo systems. "You'll see more about that shortly…so stay tuned," Spence said.
What's the Connection Between Roam & Car Audio? It's All About Growth
Perhaps more importantly, he rhetorically connected car audio to the Roam announcement. The message was clear. These new products are examples of how Sonos is expanding their brand into new categories.
My main takeaway is that Sonos is targeting the broader, mass market for further growth. This is not surprising for a public company, as investors crave ever-ongoing growth.
However, if they're not careful, a plan to make everything for everyone can turn into a fool's errand. And they could risk reaching the end of the road.
See more about Sonos by visiting: sonos.com.