Late in the day on Tuesday, Sonos held an investor event – their first such event – and kicked it off by announcing the new Roam portable speaker. While the $169 MSRP Roam speaker was interesting, I was more interested in trying to figure out the thinking behind why they wanted this small and relatively inexpensive portable as their next big thing.
Learn more on the latest speaker from Sonos…
I wasn't sure just exactly how the Sonos executive team would handle this first-of-its-kind investor event. It is the first event since they announced their record first quarter fiscal results just last month. Then, on Monday, I heard some inside scuttlebutt that the company was launching a new portable speaker.
Sure enough, that is exactly where this Investor Event started – with a video of attractive young people playing and otherwise cavorting in different scenarios carrying a triangular shaped portable speaker that I would learn was called the Roam.
Didn't See This Coming
I have to admit, I didn't see another portable speaker as their next likely move. But it appears to me that Sonos launched this new, smaller, cheaper product to try and broaden their TAM or total addressable market.
And I certainly wasn't the only one nonplussed, clearly some of the stock analysts who participated in the event felt similarly. Sonos has always presented themselves as offering premium grade products, that look better, sound better and are easier to use. Why go more mainstream, one analyst seemed to be asking in a bit of a roundabout manner.
A Premium Product?
Spence took exception to that characterization of the Roam. In his mind, this was also a premium product. That's right, a 15 ounce, battery powered, wireless premium product. Read on and tell me what you think.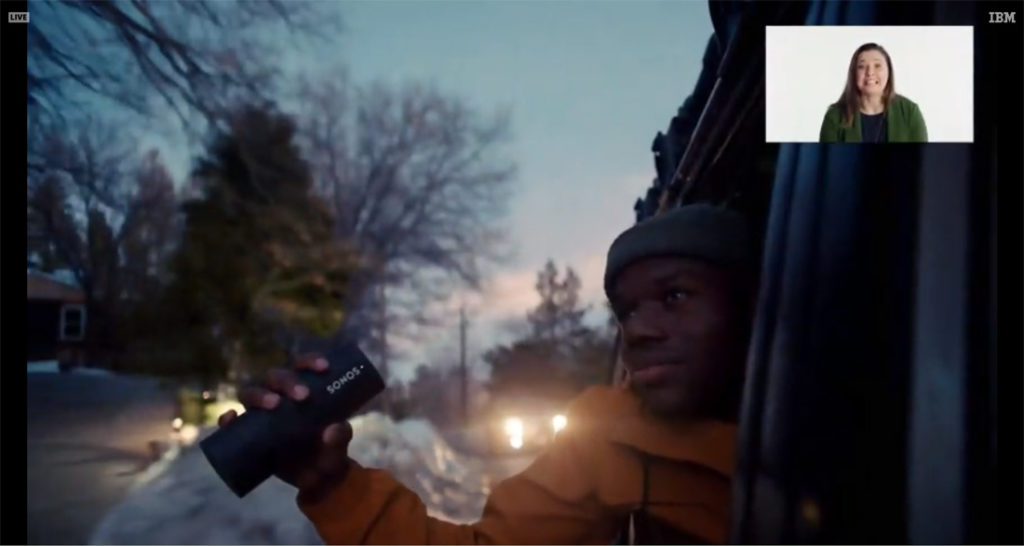 We built Roam to give customers a way to bring the Sonos experience with them wherever they go. It's not only our smartest and most versatile speaker, it's also our most affordable. Roam provides the opportunity for millions of new customers to get started with Sonos, and is the right product at the right time as we begin to gather again with friends and family."

Patrick Spence, Sonos CEO
As Pandemic Winds Down, Feeling the Need to Roam
The Roam is less than one-sixth the size and weight of their previous Move portable speaker – while less than half the price. Yet even considering that, Roam contains some new and more advanced user interface concepts that are, I have to admit, pretty cool. In the presentation, CEO Patrick Spence suggested that as we near the end of the pandemic, we're going to want to Roam…with our Roam.
"As the world begins to open back up, we're going to want to bring the music with us," Spence said. "And the product we're about to share with you is designed to be enjoyed at home or on the road."
Spence goes on to claim that Roam is "the smartest speaker we've ever built." It is also, he maintains, the "fastest to set up, easiest to use, the most affordable to own, and the lightest to carry."
Very iPod-ish in Many Ways
Roam comes with Wi-Fi, Bluetooth, and AirPlay2 on board. As you would most likely need in a portable, it is fully waterproof (IP67), drop resistant, and has a 10-hour play time on one charge. In sleep mode, Sonos says it can last 10-days on a charge. By the way, the company offers a cute magnetically coupled charging stand, very iPod-ish. It also works with any Qi-certified charger.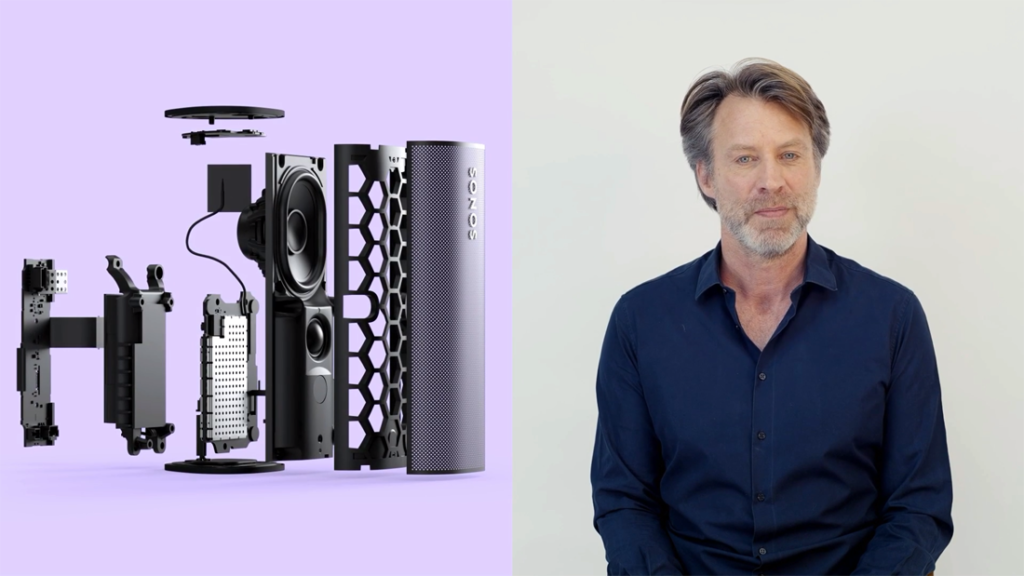 Roam also has voice control built in – either Amazon Alexa or Google Assistant – so you can talk to it as well as listen. Interestingly, it has a dynamically adjusting Trueplay technology built in, so the speaker is always adjusting – or optimizing – for the surroudings it senses. Keep in mind for Trueplay to work, you must not have the microphone muted.
Seamless, Automatic, Multi-Wireless System Connectivity
Roam works with the Sonos app, obviously, but what is not quite so obvious is that it has some other neat new tricks up its sleeve. Roam can automatically connect with your Wi-Fi and Bluetooth and dynamically adjust. Say you're at home listening to music over your Wi-Fi, then leave on your next adventure. Roam automatically switches to Bluetooth and instantly pairs with your mobile device…all done seamlessly and without needing your intervention. Neat!
The 15-minute or so presentation by Sonos was your typical puff piece, telling us how great it sounds, "I can say with confidence that this is the best sounding ultra-portable speaker ever made," (from the Sonos pre-recorded presentation.)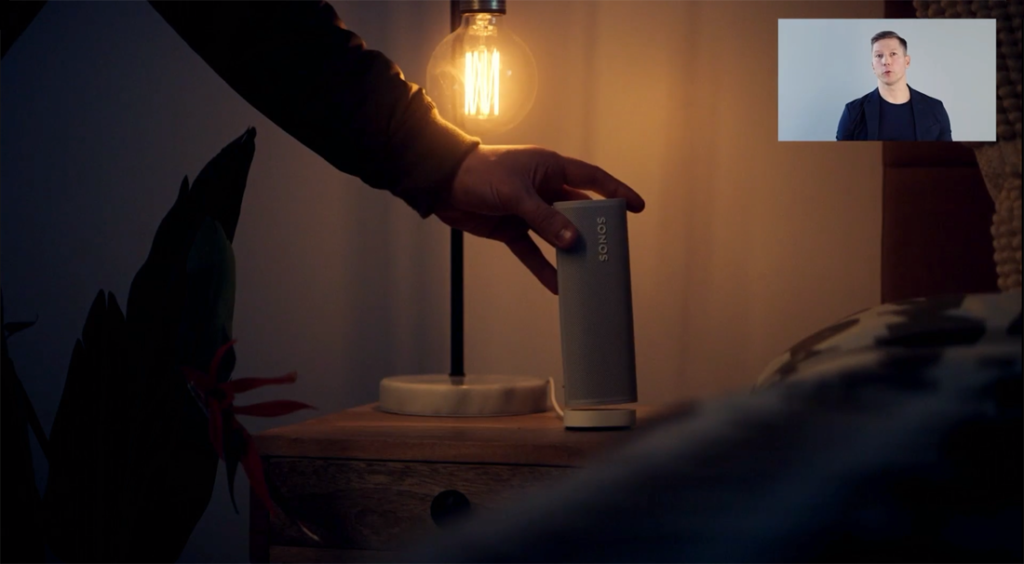 Yet Another Trick Up Roam's Sleeve
Yet another trick that Roam has up its sleeve also caught my attention. After your adventure is over and you've returned home, Roam switches back to your Wi-Fi system. Push and hold the play/pause button on the speaker to enable the Sound Swap feature which will switch your music from the Roam to the nearest – and most likely larger – Sonos speaker in your network.
Roam has two separate drivers: 1) a tweeter for sparkling high frequencies; and 2) a mid-woofer driver in a specially designed cabinet for precise, articulate midrange and a rich full bass response. Driving this driver complement are two separate Class H digital amplifiers that are specially optimized for the drivers and cabinet design.
Roam Pricing and Availability
As with other Sonos speakers, the Roam can fully function in a Sonos system, for full control, including use in various speaker groupings. It is available in either a black or white matte finish.
Roam will be available on April 20, 2021 and sells for an MSRP of just $169. You can pre-order one today on the Sonos website, or through their retail partners.
For more details, visit here: sonos.com.