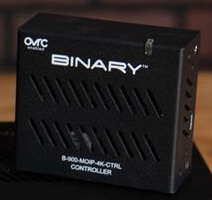 SnapAV, the unique national manufacturer/distributor of custom integration products based in North Carolina, announced on Tuesday that it has launched a media over IP solution designed to offer a uncommon combination of tremendous flexibility along with simplicity. Part of their Binary line, this 900 Series Media over IP solution delivers 4K UHD content with HDR support from any number of sources to any number of displays.
See more on SnapAVs new MoIP solution…
From the beginning, SnapAV sought to offer integrators incredible flexibility, with the Binary 900 Series Media over IP (MoIP) perfectly suited for residential or commercial installations. But at the same time, it delivers simplicity: in deployment, in setup, and in configuration. While these may sound like contradictory goals, SnapAV has pulled it off with their new MoIP system.
For example, some other systems offer an almost dizzying array of devices. In the case of MoIP, there is simply a B-900 transmitter (for the source), a receiver (for the display), and a controller. To complete a system, simply add a Layer 2 PoE switch (such as their Araknis 210 or 310 Series), run some category cable, and you're ready to go. SnapAV says any dealer "can go from power-on to picture in 5 minutes or less."
Flexibility and Simplicity Combined in One Solution
"Binary MoIP eliminates all of the complexities of deploying IP based AV distribution systems," said Brian Holden, Senior Director of Media Distribution. "For the matrix switcher buyer, we've made it so easy that they can confidently make the transition. For IP customers, it's a way to save time and money. This product has it all – it can be quickly and easily set up, it's scalable and flexible, it delivers reliable 4K, and it's OvrC enabled."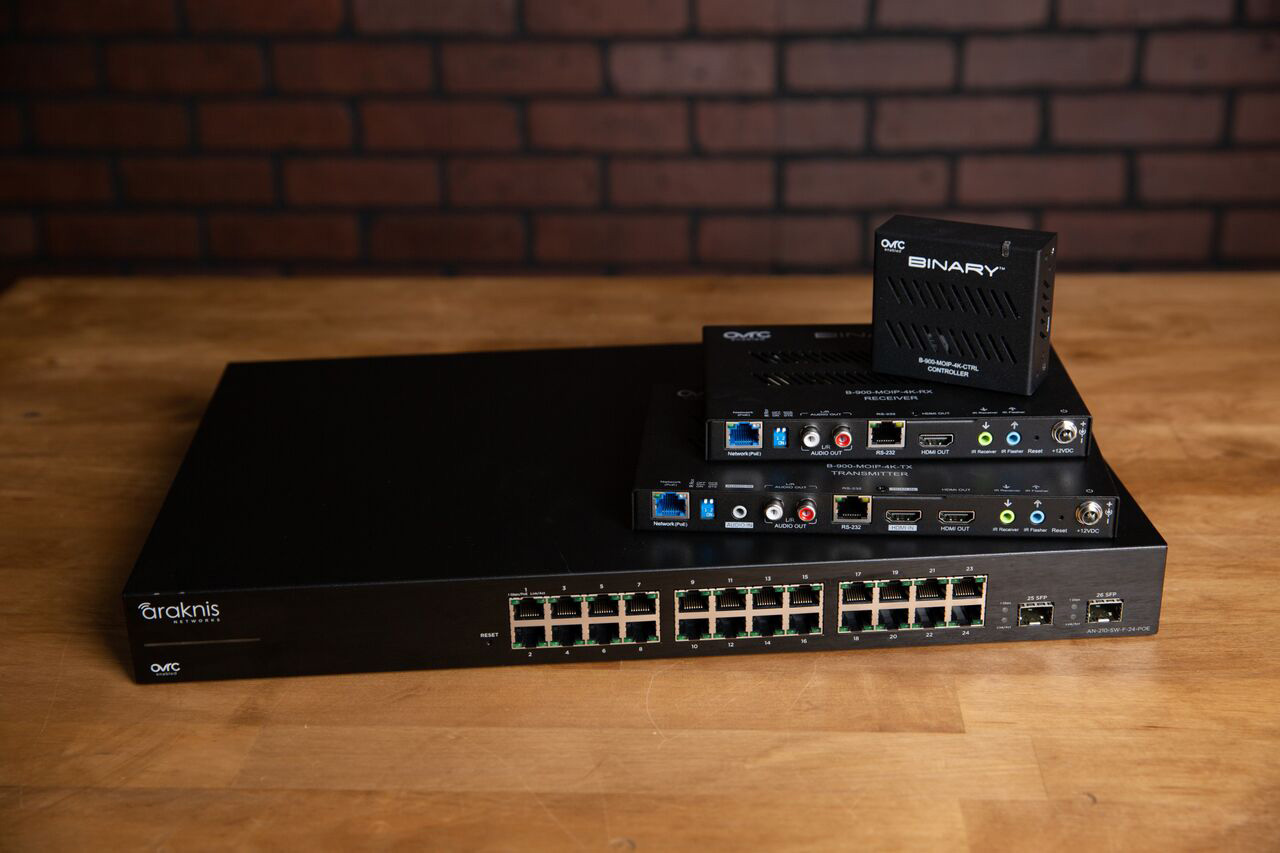 Part of the magic in simplifying setup is through the compatibility of their popular OvrC remote management platform. With OvrC, you get auto-discovery of the controller, speeding the setup process. Not only that, but as you likely know, OvrC provides great troubleshooting tools after the integrator has left the jobsite…such as real-time video screenshots.
Perfect for Today, But Easily Expanded Tomorrow
Matrix systems tend to offer limited inputs and configurations, whereas MoIP gives you the ability to scale the system to any combination of inputs and outputs. In this way, you can truly customize the system to the specific needs of each individual client. But they are not "locked in" to this initial configuration – if expansion down the road is desired, you just add the correct number of additional MoIP devices and you're good to go.
As a further example of the system's flexibility consider this, unlike most matrix solutions which requires the installer to downgrade all source content to the lowest quality level that works on all screens – with a MoIP solution, the video is encoded to the highest level and then downscaled at each display. This means you can have a blended system of, say, 4K, 4K HDR and 1080P displays.
Three Control Protocols Built-In, Drivers Included for Most Popular Control Systems
SnapAV's MoIP system supports three different methods for controlling sources and displays: RS-232 over IP, customizable 2-way IR routing, and CEC. In addition to this, the system comes with drivers for most popular control systems, such as Control4, Crestron, ELAN, URC, RTI, and more.
SnapAV's Binary 900 Series Media over IP system is shipping now. The MoIP devices are priced at $399 for the controller and $799 each for the transmitter and the receiver.
You can learn all about SnapAV and the many products they offer at www.snapav.com.
For more specific details on their Media over IP solution, visit: www.snapav.com/shop/en/snapav/binary-moip.