New Introductions for Control4, OvrC, Episode and Triad
Last Friday, Snap One held a Virtual Partner Summit in which they unveiled a whole roster of new products to dealers participating in the online event. It was an impressive launch in key product areas for the company including OvrC, audio, new controllers, new soundbar and wireless sub, new architectural speakers, a major new operating system upgrade called OS 3.3.0, and more.
See more on these new products from Snap One
The online event was actually a series of pre-recorded video presentations and kicked off with Ryan Marsh, Snap One Executive Vice President of Sales, welcoming attendees and noting the dramatic impact on everyone's business of COVID and supply chain issues. The company, he assured dealers, sought to minimize the impact of supply chain shortages.
"We've increased inventory levels by millions of dollars to help prevent stock-outs, and when possible, we've also increased the size of our partner and technical support teams to ensure things like reduction of hold times," Marsh told dealers.
Truthfully, the event spent a whole lot of time in each category reviewing product launches from 2021, before finally settling down to what everyone on the Summit was waiting for – the new products being launched today. Each presenter also found a way to reinforce a key theme of the company – Snap One wants to be integrators' one-stop shop for everything they need.
A $60 Million Investment in New Products
Perhaps more to the point of why we were assembled that day, Marsh also told attendees that the company has invested over two million dollars over the last year and a half to create an all-new Quality and Innovation Lab. "This investment significantly expands our company's product development and testing capabilities with new equipment, more space, and a larger workforce," he added.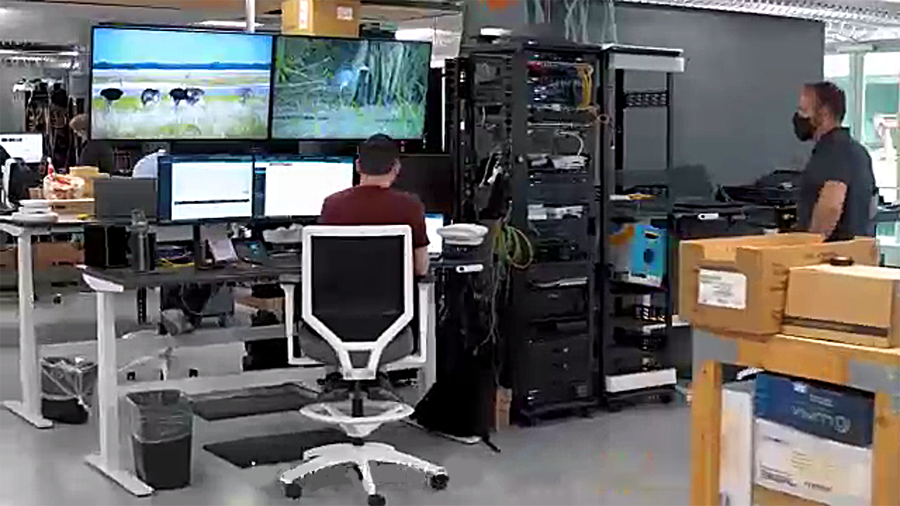 And certainly, innovation was a central factor driving the agenda last Friday. In fact, Snap One's head of sales assured integrators that this year the company is investing $60 million in new products. And with that, Marsh got down to business.
We're introducing new product solutions and updates throughout 2022 that support our goal to be the integrator's most valued and most trusted partner. At Snap One, we strive to provide the broadest portfolio of best-in-class products so that professionals can depend on us when designing experiences across the residential, commercial and security sectors.

Ryan Marsh, Snap One Executive Vice President of Sales
Give Away the Razor to Sell a Bunch of Blades
One of the great marketing successes of all time was first expressed by King Camp Gillette, the inventor of the safety razor, who once famously said, "Give 'em the razor. Sell 'em the blades." (Actually, this turns out to be a misnomer, as the Gillette company did not actually use that marketing strategy – their competitors did, according to Wikipedia.)

With that in mind, I noted that the first category discussed by Snap One executives was OvrC – their cloud-based remote monitoring and management software – which they elevated in priority by calling OvrC as important a brand to the company as the Control4 brand. It looks like they have the same give-em-the-razor strategy – in this case the free OvrC software – to lock installations into using all Snap One brands, or in my analogy, the razor blades.
Over Hill, Over Dale…OvrC
As Marsh was getting ready to turn the presentation over to the product manager who is overseeing OvrC (that was kind of redundant) he noted that "this year" (actually 2021 I believe) the company had added OvrC Pro capabilities to Control4 OS 3.0 which served to simplify life for those integrators who prefer OvrC to the previous Control4 solution. "You've told us how vital OvrC is to your business," Marsh said.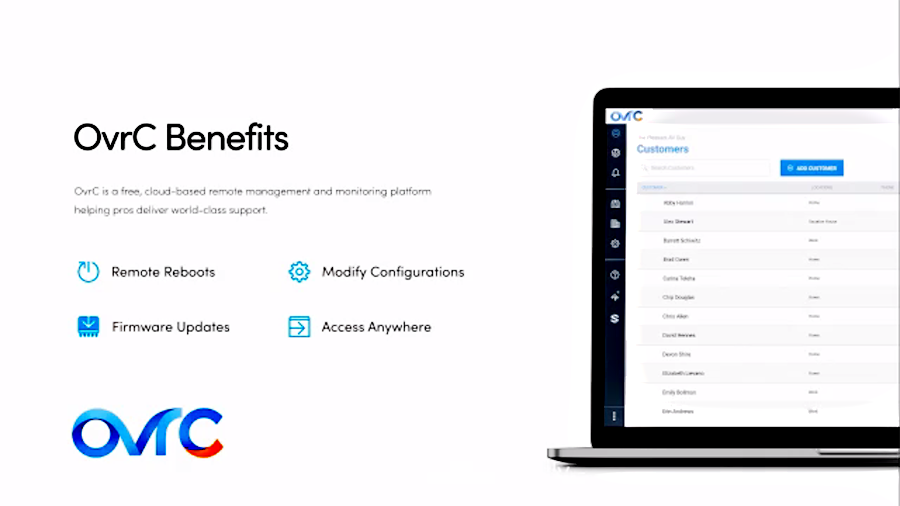 It was here that Snap One Director of Product Management Evan Marty took center stage to discuss the progression of OvrC in greater detail. He too emphasized how important this central software solution is to the company. They clearly want to lock integrators into the Snap One ecosystem for the long haul.
On a 'Journey to a Single RMM Platform'
After a longish review of OvrC is and its many benefits for integrators and consumers – such as adding the ability to discover and remediate issues remotely without needing to roll a truck – Marty spoke at length about new enhancements which took place in 2021. One thing is clear, the company is on a "journey to a single RMM platform" where previously they had a SnapAV platform and a Control4 platform.
For new features, Marty said that "later this year" they will add 240-volt versions of Wattbox IP-enabled power management solutions. Then he wrapped up his section of the presentation by adding, "Join the 22,000 professionals that are currently using our free, powerful platform to deliver an amazing customer experience."
Matt Kamp Wants to Bring Your World to Life Through Sound
The program turned to one of my favorite topics – audio. Snap One's Senior Director of Product Management for Audio is Matt Kamp and he says that he leads a team of "passionate audio enthusiasts whose mission is to constantly develop products that bring your world to life through sound."
Kamp went on an extensive review of existing models that were introduced last year, starting with the Episode Mini 5.1 AVR, which he says was the "most unexpected and popular release" in 2021. After a detailed run-through of this model, he then moved on to the Episode "Core" Series – again, existing models. By the way, Snap One seems to really like the "Core" designation, as a little later they introduce us to new Control4 Core Series Controllers. There were many more existing models covered before he finally turned to new items.
Episode 2.1 Active Soundbar System w/Wireless Subwoofer
Finally, after ten minutes or so discussing existing products, Kamp turned to new models, and we quickly learn that the bulk of new products coming out of the Snap One came this year is in the audio category – starting with Episode 2.1 Active Soundbar System. There was a time in the past when a soundbar wouldn't be considered an integration product. However, most integrators find them in high demand for spaces where the client wants the audio of a TV augmented, but doesn't necessarily need a full-blown system.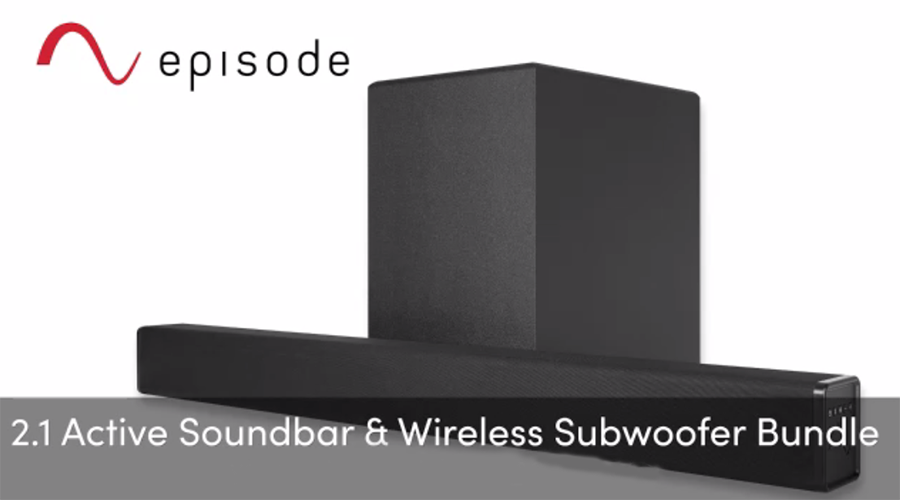 For those situations, the Episode 2.1 Active Soundbar with Wireless Subwoofer offers integrators an easy to install and setup solution that will delight the client. The soundbar, which is the 2 (or stereo) of the 2.1 model designation is made up of 4 – 3″ woofers and 2 – ¾" dome tweeters. And the .1 of the designation refers to a single wireless subwoofer consisting of 1 – 8″ downward-firing woofer with 80w of built-in power. The subwoofer can be placed anywhere in the room within 30 feet of the soundbar for an easy and wire-free wireless connection. Each system is pre-paired at the factory, so they're ready to rock out of the box.
The soundbar offers optical, analog, and HDMI inputs for connectivity flexibility and comes with an included IR remote. The system includes Bluetooth technology for simple mobile device streaming. While no pricing was released, the Episode 2.1 Active Soundbar System will be available in the second quarter of 2022. This system, Kamp promises, "…will transform your customer's television experience."
Triad PDX Architectural Speakers
Next up is an all-new line of architectural speakers from the company's Triad division. Snap One got Triad as part of the package when the company acquired Control4. It seemed a little redundant as the company has already done quite well with Episode, their own line of in-wall and in-ceiling speakers. It appears that they will continue to grow Triad as an upscale brand versus Episode.
With that in mind, Kamp briefly introduced the new Triad PDX line, which he suggested came from dealer suggestions – "…you spoke and we listened," Kamp claimed. The PDX line combines the install ease and flexibility of the Signature by Episode line, "…with the sound quality that you have come to expect from Triad."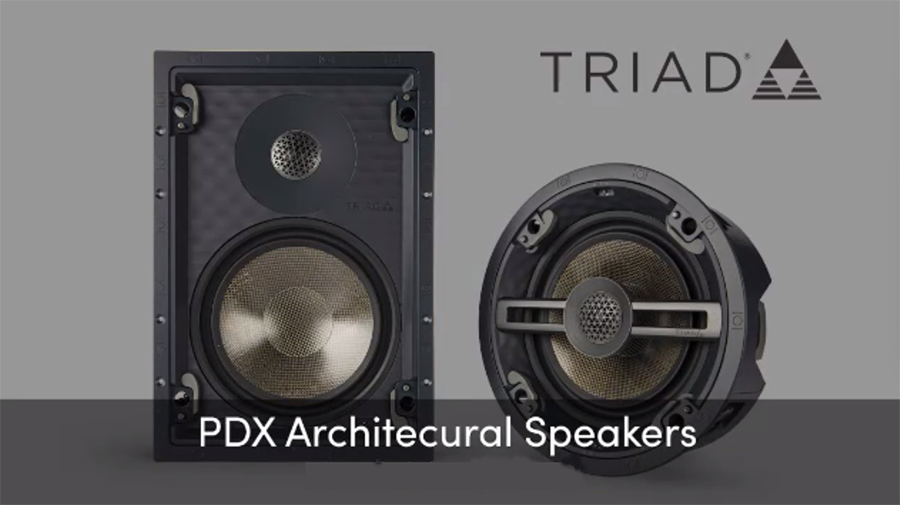 A Combination of Installation and Performance Improvements
Triad PDX includes PushLock technology for quick installation (or removal) of the speaker. Kamp says integrators can even swap out the motor assembly without removing the cradle for easy servicing (or upgrading) down the road.
The Triad PDX line is fairly extensive, offering 8 in-ceiling and 3 in-wall models in two different performance levels. This lineup, he promises, "look[s] absolutely stunning and [is] designed to satisfy the listening needs of your most discerning customers." The line will be available this Spring.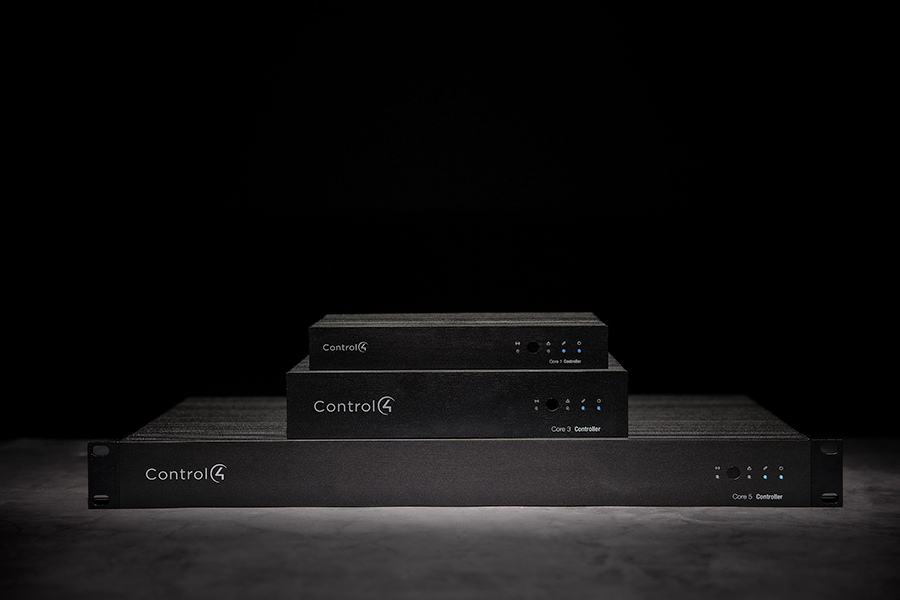 New Control4 CORE Series Controllers Replace EA Series
One of the bigger announcements was a new line of controllers to replace the company's popular EA controller series. Known as the CORE Series, these new Core 1, Core 3 and Core 5 controllers feature new, faster processors, more zones of audio built-in, higher-quality DACs, 4K on-screen display, and is scalable for future system and feature expansion.
Some of those future features and capabilities will be rolling out later in 2022 and it is not clear just exactly what they will be. The new Core controllers will be available in the next quarter of the year.
OS 3.3.0
Finally, the last big announcement was what they say is a big update to Control4 OS 3, now OS 3.3.0 (pronounced as OS 3-3-0, not 3-dot-3-dot-0). This new update brings many new system enhancements, but perhaps the biggest change is in its control of lighting.
Snap One Product Marketing Manager Jacob Whipple told attendees that with OS 3.3.0, "You will see a brilliant spectrum of new lighting experiences including a new color wheel interface enabling intuitive control for RGB and tunable white LEDs. Customers will love that their favorite colors can be saved as presets for easy recall."
New Operating System Adds Many Colorful Improvements
Integrators can create color presets for their clients, (who themselves can further personalize the settings) as well as include lighting color as an element of lighting scenes and programming. Clients can use their Control4 mobile app, or system touchscreens, to easily change the mood of a room by adjusting lighting color.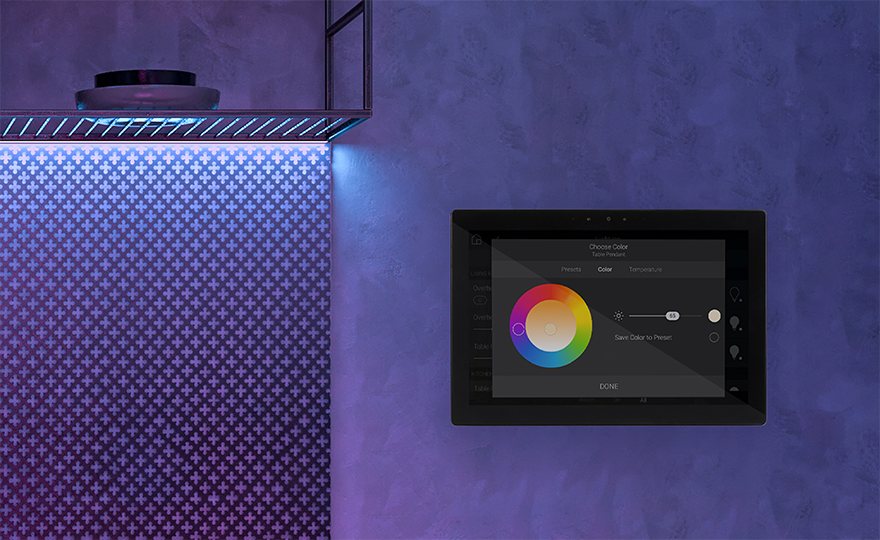 Subtle changes in the color of lighting in your home can change the mood and even add to your well-being. Imagine changing your ceiling into a night sky to prepare you for bed or waking up to a sunrise. Energize your workspace with light matching noon-day sun. With the addition of color control and tunable white, all this is possible in Control4. Our beta partners have been delighted by the versatility we've provided in the programming of color control. Our Partners have been asking for this feature and we spent months getting it just right. We are so excited to deliver this to the world.

Margie Meyers, Snap One Principal Product Manager
Control4 Mobile App Offers Connectivity Improvements for Clients AND Integrators
The company also notes that OS 3.3.0 greatly improves how clients can connect with their Control4 smart home via the available mobile app when they are away from their homes. The same improvements enable integrators to connect faster and work more efficiently with their clients from anywhere.
Learn more about Snap One's brands and product lines by visiting: snapav.com.