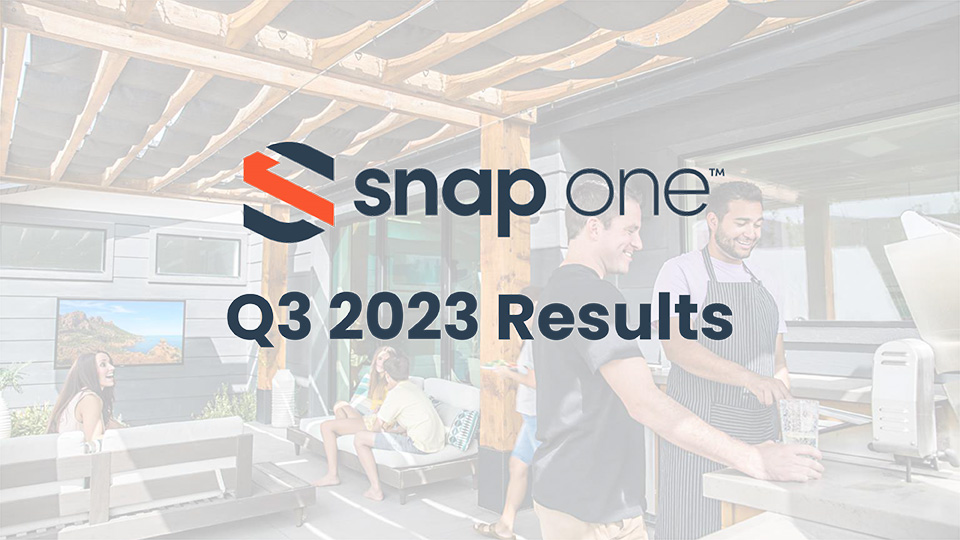 Company Still Pitches 'Destocking' & 'Descoping'
Last week, Snap One Holdings Corporation (Nasdaq: SNPO) reported its Fiscal 2023 third-quarter results, and it seemed to me like we've seen this movie before. In a nutshell, the company's net sales declined and its net losses decreased. These are virtually the same trends we saw last quarter (Q2) and even the quarter before that. In fact, the company first talked about elements of these trends in the fourth quarter of 2022.
Learn more about the Snap One fiscal '23 Q3 results
Snap One CEO John Heyman opened his presentation on the company's fiscal 2023 third-quarter results talking about its successful momentum coming out of a CEDIA Expo show in which it won three awards. He talked about how this recognition and interaction with integrators at a trade show is "always energizing for our teams."
Heyman also took time to introduce analysts on a conference call to the company's mission and scope. At Snap One, he says, "we develop and distribute smart living platforms that empower professional integrators to deliver joy, connectivity and security to discerning residential and commercial customers worldwide." Serving a total of "approximately 20,000" integrators, the company offers both proprietary and third-party brands and products through an e-commerce portal and local branches.
Snap One Revealed It Cut 2% of Staff in Quarter
Yet after extolling how tradeshows energize Snap One teams, one would think everything is hunky dory. It's only a little later that CFO Michael Carlet reveals that this Snap One team got a little smaller in the third quarter, as the company "executed" a 2% staff reduction. "We believe this action was an important step to streamline our cost structure and to position the company for success in 2024," Carlet said. Must have been a bit of a buzz kill for the exiting team members.
It's all part of what Heyman said was a two-part strategic plan the company is pursuing – "First, driving higher platform and product adoption by our partners;" and "Two, expanding our operating margins through several key programs that have already yielded positive results." I would guess that the staff layoff was part of that second initiative. And, we continue to wait to see a tangible benefit to the first initiative, as sales have continued to decline for the last four quarters, and the company warns they may decline again in the next quarter.
Digging Into Snap One's Q3 Numbers
So let's get into some numbers. Snap One's fiscal 2023 Q3 is the quarter that ended on September 29, 2023. As you can see in the table above, Net Sales in the quarter came in at $270.1 million, down more than $11 million or 3.9% as compared to Net Sales of $281.2 million in the third quarter of fiscal 2022.
Thanks to efforts to better control inventory and other costs, total costs and expenses came in at $256 million, a $15.6 million decline or 5.8% lower than total costs of $271.6 million in the quarter last year. Part of those lower expenses was also attributable to the lower sales. This resulted in an improved Income from Operations of $14.2 million, which was a $4.5 million or 47.3% improvement as compared to Income from Operations of $9.6 million in the quarter last year.
Q3 Still Generated a Net Loss, But it Lessened as Compared to Last Year
However, once again, Snap One booked a Net Loss, this time of $0.9 million for the quarter, or about $100k less than the Net Loss of $1 million booked in the quarter last year. That is about a 10% improvement in the net loss; however, a $100k improvement in a billion-dollar organization is de minimis at best.
Reflecting on our financial performance, our team delivered solid results in the third quarter. Despite continued channel inventory destocking headwinds and macro uncertainty, we believe our integrators are continuing to see stable demand drivers and, in turn, are choosing our solutions, highlighting the resiliency of our business model and success of our new products. Further, we drove key margin enhancement initiatives, which allowed us to deliver improved profitability in the quarter on a year-over-year basis. We also continued to execute our plan to right-size inventory levels, enabling us to fully repay our revolving credit facility and to strengthen our liquidity position as we plan for 2024 and beyond.

John Heyman, Snap One CEO
Once Again, the Culprits are Destocking and Descoping, the Company Says
In a conference call with analysts, Heyman said these results were consistent with their expectations. However, keep in mind it has been four consecutive quarters of sales declines. The company says this is largely due to two factors that they've previously identified – destocking and descoping – terms that I think were created by the company (or at least I've never heard any other company refer to them before).
Destocking refers to the fact that as integrators sought to protect their business during the COVID-19 supply chain shortages, they purchased a lot of excess inventory – so much so that they came out of the pandemic still carrying a lot of inventory. For this reason, these integrators were ordering less inventory from Snap One, and completing their systems from their own warehoused stock. Hence…destocking.
Many Sources are Skeptical of These D's
Many folks I've spoken with about this are skeptical of this destocking argument, largely because it was difficult for integrators to buy more than they needed at any moment…because of the supply chain issues. Not only that, but many integrators are not set up to carry a lot of inventory – most are situated with fairly small stock rooms generally just large enough for a week or two of impending installations. It is very hard to believe that integrators were carrying so much excess inventory that it reduced their needs for an entire year.
Snap One's second suggestion is that installations are being descoped – meaning clients or builders are cutting back on the scope of a given installation. Heyman gave as an example, only choosing to put two speakers in a room versus four…or perhaps leaving a room or two out of an automation installation. Again, there was no hard data to show this effect. However, Heyman says they regularly survey integrators and this is the type of feedback they are receiving.
No Way to Independently Verify Destocking or Descoping
What bothers me about the company continually referring to these two issues is that neither of them are precisely defined GAAP (generally accepted accounting principles) tracking standards. The company only loosely explained how destocking is determined and the CFO said that analysts shouldn't be overly concerned with the specific number itself, but more in how those numbers move. I think that means it is a very loosey-goosey inaccurate number – yet the company claims that there was $5 million in destocking that took place in the quarter and believe carried inventory is becoming less of an issue.
With descoping, Heyman says this comes from both surveys of their dealers, and multiple conversations with specific dealers. Again, there is no way to quantify it or otherwise independently track it. We simply have to take Snap One's word for these impacts.
Another Explanation?
It seems much more likely to me that both of these factors are indicators of declining demand from consumers (or builders) in that period of time coming out of COVID. In any event, Snap One says that inventory levels "will reach a normalized level…by the end of this year."
Beyond these issues, there are three additional drags on performance that the company has struggled to get under control – 1) The decline of "Domestic other" sales; 2) Slow growth in International sales; 3) A continued shift in mix from first party (1P) proprietary Snap One brands, and third-party (3P) brands from other companies distributed through the Snap One system. So let's look at those a little more closely…
Sales Breakdown by Geography
Snap One offers a breakdown, or disaggregation, of its total sales volume by geographic region. This information is provided for three categories – Domestic Integrator, Domestic Other, and International. The company has for several quarters now targeted both commercial and international sales as major growth opportunities. Unfortunately, they do not disaggregate their commercial sales.
The Domestic Integrator definition is self-explanatory. Domestic Other represents sales through its Access Networks division, a networking company it had previously acquired, and "revenue generated through managed transactions with non-integrator customers, such as national accounts." And finally, International sales is also fairly self-explanatory.
Sales in All Geographic Regions Declined
As you can see in the table above, all categories declined, with sales through domestic integrators dropping $4.2 million or off 1.8%…sales through domestic others down $4.9 million or 33%…and international sales off $1.9 million or down 5.4%. The company attributed the overall net sales decline to "…channel inventory destocking represented a significant portion of this year-over-year decrease, and organic net sales decline accounted for the remainder of the decrease."
The company also quantified that assessment by saying that about $5 million of the total net sales decline was due to inventory destocking, and $6 million was due to "organic" sales decline. But they never explained what was going on with the Access Networks business or sales to national accounts. Furthermore, the company did not offer any kind of explanation for why international sales have yet to produce the growth they had previously suggested was possible. While during COVID, product shortages probably rendered export sales impossible, but the company has said supply chain issues are no longer a factor.
Negative Product Mix Trends Continue
Much as I called out in my report of Snap One's second-quarter earnings report, it continues to struggle with a negative product mix trend. As I mentioned above, the company sells products it designs, manufactures, and distributes under its own brand names which are referred to as the 1P or first-party products. It also distributes products for other companies under their brands known as 3P or third-party products.
The fact is that the company makes more money on its 1P lines than it does on its 3P lines. Yet for multiple quarters now, sales have been switching away from Snap One brands to third-party brands, hurting the sales of their brands…and hurting their profits at the same time.
Sales Ratio Shifts More to Lower Margin 3P Brands
As you can clearly see in the table above, sales of Snap One brands dropped by a concerning $16 million or 8.3% from $192.2 million to $176.2 million. Yet sales of third-party brands increased $4.9 million or 5.5% – making the ratio 34.8%-to-65.2%…essentially a 35%/65% split. That is noticeably worse for the company than last quarter's ratio of 31.7%/68.3%.
Snap One says the decline in sales of proprietary brands was due to "YoY net change in backorder fulfillment and channel inventory destocking." Apparently destocking wasn't a problem for third-party brands.
Guidance "Narrowed" with Reduced Growth Projection
Finally, in a telling change, the company announced it has "narrowed" its guidance for Fiscal 2023 Net Sales and Adjusted EBITDA (profits) given their "improved visibility." However, if you study the table below closely, you'll see that the narrowing they refer to is reducing the top line or more optimistic projection…the low projection remains untouched.
Looking at the table here, the left light-green column is the actual result for Fiscal 2022, the middle red columns are the guidance range that was adjusted mid-year, and the right dark blue columns are the new narrowed guidance for estimated full year 2023 performance. The company now thinks that Net Sales will decline somewhere between 5.7% to 4.8%. Adjusted EBITDA will come in somewhere between down 3.6% to up 1.7%.
Waiting for the 'Operating Environment' to Bounce Back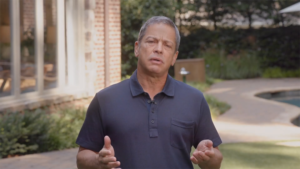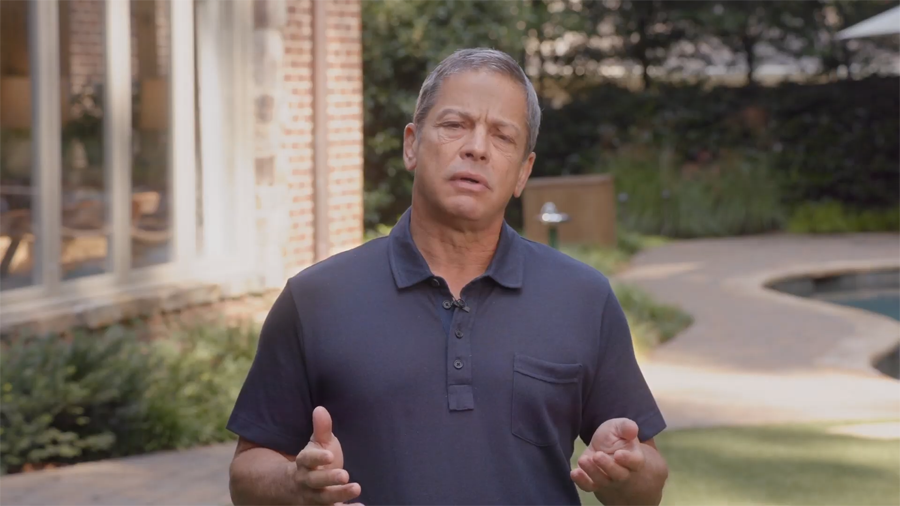 While we are seeing some softness from more budget-conscious end consumers for entry-level projects, we believe that the high-end residential and growing commercial markets remain resilient. While we expect to see some demand headwinds continue into 2024, we're confident that we're winning share and will emerge as an even stronger company as the operating environment bounces back.

John Heyman
I am troubled by the fact that despite what I am sure are the company's best efforts, they seem stuck in a negative vicious cycle. While the company has made strides in lowering costs to improve margins – you can't cut your way to sales gains. At the end of the day, the downward trend of overall sales, not to mention the shift in sales away from Snap One brands to third-party brands are both troubling trends the company needs to address.
Key Objectives Achieved in Q3
Heyman announced on a conference call with analysts that in the third quarter, the company successfully merged its Snap One and Control4 portals for an efficiency gain and a more consistent presence for dealers. It has also continued to scale its physical, bricks-and-mortar presence opening two new locations. Heyman says they plan on opening "a few additional local branches in the fourth quarter."
The company has 43 branch locations and vows to continue to open even more. In the third quarter, Snap One also launched "several targeted sales and marketing initiatives to drive towards a strong finish in 2023." More branches, more marketing, a claimed market share gain…and yet, sales are still declining.
The Same Old Problematical Ghosts of Past Underperforming Quarters Persist
In the face of all of these initiatives and achievements, the same old problematical ghosts of past quarters persist, haunting the present and the near future. Sales have declined in the last four quarters and will likely decline in the next one as well. Profits have improved marginally, but due to some of the trends I identified above, the gains the company has achieved from its profit improvement programs are automatically being undercut by the shift in mix to lower-margin brands.
Business units like Access Networks, national accounts, international sales, and who knows, maybe Parasol or other past acquisitions, are clearly underperforming. What's being done to address these challenges?
The Snap One CEO teased "an exciting new service offering that we'll be announcing early next year." He gave no clue as to just what that service is, so it is left to our imagination. Perhaps that's the answer?
Learn more about Snap One by visiting snapone.com.