The Sennheiser Group, a well-known manufacturer of headphones, microphones and wireless transmission systems, launched two "pop-up" stores – one in New York and another in San Francisco – this past weekend. Their purpose? To showcase Sennheiser products and to highlight its "efforts to increase consumer awareness on the benefits of premium sound."
See more on Sennheiser's foray into retail this holiday season…
Sennheiser says that these two new retail locations will offer consumers a totally unique, dynamic aural and visual experience. In fact, the company calls these locations, both of which opened this past Saturday, "experiential stores."
Sennheiser turned to Adreas Muller of the London-based design firm Nanika to create a dramatic store design encompassing gray geometric acoustic panels, visual representations of sound waves, and cityscapes. The acoustic panels will not only offer a contemporary visual impact – they will also help to isolate the stores from street noise in their locations.
Headphones are the focus…
The main focus of the products the stores will present to visitors is Sennheiser's consumer headphone offerings – both the newly launched Urbanite line…and the premium Momentum collection. Each store features "interactive listening stations" in which the two lines can be auditioned by shoppers.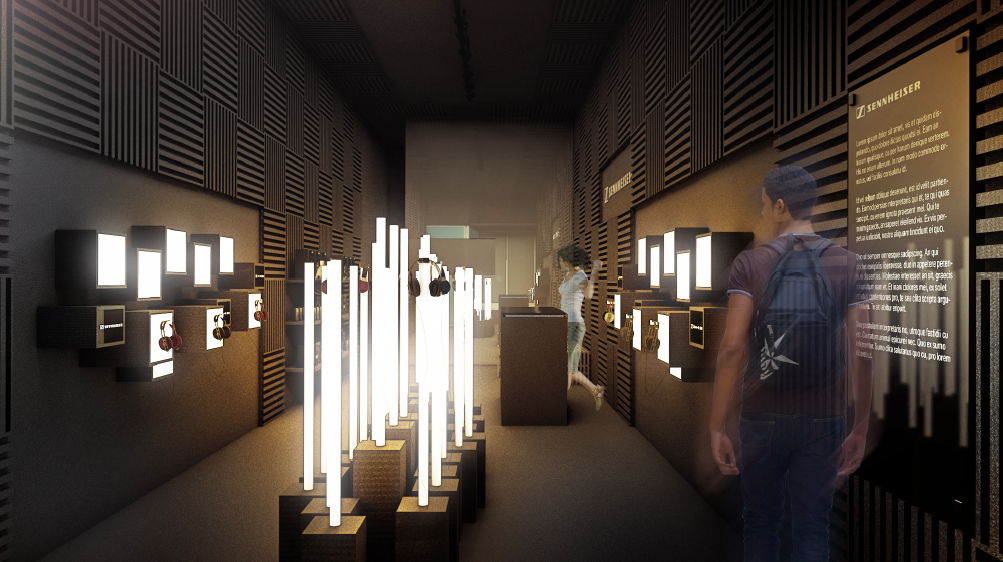 But beyond this, the stores have also included special demonstration areas for "High-end DJ" and "Gaming Stations," which are even more interactive. The company says each store is also designed to encourage visitors to linger, giving them the opportunity to relax and browse a curated selection of magazines and playlists. The store is, Sennheiser says, "a temporary 'escape' from the holiday hustle."
"The primary mission of these pop up stores is to offer urban consumers a deeper appreciation of premium sound, while encouraging them to foster a closer relationship with Sennheiser," said Stefanie Reichert, Strategic Marketing for Sennheiser, in a prepared statement. "During November and December, in each of these U.S. urban capitals, consumers will have the opportunity to better understand customers' needs while perhaps influencing their decision-making criteria."

Sennheiser's Urbanite headphone line
Locations…
The New York store is located at 11 Kenmare Street (between Bowery & Elizabeth streets). The store in San Francisco is located at 2277 Mission Street (between 18th & 19th streets). Both locations will be open between November 22nd – to – December 28th…and both will offer visitors refreshments.
The New York location will also host live events weekly – offering an opportunity for local musicians and artists to perform. The store already has Marques Toliver (Vogue's 'One To Watch' 2014) scheduled. More will be announced as they are confirmed.
To learn more about Sennheiser products generally, and these stores specifically, visit: www.sennheiser.com.