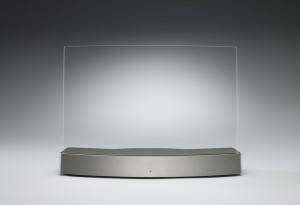 Sometimes making no impression is the way to make the biggest impression of all! Massachusetts-based ClearView® Audio (www.clearviewaudio.com/) launched an innovative transparent music system at CES 2014 and is enjoying a great response from dealers, domestic and international. Called Clio, this first product stands just over 9 inches tall, streams over Bluetooth, and has an MSRP of $349.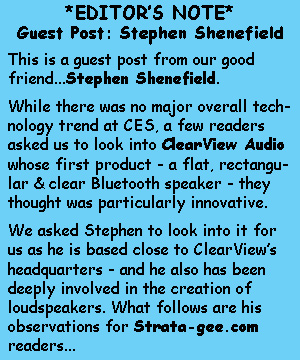 ClearView's history is not so clear, so to learn more I visited their headquarters, located in New England's venture capital ground zero, Waltham, MA. Allan Evelyn, a Bose/Harman/Boston Acoustics vet and now VP Business Development at ClearView, showed me around and told me the story. It's tale of both determination and a pretty remarkable ability to promote and get backing, year after year.
ClearView is an outgrowth of angel and VC-funded Emo Labs, founded 2005 to develop and license Edge Motion® technology (but not to manufacture whole products). With this system, tiny motion-generating actuators drive the edge of a flat surface, causing the entire surface to radiate sound. Rather than the deliberately incoherent surface radiation of NXT drivers, the Edge Motion surfaces move in a piston-like fashion, more like a traditional speaker cone. That the surface can be clear plastic is where the fun begins; TV and phone screens become natural applications of the technology.
Licensing led to Plan B…
For five years, the company toiled in the licensing business, talking to every major television company, lighting manufacturer, and creators of any other commercial application where a clear sound producer would be valuable. Think: talking store displays or sound-radiating car interiors. Despite presenting compelling prototypes and receiving patents to protect the design, Emo Labs just couldn't get any takers. By 2009, waning interest sent them pursuing a strong Plan B with a mostly new management crew.
Along the way, the Emo team had built numerous prototypes of all sorts of typical consumer audio applications of a flat radiating surface. In 2010, the remaining team obtained new funding, setting its course on a new heading, to create a brand and sell consumer electronics products worldwide. Re-branding themselves ClearView Audio, they set out to enter one of the top growth audio product categories of the era, tabletop streaming audio products (the other categories of course being soundbars and headphones). They now enter a thoroughly saturated Bluetooth speaker market – do they have what it takes?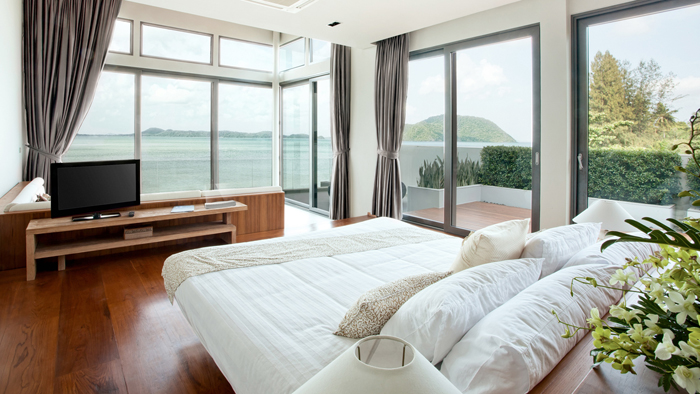 Automotive-grade technology…
The Clio answers this question with a panel of automotive-grade acrylic sourced in Germany, standing on a foot-wide base. The same acrylic can be found covering automotive gauge panels and meets stringent auto industry rules for stability over wide temperature ranges. Set in a simple base, the panel's shape and size are reminiscent of tabletop audio offerings from pretty much every maker. ClearView is in safe territory here – curved and a bit leaned back. But is it too safe? The product looks so simple and clean it is almost a non-look. This is no Bang & Olufsen.
Allan Evelyn addressed this and said the simplicity (or lack of a "look") was deliberate. Allan pointed out that B&O products have a very distinctive look – they have always been leaders in modern design. But a B&O buyer has to like that look, and not everyone wants the Museum of Modern Art in their home. The ClearView on the other hand is a neutral design, blending in rather than sticking out. But the cool factor remains.
Design + Technology ≠ Success…
But nice design and unusual technology do not make success. It's all about brand, and getting the message out through specific sales channels to consumers. So the goal is to build up ClearView as a prominent brand, aiming to be aesthetically pleasing, fine sounding, and simple to use.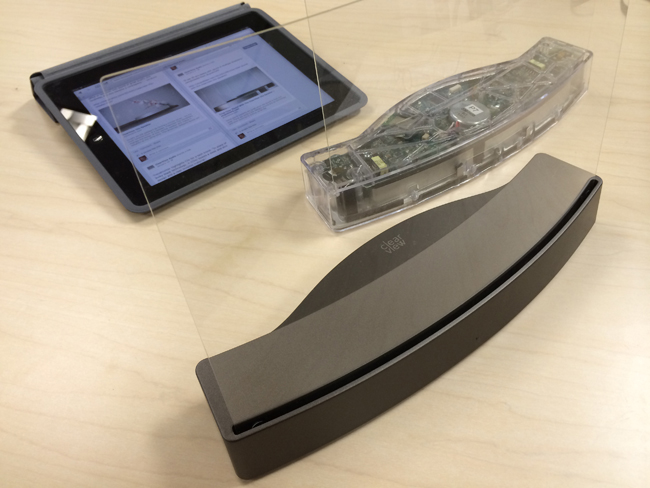 Allan explained the targets are specialty retailers, specialty catalogs (including their online versions), high-end home furnishing companies, and even high-end department stores, to start. ClearView wants channels that can display and explain the product well. Not on the target list, at least for now, are big box retailers and pure online retailers. ClearView will also sell direct and has even started taking orders for the planned April 2014 launch.
Reps: Apply here…
ClearView, following its general theme of outsourcing where possible (it's only 7 people!) is using regional rep firms, and has so far inked representation agreements for many areas of the US. Interested parties should contact Allan directly (AEvelyn@clearviewaudio.com). Allan said response from CES as well as their well-executed publicity has exceeded expectations, including numerous requests for international distribution. But the goal is to cultivate the brand, rather than just make a quick (but uncontrolled) splash with the first product. Building on the first product and brand's themes, ClearView will follow with more products in 2015 and forward. Success is defined as a solid launch and selling season for 2014.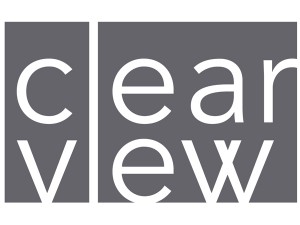 How does it sound? Rather than repeat the story of the New England audio company legacy, I will say only that ClearView includes several experienced audio people, including a talented acoustics engineer focused on voicing the product. Sights are set high, with high-end audio as reference. To me, the sound is surprising, in line with the target category of tabletop products, exceeding my expectations for a product not based on conventional technology. Sound is spacious, with the most of the frequency range being spread around the room by the clear panel, supplemented by a tiny woofer in a ported enclosure forming the base. The panel is somewhat directional (to the front and back, being a dipole radiator), so the curve and the 10 degree backward tilt serve to raise and widen the sweet spot for listening.
Consumer markets are critical…
Emo Labs remains distinct as a licensing business, but licensing is not the immediate objective. Once they establish the consumer product and technology, the ClearView team expects licensing requests may even come to them. But for now, fortunately they recognize the consumer market focus is critical, as they launch into this challenging market. Near term, the premium channel approach is logical, and certainly they will need to follow in future years with a strong product mix pushing design boundaries and offering up additional utility and excitement for repeat buyers.
To learn more about ClearView Audio, see: clearviewaudio.com.