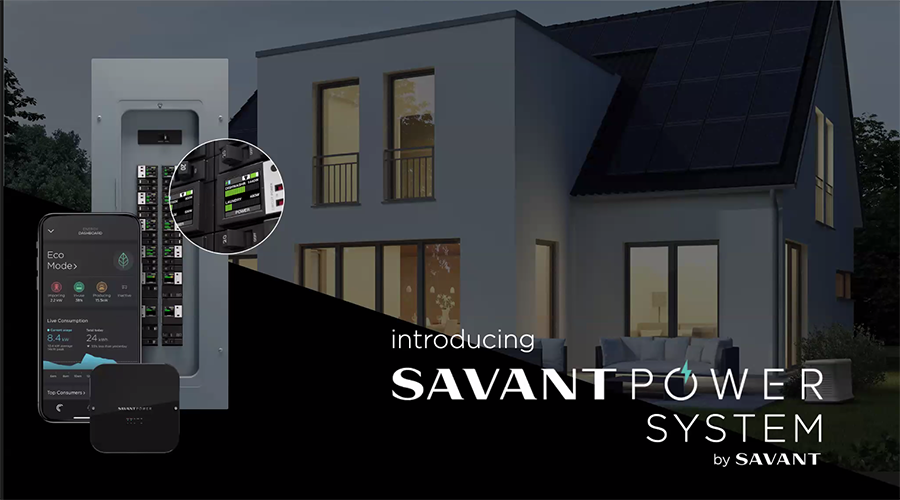 'Energy is the Next Big Frontier in Terms of Smart'
Savant offered industry media a presentation revealing their vision of the deep integration of energy sources (and uses) into a fully-fledged, well-thought-out, total smart home system. To drive the industry towards this future, Savant's vision is expansive, intelligent, and in my mind, pretty exciting. It starts with a foundation of power and how to make it smarter.
Below, you'll find some of the key highlights of Savant's plans for smart energy.
More on Savant's smart energy solutions
In the company's presentation to industry media, Angela Larson, Savant Senior VP of Customer Operations, and Ian Roberts, Vice President of Education and Product Marketing, shared with reporters Savant's vision of where the smart home revolution is heading. They have seen the future for smart technologies and the future, in Savant's vision, is in smart energy solutions.
The Next Step in the Journey to the Truly Smart Home
Larson noted that for years our industry has been on a journey towards smarter technology solutions for end users. That journey to the smart home started with, according to Larson, smart entertainment solutions – what some refer to as AV systems. From there, systems evolved to include smart environmental solutions, such as Nest thermostats, but also lighting control and motorized shades and drapery.
The next step to Savant is obvious – smart energy. "Because, really, having your power or energy be smart is going to become foundational in the future," Larson said.
How Did Savant Get Here?
How did Savant get to this point? In July last year, Savant acquired Racepoint Energy and created a new division called Savant Power. I immediately recognized the logic of this move. By bringing Racepoint energy into Savant, the company would dramatically expand its intelligence and capabilities in smart energy solutions and integration into home automation.
As part of the launch of Savant Power, I interviewed its President Anna Demeo, who told me:
If you are a Savant integrator, you should be very happy to know that Savant is getting into power in a very serious way… You can do all of these great things in the smart home, but what you really need is reliable clean electricity. And that is what Savant is providing.

Anna Demeo, President of Savant Power
Offering a 'Full Power' Solution
In the presentation this week, Larson gave us more perspective on how Savant is moving forward on this all-new category – smart energy solutions. The company, she told us, is introducing a "full power system." A system, she added, that is "a perfect foundation for any home that is really looking for smart energy."
So first and foremost, designing and installing a sophisticated smart home system isn't complete unless you start with the foundation of any electrical system in the home, incoming power. But if we want to make power, or energy, smart…where do we start?
Bringing Intelligence into the Electrical Panel; Integrations with Electrical Products Brands
You start, Larson told us, by "bringing intelligence into the electrical panel" (or some call it the breaker panel or breaker box). As has been previously announced on Strata-gee, Savant has invented smart modules or breakers that bring control to potentially every electrical load in the home – and communicates with Savant's control and automation system.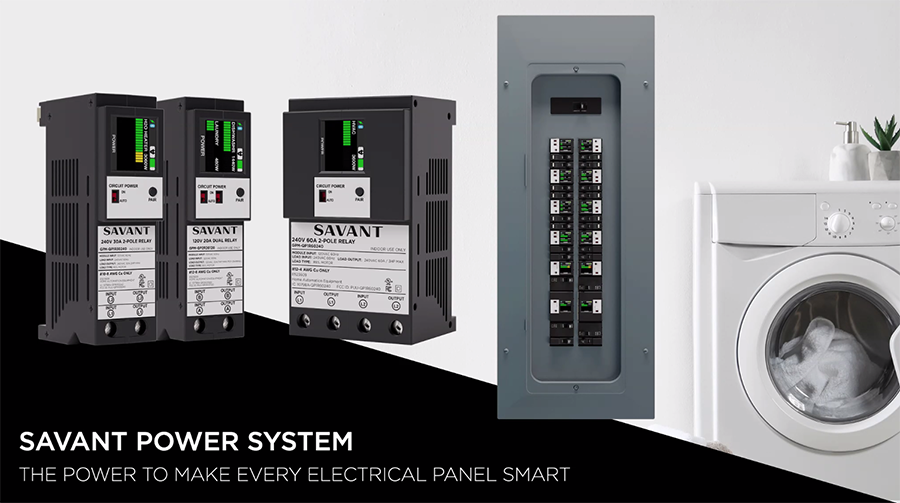 We saw the latest generation of these modules which look really smart. But you know what else is smart? Savant made these modules compatible with existing electrical panels, fully integrating with multiple brands and styles of panels, such that Savant's modules can be used anywhere in the U.S. Whether retrofit or new construction, these modules will work.
Designed for Easy Installation by Electricians
Not only that, but they clip into the panel much like a regular breaker, so electricians will have no problem with their installation (codes require an electrician). Savant clearly thought this through and there should be little to no resistance from electrical contractors to employing Savant smart modules in any installation.
One module can control 2-20 amp circuits, and there are modules for 30 amp circuits, as well as all the way up to 60 amp circuits. So, as Larson puts it, "we can cover the gamut of making those panels intelligent."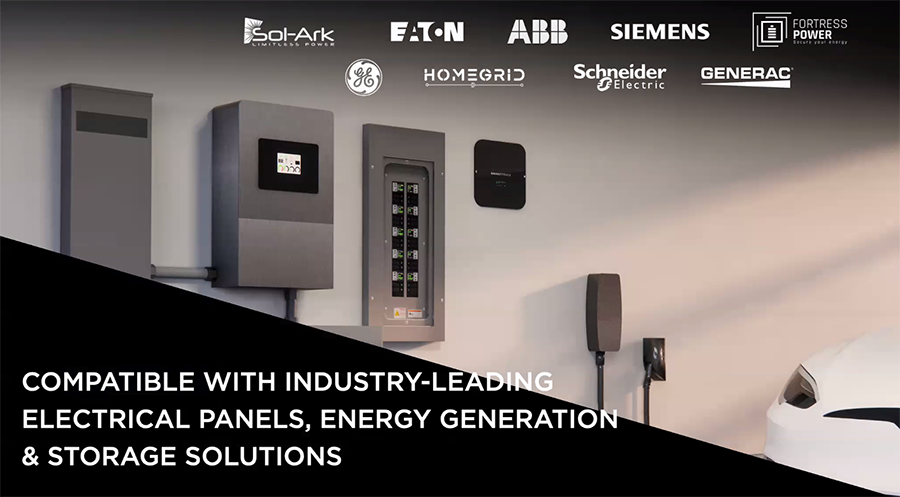 Giving Homeowners Full Control of Energy Sources
Savant Power solutions give homeowners full control over all of their energy sources, whether the traditional power grid, solar, battery, generator, wind, or whatever. Savant's system will easily, competently, and smartly bring a new level of control for homeowners, the likes of which they have never experienced before.
But how does this work? Does the homeowner go downstairs or out into the garage to stare at the modules with their colorful LCD displays in their electrical box?
The Next Level of Genius From Savant
Here is the next level of genius from Savant – a company known for its superior user interface (UI) and user experience (UX). The company has developed a really cool Energy Management Dashboard³ for the Savant app – that is really well-designed and amazingly flexible such that it can provide as much, or as little, detail as fits the desires of the homeowner. From the screenshots the media saw, it was easy to see that the system offers something for everyone – from simple graphics and lists of "top consumers" (devices drawing energy) to data-rich detail on load utilization, historical load patterns, and more.
Savant appears to have thought of everything, telling the journalists that setup of a system is quick and easy for both the technology integrator and the electrical contractor. When done, consumers now get a new level of visibility to more effectively monitor their home's energy sources and utilization. And, of course, to be able to engage a level of control down to the circuit level that they have not been able to experience until now.
Formerly Only Two Options, You Had Grid Power or You Didn't; Now, Many
Larson noted that it wasn't all that long ago when consumers found themselves with only two options, you either have grid power, or you don't. But now consumers have more choices than ever before with battery storage, generators, solar, grid, and more.
In the early days of smart entertainment, Larson noted, consumers needed a way to easily control all their AV sources. Now, consumers need a way to easily monitor and control their energy sources – and Savant offers them a better way.
As Cool as This System Sounds, It's Even Better When Seen in Action
After the formal presentation, Roberts gave a demonstration of the system, and not only did the system act as described, but in many ways, it was even cooler. For instance, we learned that the energy management dashboard not only monitored the source and level of energy use but also indicated the direction of energy flow.
So, for example, if it's a bright sunny day you may shut down energy usage from the grid and use your solar panels to generate the energy to run the house and even recharge your storage batteries with any excess energy from the panels. On the app, once that setup is selected the flow of energy is animated on your screen to clearly show solar-generated electricity flowing into the system AND on a separate path to charge the batteries. It was pretty neat.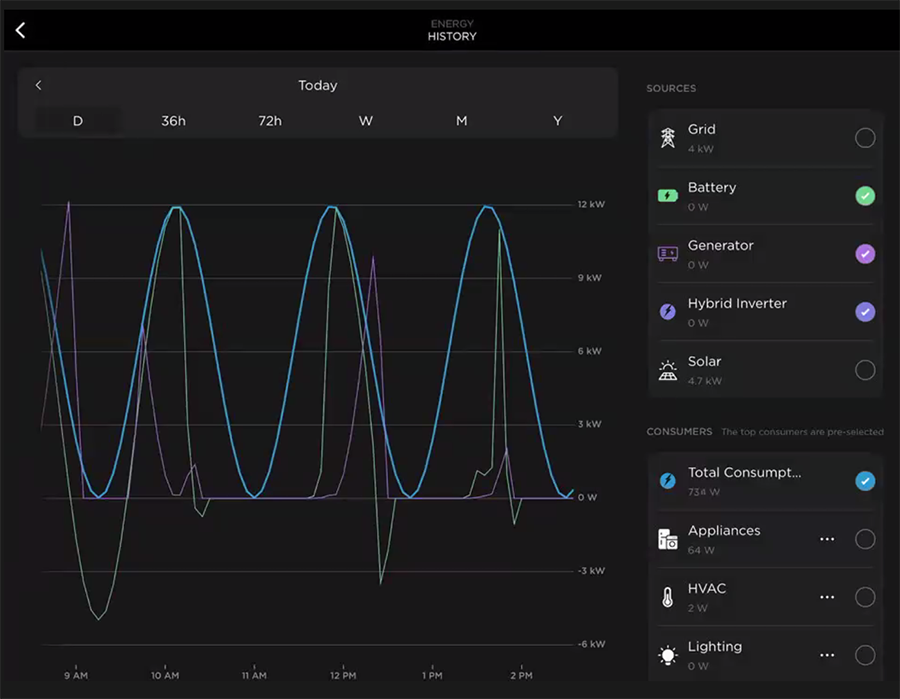 Now Power Control Can Be Part of a Savant 'Scene'
Another thing about this system that I like is that energy use can be part of a scene. Savant integrators and users are very familiar with Savant Scenes – easy to program and use presets for things like one push to set a romantic scene with soft lighting and jazz music. Now, power control is added for simple automated one-push use as part of a scene. So say during a power outage, you can set up a scene that prioritizes where your energy from storage or renewables are directed. You might chose to keep environmental systems running, as well as your entertainment systems so you monitor on TV the progress of the storm causing the outage.
Unfortunately, their demo was not set up to walk us through adding power to a scene, but they assure me it is part of the system.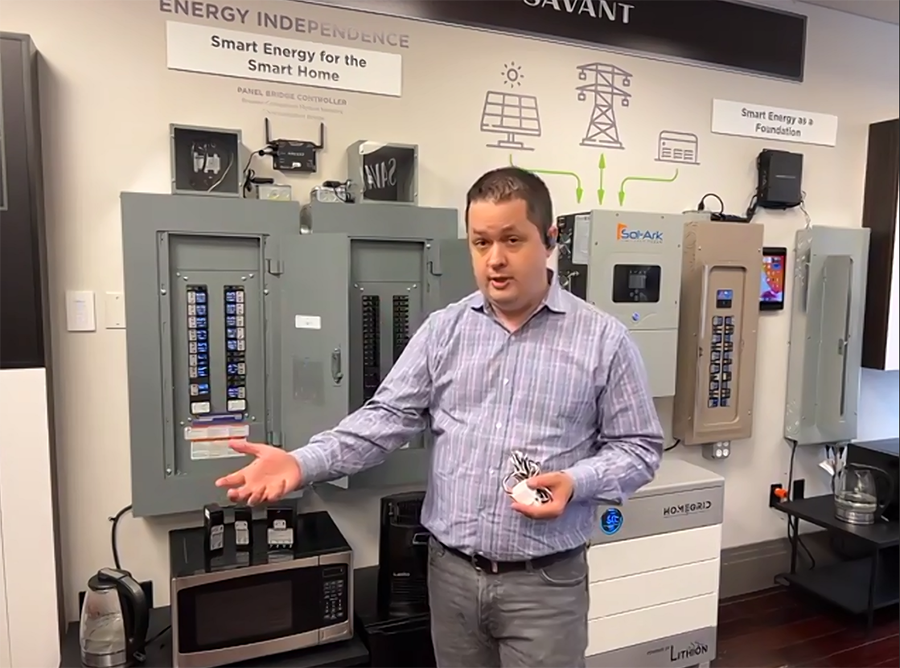 Smart Energy Solutions are the Foundation of a Truly Smart Home
I am convinced that designing a truly smart home must include smart energy at its foundation. A home without smart energy solutions is like building a home just set on the dirt with no foundation. Over time, it just isn't going to perform as well as one built on a solid foundation.
With Savant Power Systems, the company has leaped years ahead of its competition in the category. A lead that will likely serve them well as more and more integrators come to recognize the importance of power – beyond simple IP-addressable power strips, which may not be dumb…but they certainly aren't particularly smart either. And they offer nowhere near the kind of power and flexibility of a Savant Power System.
See more on Savant Power by visiting: www.savant.com/power¹.
Learn all about Savant smart home and automation solutions at: savant.com.
---
CORRECTIONS
May 6, 2022, 4:29PM – Corrected link to new address; per guidance from Savant
May 6, 2022, 4:33PM – Corrected the text to identify the faulty device as the pool pump; not the pool filter as originally published
May 6, 2022, 4:37PM – Clarified that energy management is displayed and controlled via an Energy Management Dashboard on the regular Savant app. The original text gave the incorrect perception that there was a separate app for energy management.