Strata-gee Interviews Savant Power President Anna Deme

o
Last week, Savant Systems, Inc. announced that it had acquired Racepoint Energy, LLC, a provider of innovative power solutions. What many people did not know was that Racepoint Energy was another venture launched by Savant CEO Bob Madonna, and was originally intended to be a freestanding solution – primarily targeted for commercial, industrial, and utility markets.
But then the world changed and it made sense for Savant to bring it under their residential automation brand.
See my interview with Savant Power President Anna Demeo…
If you're a hockey fan, you know that when your team has a "power play" they have a real advantage that offers a good chance for them to score against a disadvantaged competitor. On the other hand, if the opposing team has a power play, you will hold your breath for two minutes hoping your team can hold the line and prevent their opponents from scoring.
In hockey, power plays occur when a player commits a rules infraction that results in their receiving a penalty from the officials – meaning they have to come off the ice and sit in the penalty box for a period of time, typically two minutes. This means that the transgressor's team will be one player short – hence the advantage to the other team as they have more players on the ice giving them more power…hence, the term 'power play.'
Acquiring Racepoint Energy is a Form of Power Play
Savant's acquisition of Racepoint Energy – with its uniquely enhanced capabilities in the power segment with intelligent power monitoring, management, and control solutions – may represent a form of a power play itself, yielding them an advantage over their competitors. This advantage stems from the fact that most of their competitors have no similar power capabilities within their purview.
The company has been on a bit of an acquisition binge lately with its acquisition of GE Lighting just about one year ago, and now Racepoint Energy, the two most recent examples. Viewed independently, these two acquisitions aren't immediately obvious targets for Savant. But when viewed together, a strategy begins to appear – with Savant developing an end-to-end solution for fully automated control from power input (Racepoint Energy) to load utilization (GE Lighting).

An End-to-End Solution Automating Power as Part of a Whole System
Yes, some competitors have IP addressable power strips and boxes (to remotely reboot systems), or uninterruptible power (battery) supplies, and such. But this is not in the same league as Savant's ability to offer full automation of power management from generation to utilization. This is the big leagues.
Many of the industry news outlets reported the acquisition but did not go very deep into the story behind the story. I have been intrigued by Racepoint Energy ever since they first participated in the 2018 CEDIA Expo. So I wanted to dig deeper and the company arranged an interview with Savant Power President Anna Demeo.
Q&A with Anna Demeo, President of Savant Power
Strata-gee: If I am a Savant integrator how should I feel about Savant getting into the power business?
Demeo: If you are a Savant integrator, you should be very happy to know that Savant is getting into power in a very serious way. Likely you have clients who have spent no small amount of money on their smart homes. And especially with more people working from home, or spending more time at home these days, you have rolling blackouts in California, grid outages in Texas, and more instances of what we call "dirty power."
You can do all of these great things in the smart home, but what you really need is reliable clean electricity. And that is what Savant is providing. The nice thing is that we're doing it on many different levels – everything from using our interface for energy management…all the way to going to a mega-grid and going off-grid.
Strata-gee: So is Savant Power just managing power, or is it generating it?
Demeo: A little of both…it depends. So when we think about our product line, we have the ability to manage and control power in the home at the breaker level, but also at the device level. Savant has profiled literally tens of thousands of devices across the smart home. And now, adding to that library are typical energy type loads, like electric hot water heaters, electric car chargers, and smart appliances. So we can monitor and manage all the loads in the home.
Then with our microgrids, we can add solar and storage, and include a backup generator if someone wants it, to be able to shift away from the grid. Should the grid go out, we can keep things running on the solar in the storage for an extended amount of time because we can also reduce loads in an intelligent way to extend the life and hours of autonomy of that backup system via generator, storage, or a combination of both.
Strata-gee: What are the factors that motivate clients to consider adding the types of solutions offered by Savant Power?
Demeo: Most clients are motivated by what we call the three "E's." So it's Energy resiliency, you know, keeping the lights on in all situations. Then there's Economics, which can be looked at in a couple of ways – for example, there's been a large drop in the cost of solar and storage that makes larger systems really viable. Also, in larger homes, especially those that are all-electric in places like Florida and California, the cost of electricity [from the grid] is significant. But now, because of the economics, clients are looking at larger solar and storage systems.
And the third "E" is Environmental – as in environmental stewardship or environmental concerns.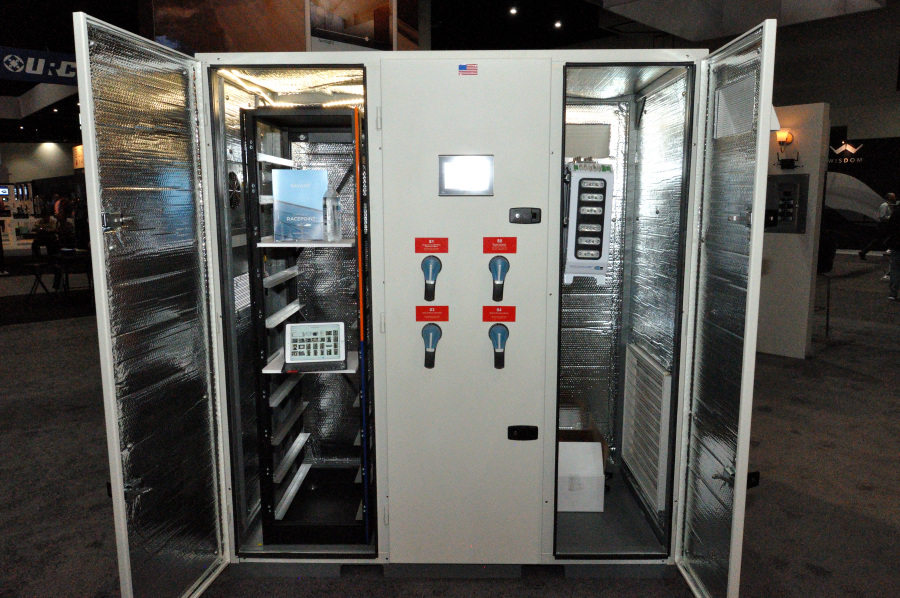 Strata-gee: With all-electric homes, and soon all-electric cars, isn't that going to overload the grid?
Demeo: Ah, that's a great question. And that's where control becomes so critical. The way we refer to all of this is as beneficial electrification – and why it is beneficial is because we can control that power. If you look at the way that power has worked in the past, the grid has always worked on this generation following the demand model. So we all use as much power as we want and the utilities just ramp up and down generators to match the demand.
But with this new model like Savant is using, we can control the demand and shift it to other times. So now, instead of everyone coming home from work and running their car recharging, dishwashers and hot water heaters from 4-10 pm, we can shift that demand to, say, midnight when there is less demand on the grid.
It all comes down to control. Savant has been a leader in control in the Smart Home space for a decade and a half. And now they're taking all that expertise, and merging it with our [Savant Power] expertise in energy, to really be able to control the energy portfolio, within home, business, and community,
Strata-gee: You mentioned the word 'community.' Is Savant working with utilities as well?
Demeo: Savant Power is. We started with the idea of working with utilities on microgrids for communities. We are able to reach a much wider part of the population by working with utilities to manage what is known as distributed energy resources or DERS. DERS can be electric car chargers, hot water heaters, batteries, or solar panels, and through Savant technology, we can do all of the control and load shifting that I described for the home on an aggregated basis for an entire community.
NOTE: In this response, Demeo is describing Savant Power's cloud-based Distributed Energy Resource Management System (DERMS). Utilities can utilize DERMS to more intelligently manage loads and share resources on a community basis.
Strata-gee: Can integrators directly install Savant Power smart panels, intelligent companion modules, and microgrids, or is an electrician required?
Demeo: All of our products require a licensed electrician to install. So there's a portion of integrators who have electricians on staff and there's a portion that doesn't. So we're working to make sure that we are pairing those integrators that don't have electricians, with a [Savant Power] certified electrician. We have a training program on our smart panels, as well as our microgrids, too. These were designed by electricians – we have licensed electricians on staff that have really weighed in to make sure that these are designed to be right in line with what electricians are used to doing. So this is very familiar ground for them.
So we have a training program for electricians to certify them. And then we can pair them with integrators.
Strata-gee: So smart panels, intelligent companion modules, microgrids – where does an integrator start in adding in power management to their system proposals if they have no experience with it?
Demeo: We have what we call an intake form, one or two pages of questions about the size and location of the house, what kind of backup the client is looking for – four hours or four days – that kind of thing. Then, once we get that filled out, we can turn that around in 48 hours and do a preliminary proposal. And what that does is it gives the integrator and their customer a place to start from.
And then someone from the team gets on a call with the integrator, and maybe even their clients depending on the situation, and walks them through what this design looks like and what it means for them. And then once we get through and complete it, at that point we have a program manager that works closely with the integrator on an ongoing basis to follow the project and provide support.
Learn more about Savant Power by visiting: savantpower.com.