Savant Systems Inc., a leading brand of smart home automation and control solutions, announced today that it is adding even more features to its software subscription model, further increasing its value to both end users and integrators. In 2021, the company converted its operating system to a Software-as-a-Service (SaaS) subscription model, offering homeowners more value, as well as offering new opportunity for their dealers. Now, this SaaS subscription program is set to receive several new and upgraded features, bringing even more value to the program.
Learn more about the Savant SaaS subscription program
Like most major control system companies, Savant made the decision back in 2021 to convert their basic operating system software to a SaaS model. This decision is not one that is always popular with integrators for many complicated reasons – but mostly because this means the company has direct access to all of the integrator's clients.
However, this has become a common trend for a whole lot of logical reasons – and has been embraced by most major software companies across almost all industry segments. To smooth the transition, Savant passed on new capabilities that are both simple for homeowners to implement and adds joy to the use of the system, while at the same time, opening up certain business opportunities for their dealers.
Savant Essentials
With the base level of subscription currently available, called Savant Essentials, the company says it "delivers access to the latest smart home features and advanced integrations, plus enhanced support, and serviceability with the Savant Home Back-Up & Restore feature."
The big news is that this Fall, Savant will expand the subscription model by introducing even more new and exciting capabilities for homeowners and adding even more value to the subscription. What are these new capabilities? The company will launch new homeowner management tools, a software-based intercom service, enhanced private voice control, and smart networking.
Savant Home Back-Up & Restore Offers Homeowners Peace of Mind (Available now)
Let's take a moment to contemplate one of the existing features already available via the company's Savant Essentials SaaS solution – a secure, cloud-based back-up & restore capability. With this feature, homeowners can store "key parameters and settings" of their smart home system such that they retain their personalization settings securely in the cloud. Then, when, say, a piece of hardware is updated, the whole system is easily restored just the way the homeowner likes it.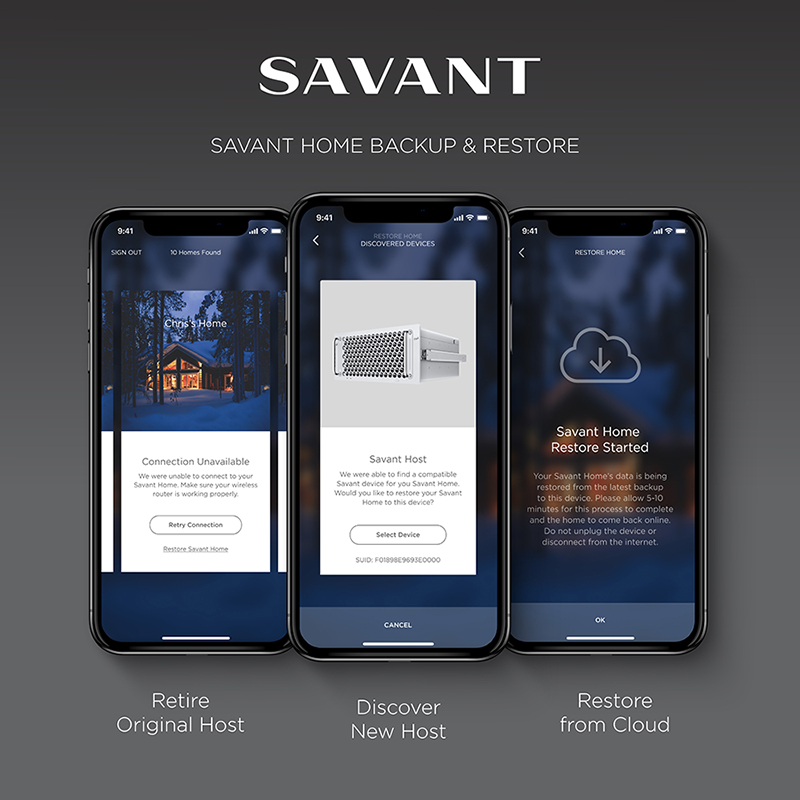 Savant says this is a first-of-its-kind smart home feature that delivers true peace of mind to homeowners.
Savant Home Manager (Coming in October)
Savant Home Manager, which is coming soon, offers homeowners new system management capabilities, dramatically enhanced system status visibility, quick-view camera recordings [see image at top of this post], and active cloud integration status. It does all of this via a cool new web user interface dashboard designed specifically for homeowners.
Not only that, but homeowners can easily find and access product tutorials and frequently asked questions (FAQ's), potentially unburdening integrators from a stream of low-level service calls. The company notes that the concept of Savant Home Manager is to "help integrators educate new Savant homeowners about their system capabilities," as well as provide expanded capabilities and system visibility.
Savant Intercom Service (Coming early 2023)
Here's something kind of cool – the company will soon be adding a software-based intercom service for room-to-room communications without the need for any additional dedicated intercom server hardware. As a new part of the Savant Essentials system, any smart home can easily add intercom capabilities that is fully customizable to the needs of that specific home.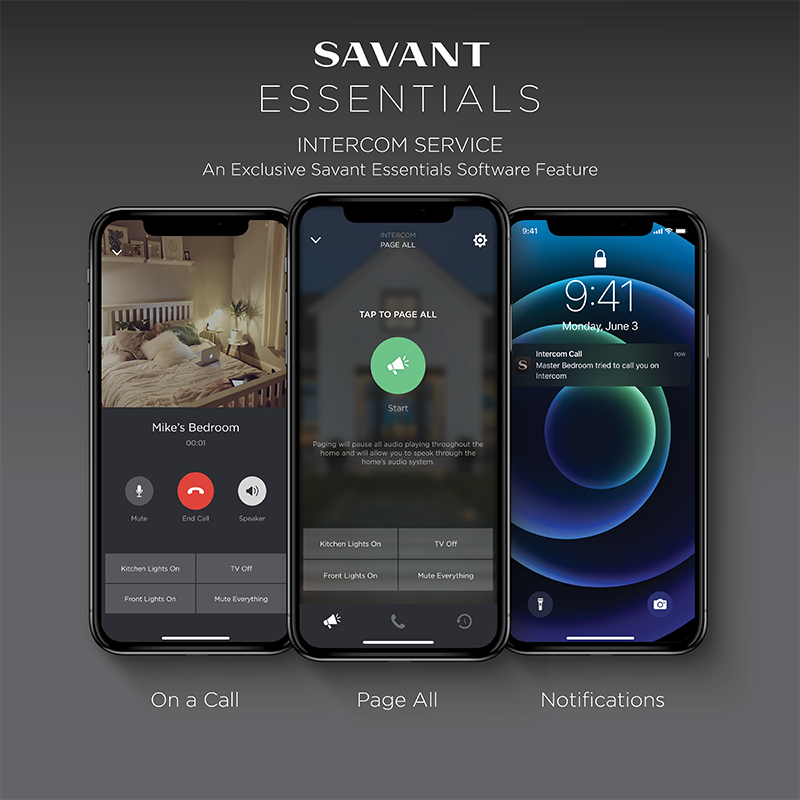 Features like homeowner-configurable call groups, call alerts via push notifications, and even an optional "page-all" feature accessing the home's distributed audio system.
Enhanced, Secure Voice Control (Coming early 2023)
One of the greatest impediments to the more robust adoption of top voice-control solutions is that consumers are concerned about privacy. You see, these systems require voice commands to be sent over the internet for processing at a central server location. Savant addresses that concern with a new, secure voice control system that offers offline processing of natural language voice commands.
Privacy concerns sated, homeowners can implement hands-free voice commands via in-room microphones – and even, if preferred, with push-to-talk (PTT) on the Savant Pro Remote X2. With PTT, the end-user physically presses and holds the voice button before active listening takes place. Compare this setup with other systems "always listening" style which also causes privacy concerns for users.
Enhanced voice control is available to any home with a Savant Essentials subscription and brings a new way to "activate/control Savant scenes, services, channel favorites, volume, and individual lighting loads," the company says.
Savant Network AI (Coming early 2023)
Finally, also coming soon is Savant Network AI, a new capability delivered via a partnership with Juniper Networks. Juniper Networks is a nearly $5 billion player in intelligent networking solutions with over 10,000 employees and 120 locations globally. From their website: "We pursue simplicity." I like that!
With Savant Network AI, the company's dealers gain access to "cutting edge, enterprise-grade networking solutions that are easy to design, deploy and troubleshoot," the company says. Thanks to this almost super artificial intelligence, systems gain zero-touch provisioning – with automated Savant device discoverability – dynamic port configuration, network optimization via advanced learning algorithms, and machine learning analysis of the user experience.
Savant Network AI does require a scalable subscription determined by the size of the network.
Learn all about Savant, its products, and its services by visiting savant.com.

See Savant at CEDIA Expo
See all that Savant has to offer and speak with company representatives about the Savant Essentials SaaS subscription (or any other topic) by visiting them at this week's Expo – booth #21057 – at the CEDIA Expo in Dallas at the Kay Bailey Hutchinson Convention Center this week from September 29th – October 1st.