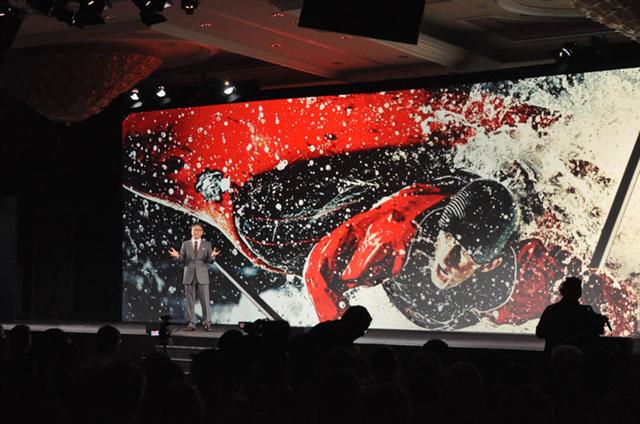 >> See an extensive slideshow of Samsung's CES press conference here <<

<February 1, 2012> Samsung Electronics Company, Ltd., the world's largest provider of televisions, wow'd the crowd at CES last month with a stunning display of 55-inch OLED flat panel televisions. Kicking off the show on press day with far-and-away the largest standing-room-only press conference of the day, Samsung showed again why they lead the field with a major commitment to a new technology – OLED.
It is hard not to draw conclusions from press conference attendance, but we couldn't help but notice that Panasonic had large numbers of seats available during their entire conference – while we arrived almost two hours early for Samsung's – and were forced to stand for the entire event. And Samsung clearly led in pre-conference buzz amongst the journalists present.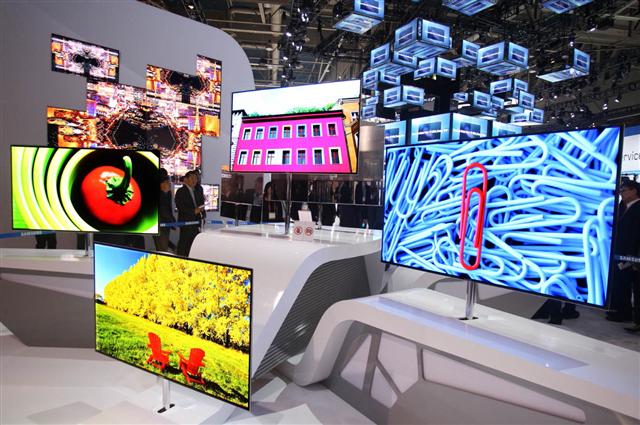 #1 for 6…
Samsung President Boo-Keun Yoon led off the press conference and he wasted no time in letting the media know just how successful Samsung has been. According to Yoon, Samsung has enjoyed number one market share in the television business for six years in a row. Yoon also said the company sold 5.7 million units in November of last year.
Beyond television, Yoon told journalists that Samsung was also number one in worldwide market share for the smartphone category as well. Samsung's President said the company had shipped 300 million units worldwide.
#1 in brrrrrr….
But apparently the company has made great strides in appliances as well. According to Yoon, the company was number one in North America for refrigerators.
Yoon then laid out a vision for where Samsung sees the business going, starting with a slide boldly titled "Future of Consumer Electronics." Basically, the future is in products that are simpler, smarter, and more enjoyable. To make that happen, Samsung will be "pushing boundaries."
Constant connection…
Like other manufacturers, Samsung notes that devices are becoming more and more connected. Standing before a slide showing a personal computer, smartphone, tablet computer, and a laptop floating in space with an ethereal electronic ray connecting them, the Samsung President says devices must be able to connect "anywhere & anytime."
Yoon then discussed Samsung's strategy which relies on Smart Interaction, Smart Content, and Smart Evolution. Yoon went into detail on each of these topics including expressing a vision of electronics achieving an ever-higher level of interactivity with users. Some of this involved yet-to-be-invented technologies and capabilities…with a very futuristic and potentially unachievable vision.
3 pillars…
Then Tim Baxter, President of Samsung Electronics America took the stage. With a slightly more refined vision, Baxter dealt more with the reality of the immediate future, explaining Samsung's vision with the three pillars of Content, Services, and Connectivity.
Samsung, Baxter told reporters, has completely redesigned its Smart Hub interface to offer a much more intuitive experience for the user. Making it easier to access online content meant adding new capabilities to the Smart Hub and it now offers Voice Control, Motion Control, and Face Recognition allowing users to work with their systems in the manner most comfortable for them.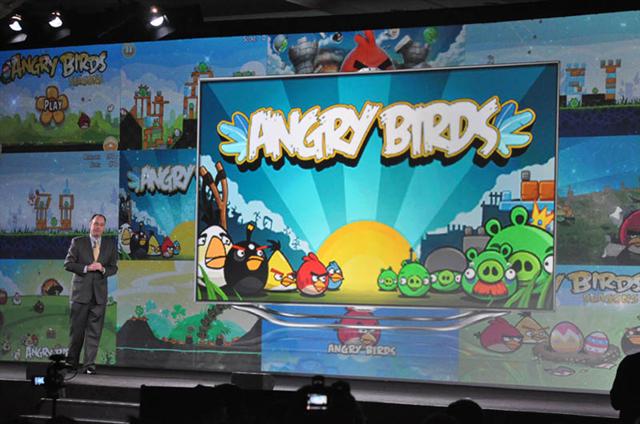 App happy…
All of which facilitates consumers finding and downloading apps. Samsung says it is now averaging 50,000 downloads daily of apps. In fact, the company has hit a new milestone in the total number of apps downloaded…now at 20 million as of January. More impressive is that this number doubled from October 2011 to January 2012.
But probably the biggest news in apps for Samsung is that they scored a major coup with significant additions scheduled for 2012. Samsung will be adding apps for Bravo, Technicolor M-GO, The Daily, VH1's 'I love the 80's Trivia'…and – drum roll please – the insanely popular and addictive Angry Birds.
Say ole' to OLED…
Like other manufacturer's, Samsung discussed the success of 3D…although the level of passion seemed moderated to me. However, the biggest news coming out of the Samsung press conference – pitched with full passion and a lot of energy – is their new Super OLED flat panel television launch.
Samsung is clearly 'betting the farm' on OLED which they presented as the next big thing in television technology. And while it was hard to tell the quality of the display at the press conference, there is no question that on the show floor that the OLED display was bright, colorful, and deeply impressive. Shown in a 55-inch size, Samsung's Super OLED was an impressive television.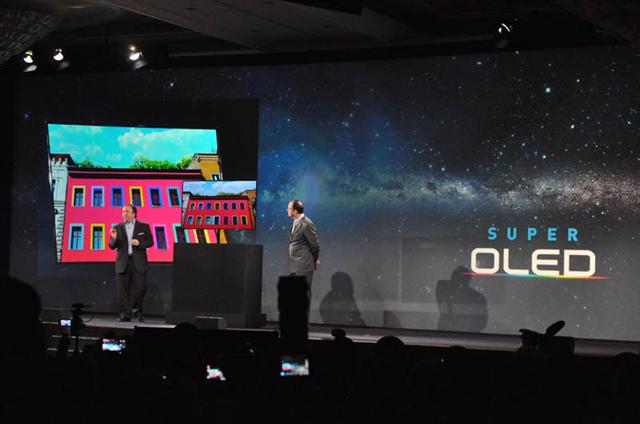 Admit it, you're emitting…
OLED technology features self-emitting RGB sub-pixels that require no backlighting which allows for a smaller, thinner, and lighter television design. There is no need for any type of color filtering and the technology allows for deeper blacks and whiter whites yielding unprecedented contrast, heightened detail, and faster image rendering.
No information was provided on pricing or availability.
For more information, see: www.samsung.com
>> See an extensive slideshow of Samsung's CES press conference here <<