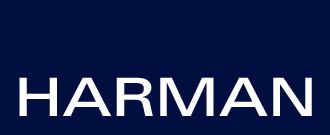 This past Tuesday, Samsung Electronics began launching Harman audio brands in South Korea through their company owned locations. According to the Korean press, Samsung is "looking for business synergy" by combining its strength in distribution network, marketing, and world-class service, with Harman's strength in manufacturing competitive audio products. It is an initiative, the local media says, that is expected to "have significant impact on South Korean audio markets."
See more on Samsung's Harman audio strategy in Korea…
Samsung told Korean media last month that starting August 1st, an assortment of Harman audio products would be displayed and sold at 30 Samsung Digital Plazas (company owned stores) throughout South Korea. The company would also begin distributing Harman through their network to other dealers as well.
Samsung acquired Harman International Industries last March, mostly for the company's significant strength in automotive infotainment electronics products. However, this new move is obviously designed to take advantage of their purchase of Harman by extending the brand into other business segments as well.
Using Harman to Enhance Samsung Products & Grow Audio
We reported last April that the company intended to incorporate Harman audio technologies into other Samsung products, including their smartphones. Now we learn that the company hopes to use Harman products to improve its audio business at home.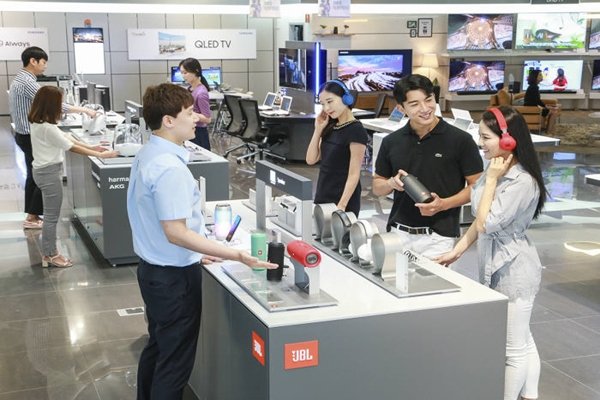 Although there are no details on the specific products Samsung intends to sell in South Korea, we do know they will offer models with the Harman Kardon, JBL, and AKG nameplates. We also know that their plans call for eight SKUs of JBL speakers, eight SKUs of Harman Kardon speakers, seventeen SKUs of JBL earphones and headphones, six SKUs of AKG earphones and headphones, and four SKUs of soundbars.
Will Place in 'Every Home Appliance Stores' in South Korea
Beyond their own 30 Samsung Digital Plaza stores, the company says it intends to expand distribution of Harman audio products "to every home appliance stores" in South Korea by the end of the year. Samsung wants all consumers to have access to the line. The company is also said to be planning packaged systems containing Harman audio products in combination with Samsung's premium TV products for sales through department stores.
"Consumers in South Korea were sad that opportunities to access Harman's audio products were limited," said Vice-President Park Byung-dae of Samsung Electronics in an apparent reference to the limited Harman audio SKUs the company is offering. "However we expect that consumers will be able to enjoy Harman's high-quality audio products more conveniently and experience audio cultures that are on different level as we acquired Harman."
Harman Audio Store-Within-A-Store in Samsung Stores
For their own stores, Samsung says they will employ a "store-within-a-store" concept, with floorspace dedicated to the Harman audio brands separated from the other goods. This idea probably arose from Samsung's deal with Best Buy for a Samsung store-within-a-store dedicated floorspace in Best Buy locations.
The company also plans to have dedicated sales consultants "just for Harman consumer audio products" by the end of this year. We don't know how many, and which stores they will be deployed to. It is also unclear whether this plan refers to Samsung trained Harman audio salespeople selling to the dealers – or for in-store sales consultants…a popular practice in Japan.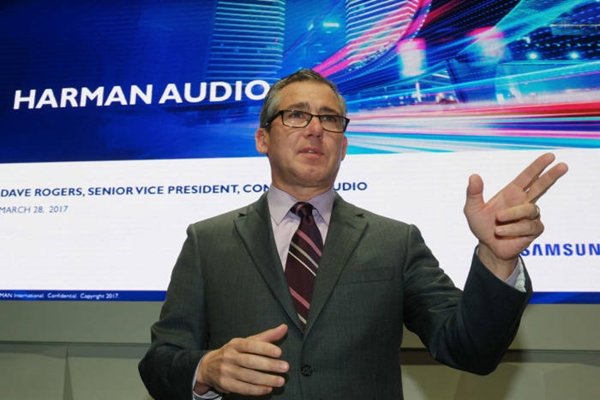 Beefed Up Service Support for Harman Audio
Samsung is also offering specially trained service techs and centers for Harman audio products. To make life easier for consumers, they can drop off Harman audio products at their nearest Samsung service center, and the company will take care of the rest, including transferring to a special Harman-focused repair facility.
The company is also said to be considering opening up Harman audio stores in various shopping centers.