<February 8, 2012> Samsung Electronics Co. and LG Electronics, Inc. plan to launch aggressive expansion of their flat panel television divisions in 2012, according to a new report in the Nikkei. And these aggressive plans contrast sharply with those of Japanese television manufacturers, who are looking for ways to cut their overhead in a search for profitability.
Drowning in a sea of red ink, Japanese television manufacturers are radically restructuring their television divisions in a frantic search for profits. One strategy brands like Sony and Panasonic have embraced is outsourcing the manufacturing of their television products allowing them to close factories and reduce corporate overhead.
However, in direct contradiction to this strategy, both Samsung and LG plan to boost production and feel that through "economies of scale" they can better leverage and absorb their manufacturing costs and boost their profits. Samsung, according to the report, had outsourced 5 percent of their production through 2010. This year, however, Samsung plans to end those outsourcing relationships and bring production back in-house. By reabsorbing this previously outsourced production, Samsung says that they will be able to efficiently boost production at plants in South Korea, Mexico, Slovakia, China, Vietnam, and elsewhere.
Samsung is planning to increase their production of flat-panel TVs by 16 percent, which means that it will ship approximately 50 million TV sets this year. This rate is almost double their shipments of 2008.
Furthermore, Samsung will launch the next-great technology in large flat-panel TVs – OLED  – by the second half of this year. LG will follow a similar plan and both companies believe that by launching the next generation technology in the upper end of their lines, they will be able to enjoy solid margins and less price competition.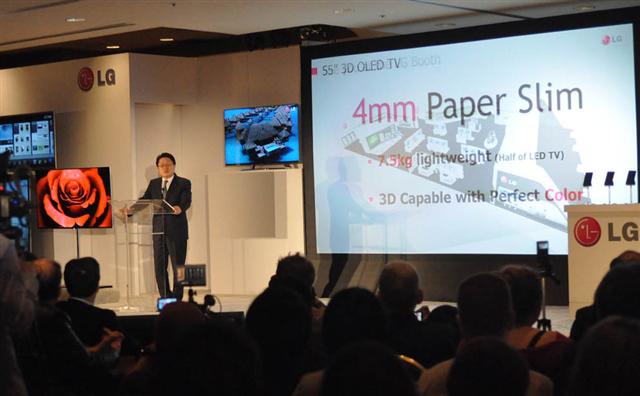 Samsung's 2012 strategy also includes expanding Internet connectivity as a primary feature in their TV sets. According to the Nikkei, Samsung expects more than half of all of their TV sales will be these "smart TVs" connected to the Internet and downloading apps.
Samsung and LG are number one and two respectively in worldwide market share for flat-panel televisions. At their press conference last month at CES, LG announced that they had bypassed Sony in TV market share and had set their sights on Samsung.
LG says that they will increase their global production of flat-panel sets 20 percent over their shipments of 29.2 million units last year. Unlike Samsung, LG uses a passive 3D technology with lighter polarized glasses.
But like their Korean colleague, LG will launch OLED in their larger panel sets, with models up to 60-inches-plus. In fact, LG hopes to beat Samsung to market with their OLED sets to grab share before Samsung enters. LG will also differentiate themselves by fielding 3D OLED sets earlier than Samsung.