A new study recently released by TiVo Platform Technologies (TiVo) – a subsidiary of Xperi, Inc. – called Smart TVs Paving the Way quantifies a marked shift in trends in consumer consumption of streaming entertainment – as well as spending on streaming services. Top findings noted a decline in both the number of services to which consumers subscribe and the amount of money they spend monthly to obtain such services.
Yet, the same study showed an increase in consumers' average daily consumption of streaming entertainment content.
See more on this latest research on consumer streaming services and consumption
It's clear that since the onset of the COVID-19 global pandemic in 2020, consumer consumption of streaming content has soared. Yet in the wake of the end of the pandemic, acquisition and spending on services trends have shifted in meaningful ways – while the appetite for consumption has stayed strong, and even grown. This latest data offers concrete examples of these trends and helps improve our understanding of just what journey the consumer is on with streaming entertainment.
Average Number of Streaming Services Used by Consumers is Declining
Top line conclusions are clear – first, the average number of streaming services that consumers are using has declined…from 11.6 in Q4 2022 to 10.9 in Q2 2023. Connected to this trend, the amount of money consumers are spending on streaming services is also declining…from an average of $189 per month to $170 per month over the last six months. Analysts at TiVo believe that this reduction in spending on streaming services is a result of consumers "reconsidering their spending."
However, this brings us to an interesting second top line finding. Even though consumers are cutting back on the number of streaming service providers they are paying for, overall consumer video consumption during this same period has actually increased from 4.4 hours a day in Q4 2022 to 4.7 hours a day in Q2 2023. This suggests that the cut in services used is not due to a waning interest in streaming content, but rather a simple financial calculation to engage fewer services each of which is watched more.
Multiple Reasons for Cutback in Investment in Services, Such as Trading Down
What is interesting is that the study suggests that as some services such as Disney, which started as a premium-only option, sought to increase their audience by later offering lower-priced, ad-supported service tiers, some of their premium customers chose to trade down. In other words, with dollars tight, consumers strategically chose to keep the service by trading down to the lower-priced version, consciously accepting the reality of being forced to watch advertisements as the tradeoff.
Other consumers took a different path by re-engaging with their cable services to have large quantities of video content available, albeit with advertising.
Consumers know what they want in a video service and are adjusting their entertainment habits to fit their needs – whether that be cancelling their SVOD [subscription video on demand] subscriptions or reviving their cable. As we continue to see this shift in consumer behavior it's essential that entertainment providers focus on solving consumer content discovery issues to help consumers who are juggling their entertainment needs get back to what's important, enjoying entertainment.

Scott Maddux, Xperi VP of Global Content Strategy
Analysts Say Budget Constraints Impacting Consumers
As the researchers drilled down on how consumers were consuming content, they found and reported that ad-supported video on demand (AVOD) and free ad-supported streaming TV (FAST) consumption jumped considerably from Q4 2022 to Q2 2023. Analysts at TiVo parent Xperi concluded that this is a reflection of consumer budget constraints and SVOD companies offering lower-cost services that generate higher ad revenues.
Consequently, analysts have determined that this new SVOD/AVOD hybrid scheme allows consumers to consolidate their subscriptions, cut costs, "…and still watch the same or more amount of content."

Content Discovery 'A Major Pain Point' for Consumers
However, as content consumption continues to rise, the TiVo report notes that content discovery remains a major pain point for many consumers. "When trying to select a movie or show, 82% of consumers are prone to browsing before making a final selection – with over 60% us[ing] multiple apps in their pursuit."
The research shows that users will search among their multiple apps to try and decide what to watch at that moment. It is a time-consuming process and one that causes users some pain in scanning, determining, and accessing something to watch.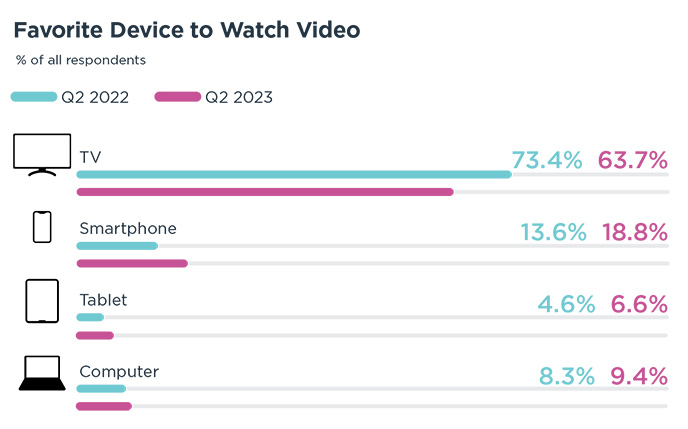 Other Key Findings in TiVo's Video Trends Report
TV is King – Consumers have more choices than ever before in ways to consume video content with devices like smartphones, tablets, and computers. Yet TV remains the top way most users consume video content, preferred by more than 3x any other device. However, this is slipping, with the number choosing TV as their top preference dropping almost 10% from 73.4% in Q4 2022 to 63.7% in Q2 2023.
Word of Mouth Drives Discovery – For years, most users discovered what content to watch based on commercials promoting new movies or shows. Now, this report says that there has been a 6% drop in the percentage of users who say this is the case. Rather, most say word-of-mouth recommendations from friends and family is now the #1 way they discover what content to watch.
Why Cord Cutters Reconnect – The study shows that while virtual multichannel video programming distributor (vMVPD) continues to be a top competitor to pay TV, more than a quarter of cord cutters (28%) end up resubscribing to TV to regain access to local sports, live events, and other local programming. Of all the time spent watching video by all users, just under a quarter of the time (22.6%) was spent watching some type of local content.
This report is based on regularly conducted consumer surveys by TiVo. In the case of this latest survey, 4,518 adults (aged 18 and older) living in the U.S. and Canada participated during the second quarter of 2023. In addition to the insights discussed above, the resulting report also noted three emerging trends – in-car media consumption is on the rise (80% of respondents said they do so at least a few times per month), SVOD subscription churn is a thing (subscribers hop in and out of subscriptions to see a specific movie or show, according to almost a third of respondents [3.9%]), and smart TV buyers appear to be brand loyal (only 1.6% of respondents who own three TVs have three different brands).