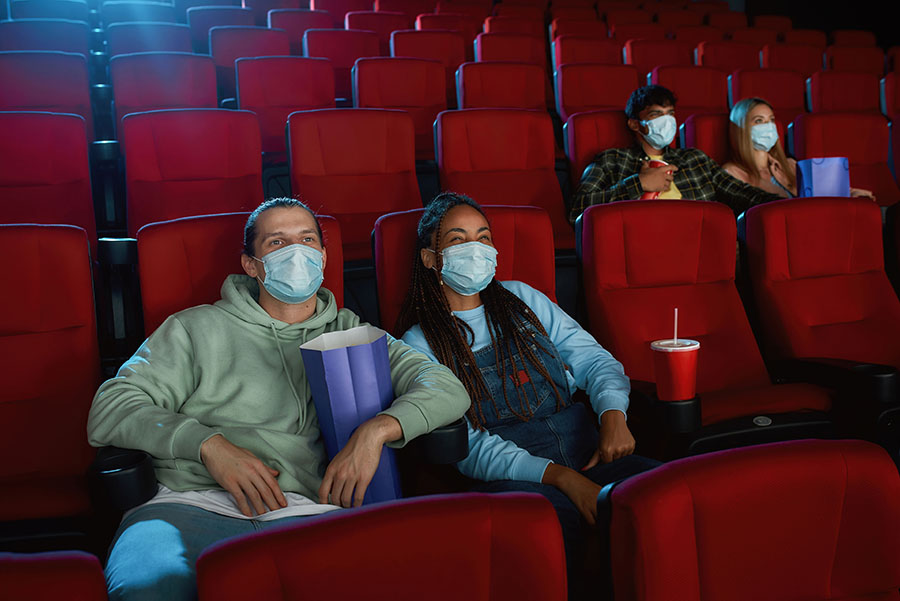 And Many of Them are Gone for Good
Market researchers are sounding the alarm as new research indicates that almost half of all moviegoers are no longer buying tickets to see movies at the theater. They say theater owners must "'urgently' rethink the experience."
Where have all the movie fans gone? Read on to find out…
Three well-known (in the movie biz anyway) film market researchers combined to conduct a fairly comprehensive study on the state of the movie exhibition business, and what they've discovered is setting off alarm bells. It was NOT a surprise that ticket sales were down, the industry was ravaged as a result of the business shutdowns due to COVID-19.
However, even before the onset of COVID, the industry has been struggling with a long-term trend of declining ticket sales. But now COVID has turbocharged the trend to a really concerning degree, as reported by the New York Times, in a report that came out at the end of November 2021.
Almost Half of Previous Moviegoers are No Longer Buying Tickets
The report shows that fully 49% or nearly half of all regular moviegoers in pre-pandemic times are no longer buying tickets now – even though theaters are again open in all communities and new movies are being distributed to them. I suspect the researchers were anticipating some impact from the COVID shutdowns, but this result went WAY beyond their expectations.
This top-line result caused researchers to conclude that to win them back, "multiplex owners must 'urgently' rethink pricing and customer perks, in addition to focusing on coronavirus safety." Even if they rejigger the formula to try and attract the other half back into theaters, the study concludes that 8% are likely lost forever and won't return under any set of circumstances.
Thanksgiving Weekend Box Office Take Supports Study's Results
Over the Thanksgiving weekend, typically one of the biggest weekends of the year for movie theaters as holiday-idled Americans seek exciting entertainment, ticket sales in the U.S. and Canada came in at roughly $96 million. In 2019 – pre-pandemic – ticket sales were over $181 million that same weekend.
The research groups the came together to conduct this study were: Quorum, a film research company owned by David Herrin (former head of research for United Talent Agency); Cultique, an industry consulting agency owned by brand strategist Linda Ong; and Fanthropology, a research, strategy and creative agency. These partners have announced that they intend to repeat this study on a quarterly basis.
COVID Amplified 'Nascent' Trends
The research clearly show s that theaters are suffering because the pandemic intensified, accelerated, amplified all of the nascent trends that were already underway. That is the definition of a perfect storm – not that various problems exist at the same time, but that they have an intensifying effect on each other."

Linda Ong, Cultique
Just what are those "nascent trends" Ms. Ong is referring to? They include: rising ticket and concession prices, decreasing 'experiential value (including the perception that moviegoing has become a hassle); the run-down state of shopping malls where many theaters are located; and a generational shift towards streaming, gaming, and other smartphone-based entertainment.
Who's Going to the Movies? Urban White Males Age 25-45
The market researchers conducted the survey with a total of 2,528 folks who had been to a movie theater in 2019 – some once a week, others once a month, and those who went "several" times a year. Slightly more than half of them – 51% – say they've returned to the theaters and purchased tickets in recent months.
Interestingly, this group of Avid moviegoers was largely white males between the ages of 25-45 who live in urban areas. According to researcher Mr. Herrin, "Once you go outside that demographic, you're really starting to lose people," he told the Times.
Most of the Missing Would Return if Theater Had Vaccine Mandate
The research tested different approaches to try and woo those who were no longer going to theaters back into the fold. Of the 49% who stopped going to experience movies in a theater, the single greatest tactic that most of them responded to was for the theater to enforce a vaccine mandate for all attendees. Pricing and relative value was also a concern for this group.
However, a third of those opting out of the moviegoing experience say they are "hopeful" about returning to theaters at some point. And for this group, the study identified different motivators, such as lower prices on "classic concessions" as well as newer seats, and the theater policing the usage of phones during the film.
Some are Lost Forever; Theater Owners Must Adopt Sense of Urgency
The researchers concluded that 8% of these former moviegoers are gone for good – they don't respond to any incentive to return. For this reason, the researchers have come to believe that theater owners must adopt a sense of urgency. "I don't know how large a window there is for exhibition to win these people back," Mr. Herrin said.
Now you may read this post and think to yourself that this is good news. After all, while some of those former ticket buyers are now streaming content on their smartphones, some are streaming through their professionally installed Apple TV, Roku, or Google Chromecast and enjoying the content at home.
Think This is Good for Our Industry? I'm Not So Sure
But I wouldn't get too smug. Movie lovers are an important client segment for us…and many of them came to love movies by seeing them on the big screen. If that disappears, we may see a dramatic decline in movie lovers. And that, I think, would be bad for custom integrators in the long run.
Think I'm crazy? You wouldn't be alone in that assessment. But consider this fact, since most schools and colleges phased out or trimmed back on their elective offerings, we lost a lot of music appreciation classes. And that made it more likely that today's consumer views music as unimportant background to be listened to from your phone. High-quality 2-channel music listening systems saw a dramatic drop-off in demand – perhaps in part because of this trend.
See more about researcher Quorum here: thequorum.com.